VIDEO REVIEW: Leyland Panther
---
Steve Skinner goes for a spin around Brisbane in a globally unique 1968 Leyland Panther
Sometimes we tend to take all the technology in modern buses and coaches for granted, so this month ABC is going retro.
We've taken an urban route bus for a test drive nearly 50 years after it was built — and apart from being a lot of fun, our drive threw up some surprising results.
We also discovered that this bus was a global pioneer in hybrid technology, but more about that later.
Number 498 was one of 341 Leyland Panthers commissioned by Brisbane council to replace Brisbane's trams in the mid to late 1960s.
This was apparently the largest batch of Leyland route buses ordered anywhere in the world.
The chassis was built in the United Kingdom in 1968 by Leyland during its heyday, with the body added by Athol Hedges in Brisbane. The other main body builder for the huge Brisbane order was Denning.
This unit was based at Toowong in the inner west and plied its trade for more than 20 years until retiring in October 1989.
Interestingly the rear of the bus is tapered, as in a tram. Apparently that was to help converted tram drivers turn sharp corners without hitting anything.
The wide doors are tram-like too, to cater for a lot of people getting on and off at special events.
The weights and dimensions are roughly similar to the current era — 12 tonnes GVM, 11m long and 2.44m wide.
Legal passenger capacity is comparable too — 83 in total, with 41 sitting. But in those days the authorities apparently often turned a blind eye to people hanging out the open doors of packed buses.
In Brisbane we are literally talking open doors, because that was the best form of air-conditioning for the hot, humid summers.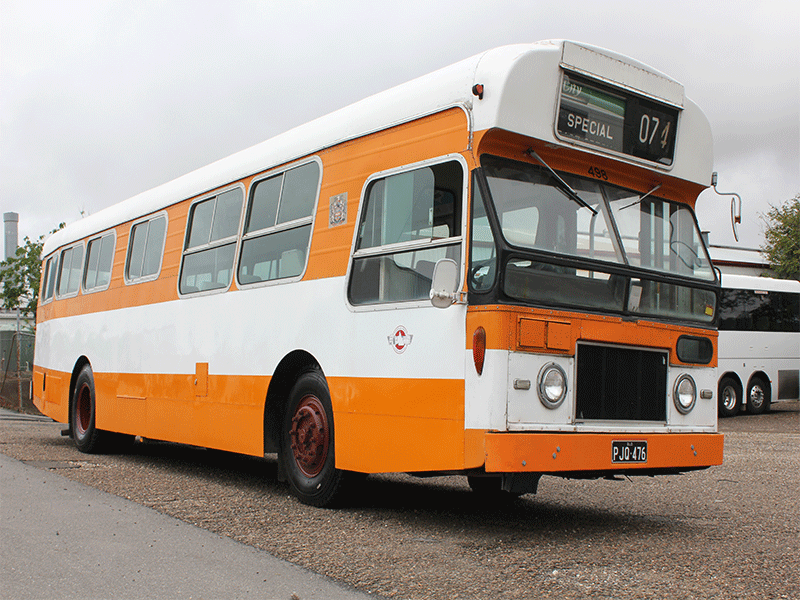 GUTLESS WONDER
The 6 cylinder Leyland engine is a fair size, at 11 litres, ticks over nicely and has a deep throaty growl. Maybe that's why these buses were dubbed 'Panthers'.
But sounds can be deceiving, because this relatively big engine — which had no turbo of course — is actually a pussycat when it comes to performance.
It sounds like it must have 500hp (373kW) at least, but the rating is a minuscule 125hp. Leyland bumped up the grunt to a hardly generous 130hp (97kW) for the coach version of the chassis.
Torque is an extremely modest 475ft-lb (644Nm) @ 1,000rpm, so it's hardly surprising that this old girl doesn't like hills.
Top speed on our test drive through the industrial suburbs of Archerfield and Acacia Ridge in Brisbane's south was a hardly next-snapping 34 miles an hour. If the speedo had been metric that's less than 60km/h of course.
Even at that speed the engine was revving its head off.
Mind you, 35mph (60km/h) was all the Panther needed to do in its day. There were no such things as urban freeways back then. Even now an average speed in the low 20km/h is not uncommon in our big cities.
Before we bag the engine too much, we should point out that it is governed at 1,700rpm.
That's not much when the transmission only has two forward gears. It's a fully automatic ZF, which was quite ground-breaking in its day.
Not helping in the speed stakes is a diff ratio of 6.5:1.
Mind you, this old bus is quick off the mark, and might give some current buses a run for their money in that regard.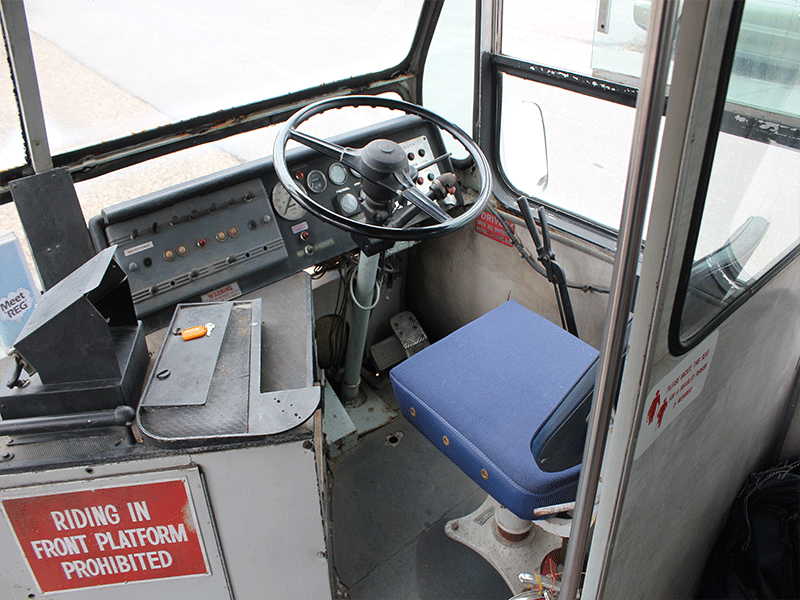 INTERESTING BRAKES
Just as well the Panther isn't a speed machine because it takes a fair bit of pulling up.
The old drum brakes use air like a modern bus, and they will stop the vehicle when you need to, but you almost need the leg strength of Olympic weightlifter to do it.
Going down hills and backing off the throttle, I waited for the transmission retarder to kick in, but of course there isn't one.
However, this very vehicle was a pioneer of hybrid braking technology, which was revolutionary in its day. In fact it's claimed to be the world's first successfully operating hybrid bus.
The University of Queensland retrofitted the 'regenerative braking, storage and propulsion system' — more affectionately known as 'Reg' — into No. 498 and one other bus in the mid-1980s. Researchers installed a monitoring computer under one of the seats on the left-hand side.
Unlike many modern hybrid systems, this one didn't involve a battery. The most important feature was a couple of big pressure accumulation tanks, which used hydraulics and nitrogen gas to convert braking power into driving power.
The hoped-for benefits included quicker acceleration; reduced engine emissions and fuel use; and much less brake pad wear.
However, there was a major reason that Reg didn't get past trial stage. The hydraulics were connected to the power steering — which was also retrofitted in the mid-1980s — which meant that as the regeneration system kicked in, the bus lost most of that power steering.
We assume the drivers found that to be slightly off-putting to say the least.
Reg was very heavy too, which apparently cancelled out a lot of the fuel savings. He was disconnected but still lives underneath the old Panther, and is one of the reasons the bus is hard to pull up.
In its heyday the Panther achieved what seems like an incredibly good 45 litres per 100km fuel consumption, according to a spec sheet done afterwards.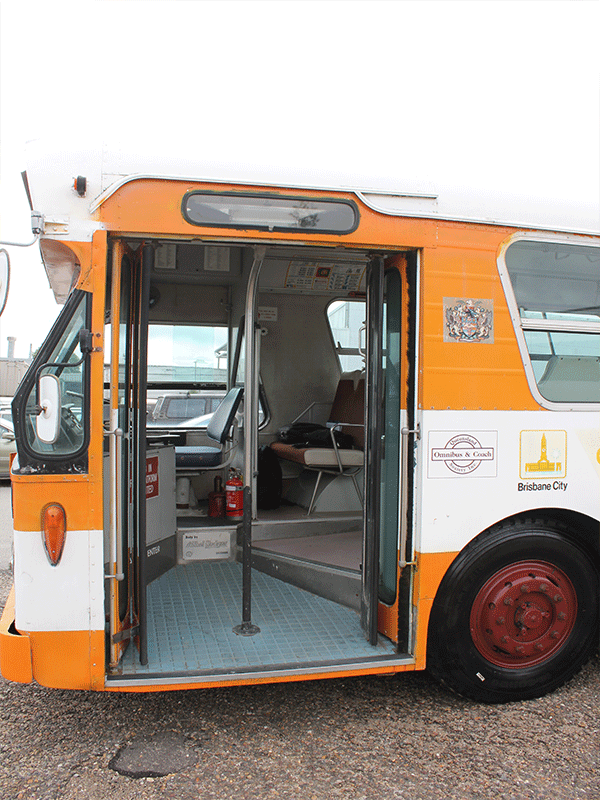 PROS AND CONS
It's not just speed off the mark that is comparable to modern buses in the old Leyland. We were pleasantly surprised by its ride and handling as well.
You can throw it into a corner nearly as hard as a modern bus, and it feels nearly as stable in doing so.
And the ride along some fairly rough stretches of arterial road was remarkably good too, so the suspension system comprising front and rear leaf springs combined with front and rear air bags and Armstrong shock absorbers does a good job.
Just as well because there is certainly no air suspension driver's seat.
No air-conditioning either of course, but the front vent does a remarkably good job for the driver; and there are push-up vents in the roof for the passengers.
Engine noise up the front is acceptable, and of course adds to the character of the old bus.
Up the back it's a different story. The noise is horrendous, and cracked the 100 decibel mark on my smartphone app.
The smoke coming out of the exhaust on start-up is horrible too. There was no such thing as Euro 6 emissions control back then.
But there is one aspect of the Panther which is as good as, if not better than anything you'll find on a modern bus.
That's blind spot vision on the driver's side is outstanding. No pillars or window frames in the way.
Mind you, one shudders to think what front rollover protection must be like.
LABOUR OF LOVE
The Leyland Panther is a close cousin to the Leyland Leopard, which many readers will remember as a common sight in Sydney during a similar era.
The main noticeable difference is that the Panther is quite innovatively low-floor, whereas the Leopard had steps.
Another key difference is that the Leopard's engine was in the middle of the bus, whereas in the Panther it's at the rear. The engine lays down in both models.
The radiator in the Brisbane Panthers is at the front — needless to say, Brisbane summers are a bit hotter and more humid than those in Britain. That front radiator is good for the engine but not so good for the driver in summer.
This Panther is one of two owned and operated during special events under special registration by the Queensland Omnibus and Coach Society, which has been around for 20 years; has 130 members including operators, manufacturers and of course drivers; and has 17 vehicles in its expanding fleet.
The old Leyland is being gradually restored to its former glory, with help from Coachworks in Brisbane.
Society president is Nick Wilson, who at the age of just 21 is already a veteran of the veteran bus fraternity, and extremely efficient to boot.
"The bus drives very, very well," Wilson enthuses. "Some people say it's a little bit noisy, some people say it's a little bit slow, but hey, it was designed that way and for something that's almost 50 years old it still runs perfectly."
SPECS
MAKE/MODEL: 1968 Leyland Panther PSUR1-1 route bus
BODY: Athol Hedges bolted alloy steel frame with aluminium panels
ENGINE: 11-litre horizontal 6 cylinder Leyland EO680, no turbo
OUTPUTS: 125hp (92kW); 475ft-lb (640Nm) @ 1,000rpm
TRANSMISSION: ZF fully automatic 2-speed
BRAKES: Air, drum. (ABS and EBS were unheard of.)
LICENSED PASSENGERS: 83, 41 seated.
DIMENSIONS: 11m long; 2.44m wide; GVM 12 tonnes
Subscribe to our newsletter
Sign up to receive the ABC e-newsletter, digital magazine and other offers we choose to share with you straight to your inbox
You can also follow our updates by liking us on Facebook.