Video review: Denning Phoenix
---
Steve Skinner checks out the Denning Phoenix school/charter coach and its American driveline
Famous Australian brand Denning couldn't get a better ambassador than one of its owner-driver customers, Scott Houlahan.
Houlahan recently forked out half a million dollars for his pride and joy, a 61-seat toileted Denning Phoenix with 9-litre Cummins engine and 6-speed fully automatic Allison transmission.
"It's just a beautiful bus to drive, it looks great and their finish is absolutely amazing," Houlahan says.
Houlahan is so happy with his new acquisition that he contacted ABC suggesting we take it for a review drive.
We did, and came away almost as impressed. There's just one minor quibble which we will mention later.
Everyone knows Denning has a good reputation for durability, and the Cummins-Allison combination is tried and true.
But what stands out to us is remarkably low noise from both the engine and the transmission retarder; and a surprising level of electronic safety technology that's available in this model.
That includes vehicle stability control as standard, as part of the electronic braking system (EBS).
Options include camera-controlled Wabco OnLane lane departure warning; and Eaton's radar-controlled Vorad VS-400 collision warning and adaptive cruise control system, which maintains a safe distance from the vehicle in front.
Houlahan didn't order these but if he had, they would have cost about $15,000.
For regular night and/or long-distance runners, we would rate that as a very good investment.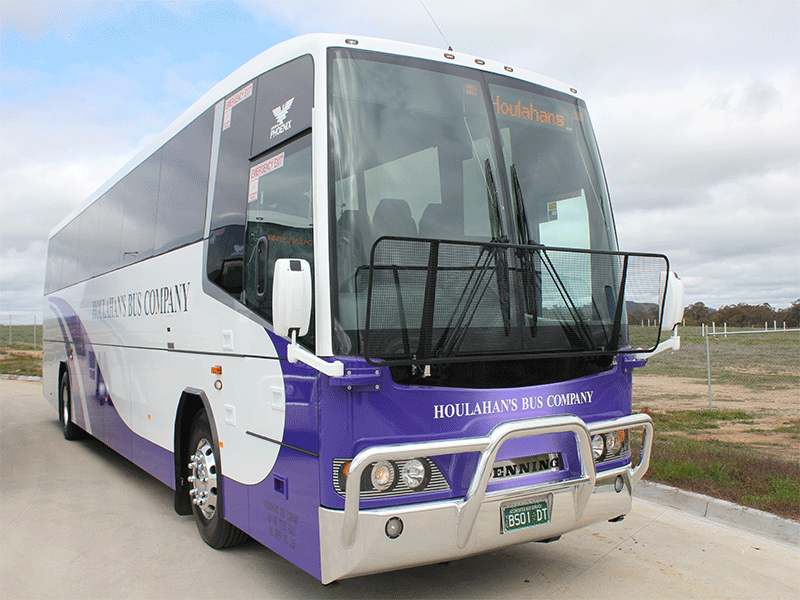 Versatile people mover
The bread and butter work for Houlahan's Denning is a school bus contract, between Bendigo South East College and Mandurang, about 20 minutes away.
Houlahan also does additional charter work and he hopes to be called on for rail shutdown duties as well — hence the toilet.
He's a big volunteer firefighter and former truckie with a bone-crushing handshake, so it's unlikely any footy teams or public passengers will want to make a mess on his bus.
From our observation of watching the school kids file on board — with the boys waiting for the girls to go first — we doubt there's much chance of any graffiti or chewing gum being left anywhere either.
"My kids are treated like my kids and there's two-way respect, and they're absolutely fantastic kids," Houlahan says.
"They were very excited when the bus rocked up and I won't have any troubles with them because I own it and they own it."
The Denning is certainly a big improvement on its predecessor — an old Mercedes-Benz 1418 with only 180hp (134kW); a manual transmission; no air-conditioning; and most significantly, no seatbelts.
Houlahan says he likes the "uniqueness" of the Denning finish.
For example there is two-stage LED saloon lighting, and floor cleaning lights "so if you get back late at night, you turn on the lights and you can see completely under the seats which makes your job 10 times easier".
The Phoenix is hand-built to order, which means an eye-glazing list of options are possible.
For example Houlahan chose luggage bins which only open from the passenger side, because he doesn't need to use them often and it's too dangerous opening them from the traffic side anyway.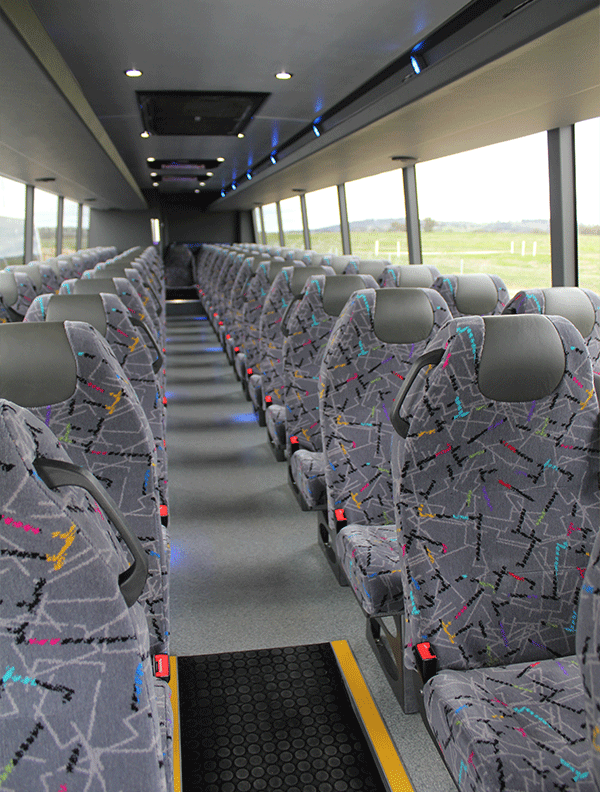 Strong build
Denning prides itself on long service on bad Australian roads.
It says it's the only bus builder in Australia which builds its own chassis, of fully welded tubular steel with internal rust protection.
The engine is fitted last as a bolt-in module which can be relatively easily removed. Nevertheless there is easy access for routine maintenance, with everything lifting up all around the bus.
All door frames are aluminium, and panelling from the bin doors up is fibreglass.
"The lifespan for a school bus is up to 17 years, but with Denning's finish quality it will go well and truly beyond that," Houlahan says.
He has a strong basis for this confidence, previously running a 1984 Denning as a second bus, which as far as he knows is still going strong with its next owner.
Houlahan and his father Bill Houlahan, who bought a matching Denning for his own school run, visited the factory before they committed to their big investments.
He says they felt like the management and workers treated them as importantly as if they were buying 20 coaches.
"I went up to Brisbane to meet general manager Michael Dempsey and their crew up there, and when we were walking around the factory the blokes who were building certain sections of the bus itself stood next to it with pride and virtually wrote their names on it, so they knew it was going to be long-lasting," Scott Houlahan says.
Dempsey — a body builder by trade — and head engineer Rob Gittins have been with Denning for more than a decade, after beginning their bus careers many moons ago with MotorCoach Australia.
The company retains the name of its late founder, Alan Denning, but no longer has a family connection. It has about 70 staff building everything from a 37-seat midi-coach to low-floors to a 100-seat double-decker.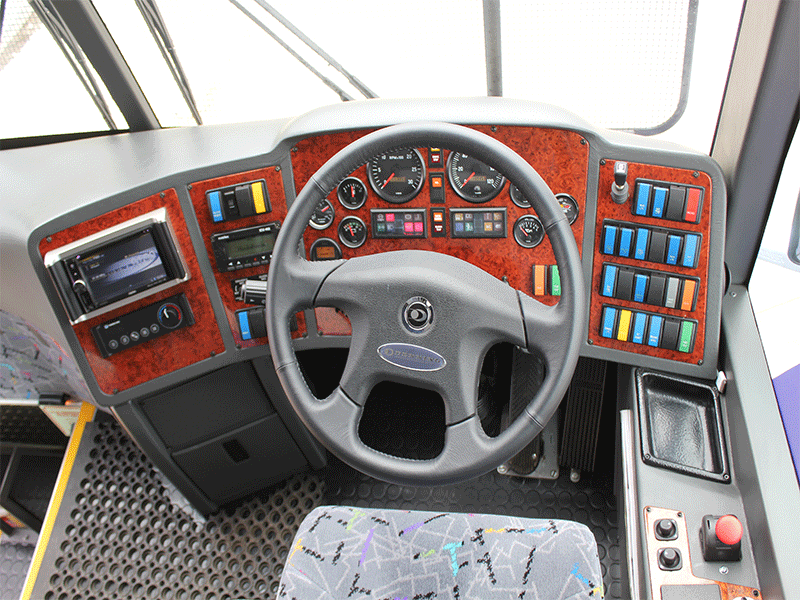 American driveline
Denning says the current Euro 5 Cummins engines are much quieter and more fuel efficient than their predecessors; and that their AdBlue burn for the selective catalytic reduction (SCR) emissions control is averaging 4 to 5 per cent of diesel burn.
Cummins makes all the components for the emissions control in-house, and these Euro 5 engines are built in the United Kingdom.
Houlahan backs up Denning on the engine.
"The Cummins engine is first time for me, I didn't know much about them, but with the quality of the engine and the sound — there's virtually no noise — it's just an absolute pleasure to drive with the power behind it," he says.
"I had a 180hp Mercedes and to go to a 340hp [254kW] Cummins, it's chalk and cheese.
"It's quiet and it's fuel efficient," he says, estimating he is averaging 3.2km to the litre, which he reckons is pretty good "for such a large bus" at 13.1m long with 18 tonnes GVM.
Helping fuel efficiency is a tare weight of just 11 tonnes, which Denning says is made possible by the integral construction.
Houlahan describes the 6-speed fully automatic Allison transmission as "absolutely amazing".
"The gear shifting and changing, you virtually cannot hear it or feel it," he says.
"There is no head movement or anything like that.
"And the retarder that comes with it, it's a six stage retarder; you virtually don't need your brakes, so you're not going to be using brake linings."
Meritor front and rear axles round out the United States driveline, and there are even Kenworth truck gauges on the dash to give that extra American feel.
Our drive
For passengers the Denning is remarkably quiet up the back, and we were especially surprised to hear how quiet the Allison transmission retarder is.
The 61 fixed Styleride seats chosen by Houlahan aren't perfect for adults on a long-distance trip, with not as much legroom as a touring coach and the headrests being a bit lower as well. But they are ideal for his bread-and-butter school run and charters.
On taking the wheel on the dual-lane outside Bendigo, I could see why Houlahan is such a fan of this coach, which is indeed lovely to drive.
The only issue on the freeway was that we slowed down to 75km/h up a steep hill. Bumping the power up to 380hp (283kW) would increase hill speed but Houlahan figures it doesn't warrant the extra fuel use, and the power on the secondary roads we then travelled was more than adequate.
The steering, handling and ride on these rough roads between Bendigo and Mandurang was impressive.
Perhaps this can be put down to a combination of the Koni shock absorbers and Denning's own suspension system, which has the rear air bags further apart than you normally see.
Speed off the mark at a couple of rural T-intersection was good, thanks in no small part to the 4.56 diff ratio.
That standing-start speed is important in such situations where traffic could be coming fast from either direction around a bend.
Nevertheless the engine still ticks over comfortably at 1,500rpm at 100km/h.
We agree with Houlahan the Allison gear changes are seamless, and that with the retarder you hardly need to use the brakes.
In this case they are drum, but discs are an option.
The only fault I could find with this coach was the annoying and quite loud air compressor noise up the back at times when riding as a passenger.
Cummins says this was because of a lot of air being used by the brakes and door as we stopped and started to take photos and video through town; and assures us it is not an issue on a long trip once the air has built up.
SPECIFICATIONS:
Make/Model: Denning Phoenix school/charter
ENGINE: 9-litre Cummins ISLe5
EMISSIONS CONTROL: SCR
OUTPUTS: 340hp (254kW); 1,500Nm
TRANSMISSION: Allison T390R 6-speed automatic
SEATS: Isri driver; 61 Styleride Economy recliners
DIMENSIONS: 13.1m GVM 18 tonnes, tare 11 tonnes
AIR-CONDITIONING: Thermo King
PRICE: $500,000 including GST
Subscribe to our newsletter
Sign up to receive the ABC e-newsletter, digital magazine and other offers we choose to share with you straight to your inbox
You can also follow our updates by liking us on Facebook.