VIDEO REVIEW: VOLVO B8RLEA
---
Steve Skinner checks out Perth's new Volvo B8RLEA/Volgren combination
It's amazing what modern smaller engines can do — take the new 8-litre Volvo bus engine, for example.
This little goer pumps out 350hp (261kW), with 1,400Nm of torque. That's actually 10hp (5.5kW) more than the phased-out 12-litre engine it replaces in some applications.
That's why Volvo has put the D8K engine into its new articulated low-floor bus built for the Public Transport Authority (PTA) of Western Australia.
It's a lot of bus to push around — 18m and 26 tonnes GVM. On the other hand, average speed for Perth buses is only around 25km/h.
Significantly this new engine has something the horizontal 12-litre motor lacked — Euro 6 emissions control. That makes it the first Volvo Euro 6 bendy bus in the world.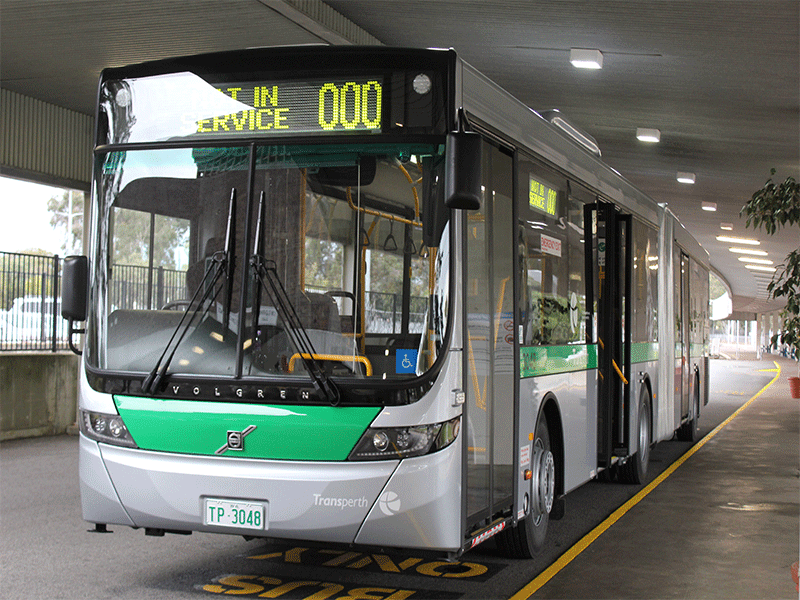 Hot Euro 6
Euro 6 wasn't the motivation for the PTA to go for the Volvo engine in its new articulated buses, but much cleaner emissions are the result.
In parts of Europe the air coming out of a Euro 6 exhaust is cleaner than the air going into the engine.
Volvo's new 8-litre unit uses both selective catalytic reduction (SCR) and exhaust gas recirculation (EGR) to achieve the emission standard now required on the continent, but which is still a long way off in Australia.
For the first time in a Volvo bus in Australia, in meeting Euro 6 the treatment package also has a diesel particulate filter (DPF).
A lot of extra heat is generated through these combined processes and that's why Volgren has extra heat shielding for both the passenger space and engine bay of this bus.
As part of standard PTA practice there is also a Fogmaker fire suppression system on board.
Since the first bus was delivered in December last year, there are now more than 15 of the Volvo/Volgren articulated units running around in Perth, out of a total batch of 70 to be delivered over the next few years. The contract is worth nearly $60 million.
The new buses replace Renaults and Mercedes-Benz which first went into service in the late 1980s.
They can carry more than 100 passengers, including 57 seated.
The lightweight bolted aluminium Volgren Optimus body is already well established in Perth (see our feature on Volgren's Perth factory in a future issue) with the partnership between Volgren and the PTA stretching back into the mid-1990s.
Volgren is convincing in extolling the safety virtues of its frame including impact absorption, rollover strength and rear crumple zone protection. Meanwhile the aluminium skin panels are easily replaced.
The PTA says articulated buses make up around 7 per cent of the total metropolitan government bus fleet in Perth.
They are mainly used in the Transperth network for heavily patronised services, school specials, and special events such as big sporting and entertainment occasions, typically supported by joint ticketing promotions.
For example, buy an AFL football ticket, and you also get free public transport to and from the ground.
By the way 'B8RLEA' stands for Bus, with an 8-litre engine at the Rear, with a Low Entrance and which is Articulated.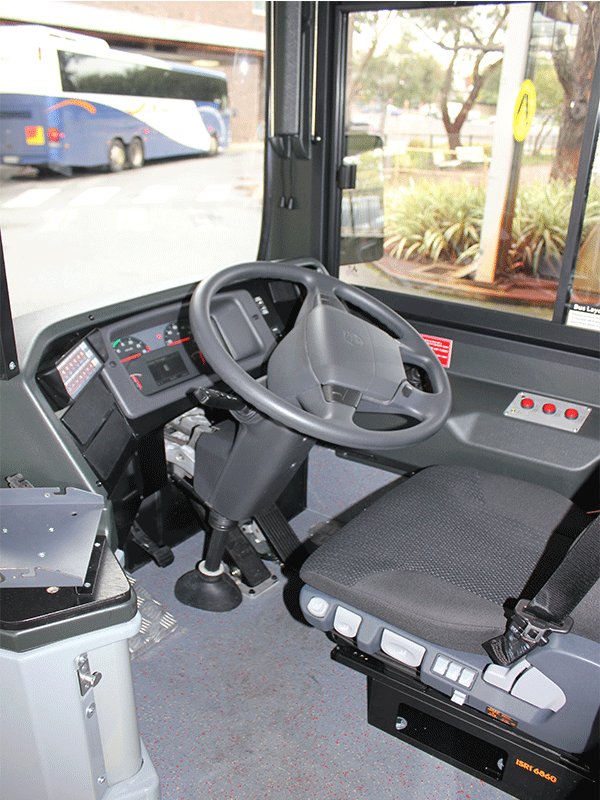 Happy PTA
The PTA says so far, so good for the new Volvo/Volgren artics.
"To date the feedback on the B8 articulated buses has been good," Transperth fleet manager Paul Burke says.
"Drivers have embraced the new technology without encountering any major problems or issues.
"Fuel consumption performance has been acceptable — well within our contracted specifications of less than 65 litres per 100km.
"Despite the smaller capacity engine there have been no formal reports of lack of engine power on these buses."
Volvo expects that once the engines wear in, the fuel economy will improve to less than 60km/litre. Aiding economy among other fuel saving improvements is a new common-rail injection system and variable geometry turbo.
Volvo Buses' WA contract and technical support manager is Stuart Woodward, and he's an impressive ambassador for the company.
The son of long-serving Volvo Buses technical guru David Woodward, Stuart Woodward is also a bus mechanic by trade, and his idea of weekend relaxation is to drive a coach or help a mate fix a coach.
He works closely with Volgren, which has a long relationship with Volvo in Australia.
"We have Volgren bodies still running around on Volvo chassis' which are in excess of 25 years old," Woodward says.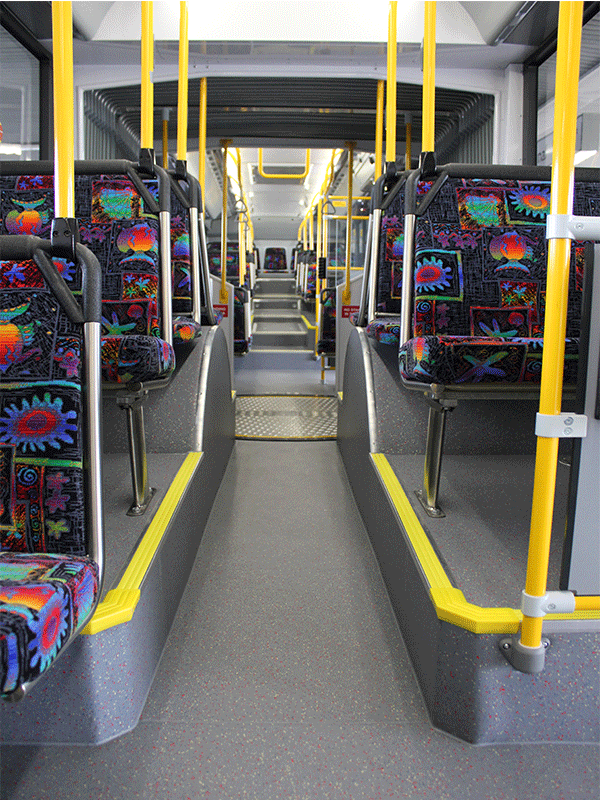 Our drive
This writer had never driven an articulated bus before, so it was a pleasant surprise to discover it was easier than expected.
These things track well in tight corners and the power steering on this bus is exceptional, because it's electronic.
That makes for further fuel savings too, because the electrically powered pump is independently mounted at the front of the bus, eliminating the need for extensive power steering piping.
As for rear handling, when I stamped hard on the brakes on a quiet side street, the rear section of the bus didn't move a millimetre sideways.
Those brakes are discs all round, and part of Volvo's electronic braking system (EBS) which includes ABS of course, and brake blending.
The good performance from the little 730kg engine really was surprising, especially off the mark at lights. This was no doubt helped by the 6.17 diff ratio.
However the high diff ratio also made it difficult to keep the tachograph in the green zone at higher speed, with cruising at 80km/h using 1,500rpm.
This bus is quiet. In the driver's seat you can't hear the engine up the back at all, just tyre noise.
The progression through the six gears in the ZF EcoLife fully automatic transmission was beautifully seamless. Volvo has specified a limited 'three-button' option, i.e. neutral, reverse and drive only, which means the driver can't take over the gears manually.
We powered up a short, steep stretch of the Perth Hills strongly and smoothly, and would hardly have slowed up car traffic behind us at all.
Coming down the same short hill was not as impressive though.
The single stage transmission retarder was nowhere near strong enough to hold the vehicle up on its own. Considerable pressure on the brake pedal was needed.
This is an uncomfortable feeling for anyone used to going down steep hills in heavy vehicles.
One almost feels naked in a coach or B-double if you can't rely on the retarder or engine brake in combination with the gears. Nevertheless there was never any risk of us experiencing brake fade or running out of air.
It appears that having to use the foot brakes down steep hills in this bus is an unavoidable consequence of a common set-up in urban route buses — having the retarder operating off the foot brake.
This driver-friendly brake pedal set-up also makes travelling more comfortable for standing passengers by making the slowing down process — dare we say it — idiot proof.
That's because there's no risk of a driver suddenly yanking a multistage manual wand retarder onto the strongest setting and throwing passengers off their feet.
Volvo and ZF have gone for a compromise, programming the retarder for common use on the flat, where just a gentle nudge on the foot pedal (8 per cent) is enough to actuate the retarder and cause the transmission to kick down, with minimal use of the service brakes.
Needless to say, driver comfort in this Volvo is top-notch, enhanced by the Isri seat.
The soft McConnell Metro passenger seats are comfortable too; sturdily built with stainless steel and rigid plastic handles.
The low window line made for good passenger views of the pleasant Perth landscape, and the bright LED lighting is impressive.
Other notable features include a new adjustable dash; telematics capability of course.
On our drive after rain the Hübner turntable was squeaking horribly, but Woodward says it was nothing a bit of grease wouldn't fix.
SPECS:
MAKE/MODEL: Volvo B8RLEA low-floor articulated
BODY: Bolted aluminium Volgren Optimus
ENGINE: Volvo 8-litre D8K
OUTPUTS: 350hp (261kW); 1,400Nm of torque.
EMISSIONS CONTROL: Euro 6, using SCR, EGR and DPF
TRANSMISSION: Fully automatic 6-speed ZF EcoLife with retarder
BRAKES: Discs with EBS
SEATS: 57, more than 100 total passengers
DIMENSIONS: 18m, 26 tonnes GVM
PRICE: $800,000 plus
Subscribe to our newsletter
Sign up to receive the ABC e-newsletter, digital magazine and other offers we choose to share with you straight to your inbox
You can also follow our updates by liking us on Facebook.