VIDEO REVIEW: Yutong low-floor
---
China's biggest bus brand has a new route bus on the market in Australia, writes Steve Skinner
For anyone who hasn't caught a bus in the centre of Brisbane before, it's a pleasant eye-opener.
An underground bus station in the CBD; dedicated bus roads and stations a little further out; and electronic boards showing how long until your next bus arrives.
ABC magazine recently caught a bus from the Brisbane Convention & Exhibition Centre to Nathan in the south, and the old-style courtesy and friendliness of the passengers and drivers was striking.
People even called out 'thank you' to the driver as they departed from the middle door.
After guiding this passenger to the correct stop, the happy driver gave a big wave as she drove off.
She had begun the trip five minutes late because of peak hour congestion on Victoria Bridge across the Brisbane River, one of the regular downsides of the Brisbane system.
A stream of Volvos, Scanias and MANs with Volgren and Custom Coaches bodies had poured across the bridge.
These European chassis with Australian-built bodies could soon have another stiff competitor if the biggest bus brand in China has its way.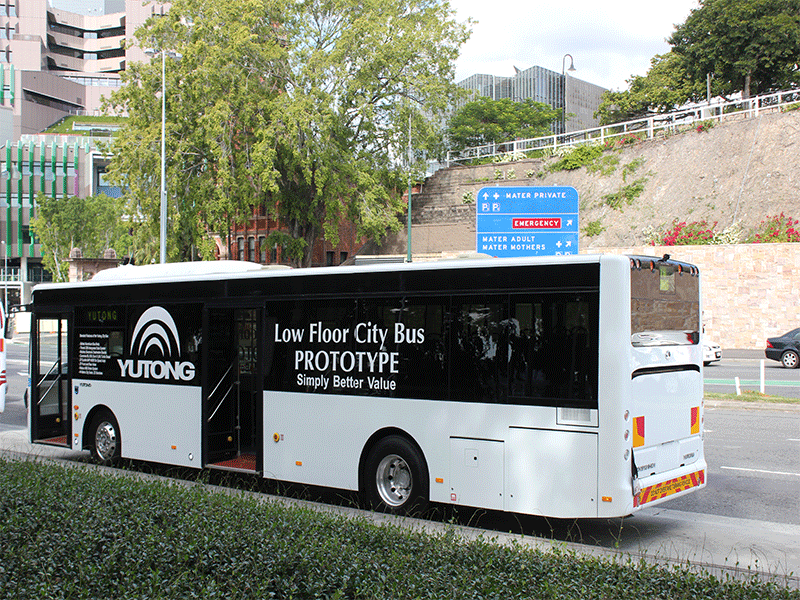 Patience
The Yutong low-floor urban route bus has been in Australia since last year and a third prototype is currently being trialled for local conditions after gaining its compliance plate. The model is expected to be available for delivery early next year.
Yutong says it has learnt from past mistakes in Australia, and is patiently making sure it has the right product with the right nationwide back-up service and support before officially launching this bus here.
Yutong Australia director Neil Wang says one of the first things he did after Yutong took direct control of the Australian operation in 2013 was to set up a national parts warehouse at Campbelltown in Sydney, close to the motorways leading north, south and west.
He says individual dealers will normally be able to supply parts on the same day, and be restocked very quickly from Campbelltown. Each part has a unique number, so photographs aren't needed.
Wang is also conscious that he has to match the quality of the traditional products on Australian city route runs, with a bus that will last at least 20 years.
To that end this Yutong has a Volgren-style bolted aluminium body with big advantages in terms of corrosion protection, strength and weight.
Meanwhile, the steel chassis goes through numerous automated electric coating dips in big 'swimming pools' to prevent rust.
With that sort of emphasis on longevity and major components from the likes of Cummins and ZF, the expected retail price tag of $315,000 plus GST and on-roads could send a shiver through the competition. Other quality products can easily top the half-million dollar mark.
This bus is one of more than 60,000 Yutongs a year built with massive economies of scale at Zhengzhou in central China, in a factory complex so big it has its own traffic lights and a high-rise hotel for customers with five restaurants.
There is laser cutting and robot welding and painting, "to avoid any human mistakes," says Wang, adding there is consistent quality: "All the buses are the same".
"The major parts we build ourselves. We control the entire supply chain."
Wang says the company builds so many buses it is confident about its parts.
"If anything goes wrong, we will know it," he says.
Expensive crash and rollover tests are also carried out.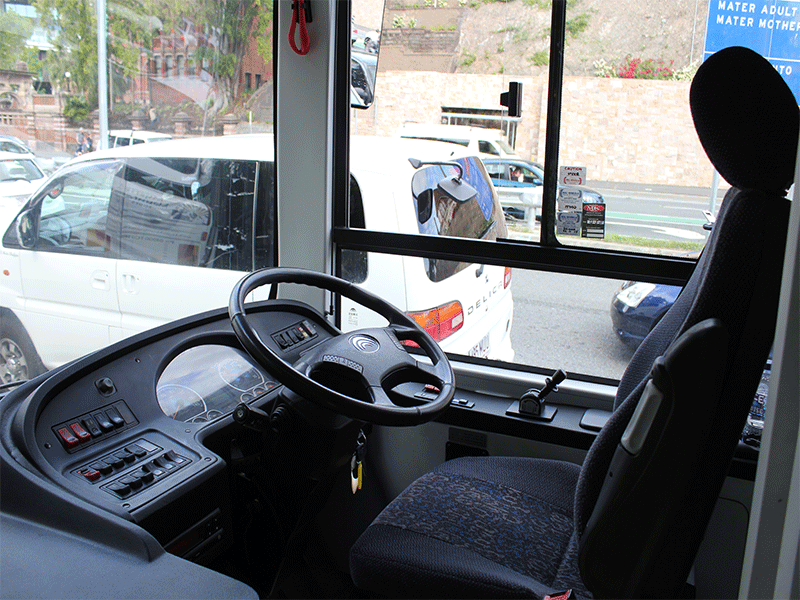 Big plans
Pete White is the Yutong dealer for southern Queensland and northern New South Wales, and has been heavily involved in the development of the low-floor bus for Australia.
He says there is a special project team involved in China.
"We need to get the right product that's really adapted for the Australian market, and to be honest we don't know everything," White says.
"We really want operator feedback in order to be able to develop something that is really fit for purpose over a long life. The plan is to share this bus with multiple operators.
"The customer needs to develop the specification and the product rather than the other way around."
This unit uses componentry that Australian operators are used to, such as the UK-built Cummins engine and ZF axles and transmission.
White laments that Chinese 'flooding the market' has happened in the past, to the detriment of the reputation of Chinese buses.
"Yutong has gone to a lot of trouble to specify for the Australian market," he says.
The computerised Yutong production line is a "well-oiled machine," with further global expansion plans and the benefit of experience from overseas.
"There is customisation to the particular market but the foundation is the same."
White says "the eye is on larger orders," and he sees no reason this bus can't compete for Brisbane's TransLink services, or for running with any other big Sydney or Melbourne operator.
Yutong is applying for selection on the New South Wales procurement panel, for example.
"We've just got some refinement to do," he says, citing as an example work on where a TransLink machine would sit in the drivers' area.
"We're not in a price market here totally. It's cost of the asset over its service life that we are really focusing on, which is why from a componentry point of view everything we have specced into it is good gear.
"But we certainly won't be the cheapest in the market."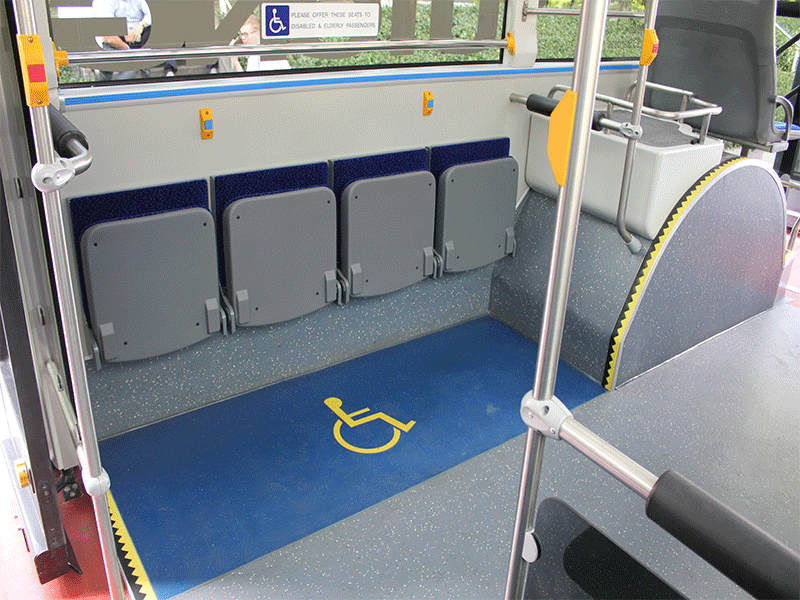 Our drive
After all the rhetoric from Wang and White in his Bus Stop Brisbane dealership meeting room, ABC magazine was indeed pleasantly surprised by how good this Yutong is to drive.
The 9-litre Cummins ISL engine provides plenty of get-up-and-go, at 320hp (235kW) with 1,350Nm of torque.
It's matched nicely with the six-speed ZF Ecolife transmission to give smooth gear changes.
The steering is excellent; the bus handles well; and it stops quickly thanks to the front and rear discs.
There is Wabco ABS which is mandatory of course, but the Yutong also has EBS (electronic braking system) which includes ESC (electronic stability control).
The ZF transmission retarder activated by the brake pedal assists with the slowing duties.
One of the impressive features was a smooth ride on ECAS air bag suspension over some pretty severe undulations on Ipswich Road.
There's a comfortable Isri seat; a good driving position; handy storage packet in the driver's door; and drink bottle holder. (The latter is a simple thing but surprisingly one that can't be taken for granted in heavy vehicles.)
Inside, the Yutong looks similar to the incumbent low-floor bodies in Australia. There is capacity for 44 seats, 25 standees and two wheelchairs — although there looks to be plenty of room for three.
The engine noise up the back, and even from the outside, is not as loud as I was expecting.
A Thoreb integrated data system, with connected security cameras and telematics capability, comes as standard.
There are two doors but Yutong is also evaluating a single door option.
Automatic fire suppression in the engine bay is reassuring.
A spare windscreen will come with each bus; and standard warranty will be two years bumper to bumper, with extra warranties as an option.
Minor issues
A possible concern in our view is the plastic European seats, which can be bent quite a way when you push them hard enough.
That may or may not be a good thing for preventing breakage, but passengers might not like it when the big bloke behind them grabs the seat in front to haul himself out of his perch. Nevertheless, Yutong says operators can specify Australian seats as an option if they want.
The instrumentation in the driver's cockpit doesn't look Chinese, but the symbols don't stand out enough on the black background of the buttons to be able to see them clearly.
There are no spotter mirrors, which I personally prefer but which many operators don't; and there was a reflection problem in the right mirror.
The air-conditioning unit is Yutong's own which we haven't heard of before, but Yutong says a lot of its componentry is interchangeable with other brands.
The luggage area was too small for my suitcase, but there is the option of a bigger one.
An easily noticeable downside on the review bus was the cheap-looking alloy wheels, which had a silver paint look to them rather than a nice shine. However Yutong says when the bus goes on sale it will roll on Alcoa alloys as standard.
Interchangeable aluminium panels will also be on the final version, rather than the current fibreglass.
Meanwhile, the bad grammar and punctuation on the international English-language Yutong website makes one wonder about quality control for export.
Overall though, this seems like a good product which could well give the competition a strong run for its money.
SPECS
MAKE/MODEL: Yutong low-floor route bus
ENGINE: Cummins ISL 9-litre
OUTPUTS: 320hp (235kW); 1,350Nm
EMISSIONS CONTROL: Selective Catalytic Reduction
TRANSMISSION: 6-speed ZF Ecolife with retarder
BRAKES: Disc, with Wabco ABS and EBS
SEATS: 44 seated, 25 standing
DIMENSIONS: 12.5m x 2.5m x 3.1m
PRICE: $315,000 plus GST and on-road costs
Subscribe to our newsletter
Sign up to receive the ABC e-newsletter, digital magazine and other offers we choose to share with you straight to your inbox
You can also follow our updates by liking us on Facebook.