REVIEW: AUTOBUS SD12300
---
The Autobus SD12300 from Quality Bus and Coach should attract attention, writes Matt Wood
When it comes to marketing a bus in a low volume market like Australia's, that bus needs to have something special to make it stand out from the crowd.
There's now a veritable United Nations of product available here, from big sexy highway cruisers to budget mini buses and mudslinging off-roaders.
So I have to confess that when I saw the new Autobus SD12 now being sold by Queensland based Bus 4x4, I had to stifle a yawn.
Its 12.3m long, seats 53 people, has a Cummins engine, oh and this one is white – another meat and potatoes 2-axle coach/school bus.
Of course this isn't fair, but that was my honest first impression.
Even sitting behind the wheel gave me a sense of dreariness as I gazed at yet another uninspiring grey dash bulkhead and instrument panel.  
But, that's until you have a chat to Quality Bus and Coach Chief Executive Director, Frank Turrisi.
Malaysian-based Quality Bus and Coach (QBC) manufacture the Autobus SD12300 as well as the Bus 4x4 stablemate the MD9000 midi coach and the Iveco-based Tonto 4x4 which has already graced these pages.
The smaller MD9000 is based on a Hyundai chassis with Hyundai power, but the SD12300 uses a QBC chassis and body which is manufactured in the company's Malaysian factory.
After talking to Frank you quickly realise that this guy has been around buses for a long time, 28 years in fact both in Australia and within Malaysia domestically.
In fact the MD9000 and the SD12 represent QBC's first foray into the Australian market for many years, Frank and his wife Deanne have been based in Malaysia since 1997.
The affable Queenslander is unhurried as he points out some of the finer points of the SD12, I nodded my head appropriately and noted down any interesting details but still I wasn't convinced that the SD12 was anything but 'just' another people mover to emerge from the Asian region.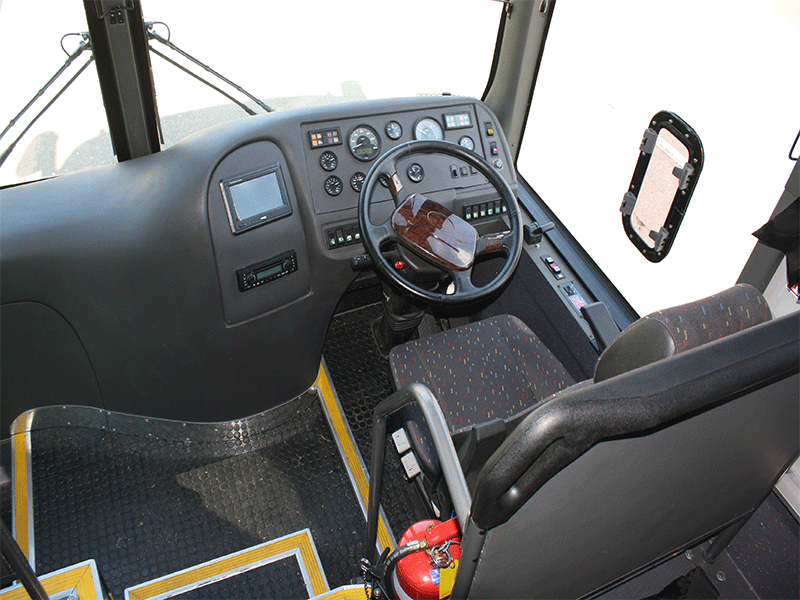 Time to rethink
That was until I turned the key and fired up the ISLe5 Cummins to take the Autobus for a test drive.
Already I could see that I was going to have to take a closer look at this particular vehicle. For a start I don't think I've heard a Cummins-powered bus so quiet, and on start-up there was very little vibration through the body.
Maybe I was going to have to rethink my initial impression after all.
The saloon door swung closed smoothly, without even so much as a clunk, and it was time to hit the open road.
It didn't take long for the Coachair air-conditioning to bring the temperature down and before long I steered for the nearest freeway.
The longer I spent in the driver's seat the more my initial impression of the Cummins installation was confirmed, this was one quiet, well-insulated bus.
But what only added to the performance and smoothness of the 330hp (243kW) Cummins was the use of a ZF automatic transmission.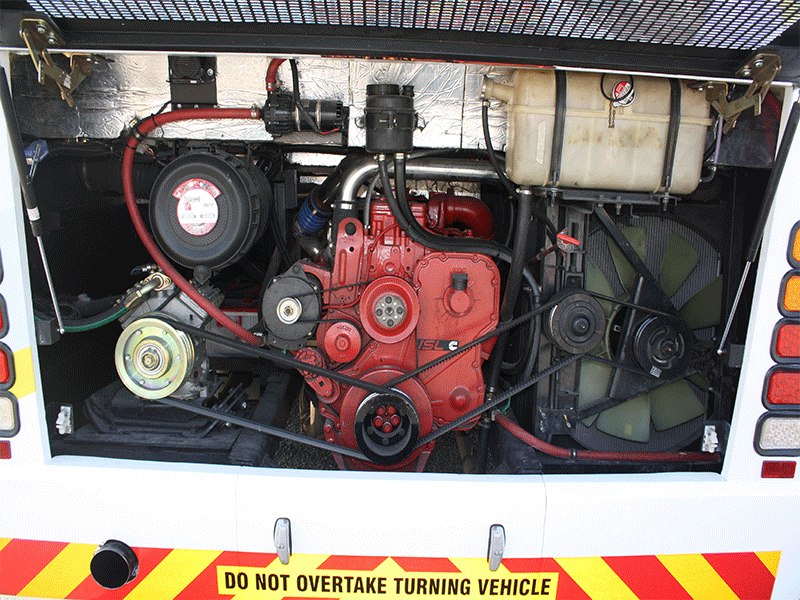 Smooth operator
I've driven the selective catalytic reduction (SCR) Cummins ISLe5 in many other vehicles, both trucks and buses, in manual and in automatic guise but I've yet to come across such a slick combination of engine and transmission as this Cummins-ZF marriage; it's a match made in heaven.
The 6-speed Ecomat gearbox puts the red engine's power to the blacktop with impressive ease, and the somewhat peaky nature of the red engine is tamed letting the engine power flow through the driveline with silky smooth purpose.
On hitting the freeway, heading towards the Gold Coast, I did find the front end a bit wobbly at first.
However, Frank, who was sitting behind me, took the opportunity to lean forward and tell me that they hadn't fitted the front sway bar to the bus yet, enough said. Visibility was also at a level that you'd expect from most buses these days, but I do find the antler style mirrors a much better idea than the low down conventional type that are still common on many buses these days.
It does take a little bit of time to adjust to looking up at the mirrors rather than from side to side, but they are out of the way and provide a commanding view of the sides of the bus as well as the front of the vehicle; very handy if kids are around.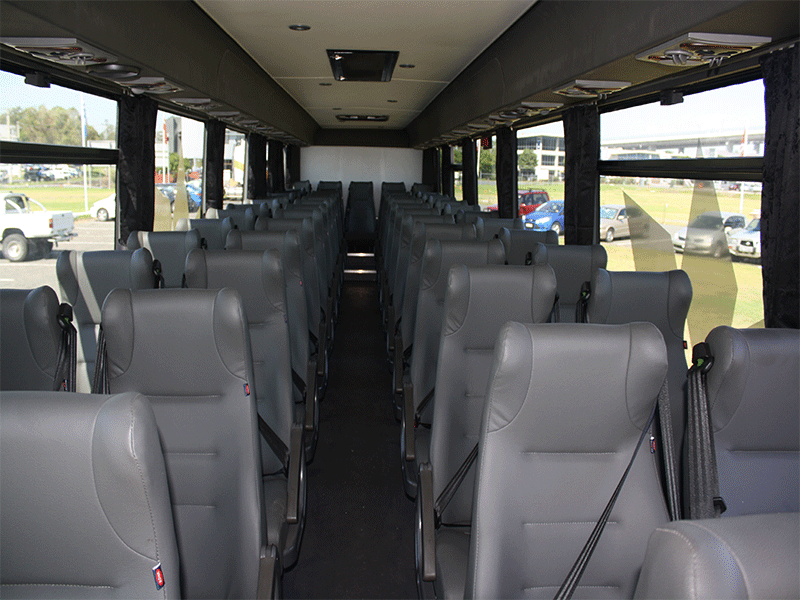 Braking with tradition
Regardless of road speed, engine noise remained dull and there was little resonance through the cabin when under acceleration.
The ZF Intarder made braking a cinch, and with only a couple of people on the bus I didn't need to use it above the second setting.
Performance from a standing start and even when coasting up to an intersection was smooth and predictable and this made merging into traffic a breeze.
I quickly got the feeling that even with a load of passengers on board there wouldn't be too many spilt drinks or knitting accidents while in traffic, a good driver would be able to keep the SD12 rolling along nicely and smoothly.
All of the air-suspension underneath also comes from ZF with a two-bag independent front end and a four-bag rear.
Brake wise QBC use all Wabco components including ABS.
QBC imports all of the brake components from Australia including brake lines, and Frank feels that this ensures quality and consistency on the brake systems across all of their vehicles.
Down the sides of the vehicle there's only flat glass to be seen, according to Frank this makes finding replacement glass a lot easier and well as cheaper.
But one of the clever little secrets that this bus is hiding is the luggage bin doors.
These have been designed by Frank and the doors slide out and up rather than the traditional swing up type found on most buses.
I reckon that this is a great idea which means that there's less room needed either side of the bus when in a crowded terminal, it's also a damn sight safer than having open doors that people can walk into.
Another advantage is that the driver doesn't have to hunch under the door while unloading luggage which has to be a big plus from an occupational health and safety perspective.
The SD12 can also be stretched out to 13.5m for 69-seat school bus duties.
The only real let down in what is otherwise a tight and well-engineered package is the dashboard area.
The whole area looks underdone and almost an afterthought, this particular example was just plain grey, though a fake wood grain look is also available.
Considering how well the bus behaves from the drivers' seat this was does bring the whole tone of the cockpit down and makes the bus look a little unfinished.
Unfortunately this is the first part of the bus you see when you walk inside which doesn't do much for first impressions.
A bit of fit and finish around this area would do wonders for the overall presentation of the SD12300.
It may be yet another arrival on the local bus scene that on the surface doesn't appear to offer anything new.
But SD12 is more than just the sum of its parts; it has been well engineered and importantly, well put together, and from my perspective is as tight as a drum and a dream to drive.
It may not stand out from the crowd but this bus is worthy of a lot more attention, hopefully no one has to be seen in public without their undies to get it though.
PLUS:
Like: Tight as a drum
Like: Smooth performer with plenty of mumbo
MINUS:
Dislike: Uninspiring cockpit treatment that looks unfinished
Dislike: Blind adjustments are a bit fiddly
SPECS:
Make/Model: Autobus SD12300
Chassis and body: Quality Bus and Coach
Length: 12.2m (13.5m available)
Engine: Six cylinder Cummins ISLe5 with SCR
Power: 330hp (243kW)
Transmission: 6-speed ZF Ecomat torque converter automatic with Intarder
Brakes: Wabco ABS with discs all round
Front Axle: Air-suspended independent ZF
Rear Axle: Air-suspended ZF
Seating capacity: 53-69
Subscribe to our newsletter
Sign up to receive the ABC e-newsletter, digital magazine and other offers we choose to share with you straight to your inbox
You can also follow our updates by liking us on Facebook.