VIDEO REVIEW: Isuzu M 850
---
An engine up front benefits this rural school bus, Steve Skinner takes a look
Brisbane-based Bus4x4 in partnership with a Malaysian-based builder has come up with a country coach which may not be four-wheel-drive, but still revels in the dirt.
It's the M 850 based on the Isuzu FSR 850 truck chassis – and that means the engine is up the front, out of the dirt and dust and making for good handling and traction on the front axle.
There are 45 APM vinyl coach seats with what is a unique option as far as we know  – a "Seat Belt Alert System" which lets the driver know if a schoolkid or miner is not buckled up."
Bus 4x4 Group of Companies has come up with what could be a solution to that daily dilemma for bus drivers — trying to make sure that everyone has their seatbelt on.
It's a recently developed option for this front-engined M 850 bus based on an Isuzu chassis.
Sensors in the seat and on the seatbelt can detect if someone is not buckled up, and this is displayed on a screen up with the driver. The passenger also gets an automatic alarm.
If it's already stopped, the bus won't move again until recalcitrant passengers have clicked up. That could include burly miners in this specialist rural transport vehicle.
It seems a brilliantly simple system to us, and in this modern age of high technology it's a wonder we haven't heard of something like this before.
Meanwhile adding to the driver's safety is an airbag and a seatbelt pretensioner on the comfy Isri 6860 seat with lumbar support.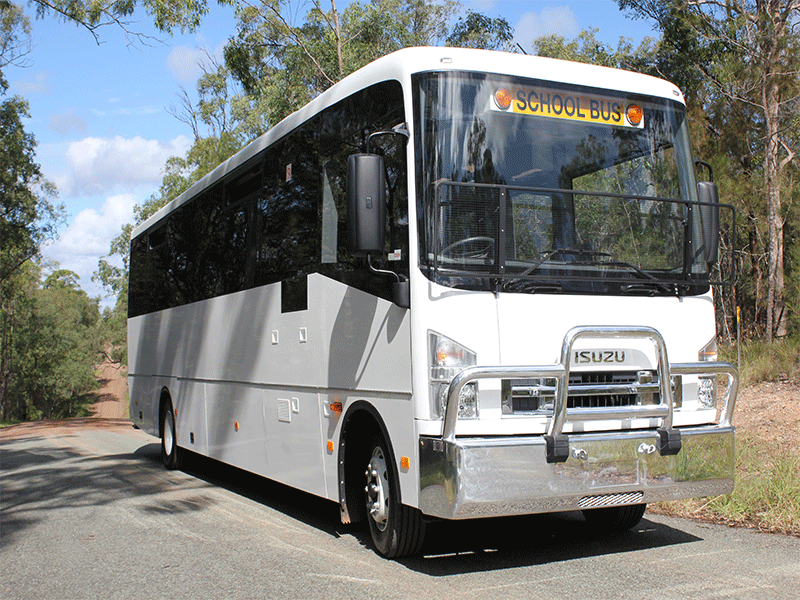 Up-front engine
The M 850 is based on the tried and true Isuzu FSR 850 truck chassis, and is rear-wheel drive only — unlike a lot of other Bus 4x4 products, as the company name implies.
Having the engine at the front is a big advantage on dirt roads, because stones aren't being kicked up at it all the time, and dust isn't clogging the radiator.
Bus 4x4 operations manager Tony Wright explains another advantage.
"The front engine gives better stability in rural applications on dirt roads, better handling with the weight distributed evenly over the front axles, and better traction," he says.
I certainly found that to be the case on our test drive.
The steering and handling on this bus is terrific, and I have to admit it was a bit of fun throwing it into corners with no passengers on board. The front stabiliser bar no doubt also helps.
Mind you, the drum brakes can pull it up sharply if need be.
The Australian-designed bodies are custom-built in Malaysia by Quality Bus & Coach.
The 'M' in M 850 stands for medium width, which for this bus is 2.3m
That's good because on narrow roads the vehicle was easy to keep away from the centre line; but at the same time the seat and aisle width doesn't seem to be too compromised.
Motor torque
The green (torque) band for this 706Nm motor is between 1,000rpm and 2,000rpm, with the redline starting at 2,800rpm.
On the Ipswich Motorway the bus was sitting on 2,100rpm at 100km/h on the dial. It sounded and felt like it needed another gear. But of course this vehicle is not designed for the freeway, with the drive ratio set at a low 4.9.
With the foot flat to the floor in economy mode, the Isuzu automated manual transmission (AMT) changed gear at 2,200rpm. In power mode it was 2,600rpm, which was noisy. The noise was nearly deafening when the engine fan kicked in, but that happened only once during several hours of driving.
The noise level for the driver seems good overall considering the engine is right beside you.
The exhaust brake works as well as any other, and holds the bus in a lower gear when going down a steep hill. Of course there is also the option in the AMT of manually holding it in the gear you want.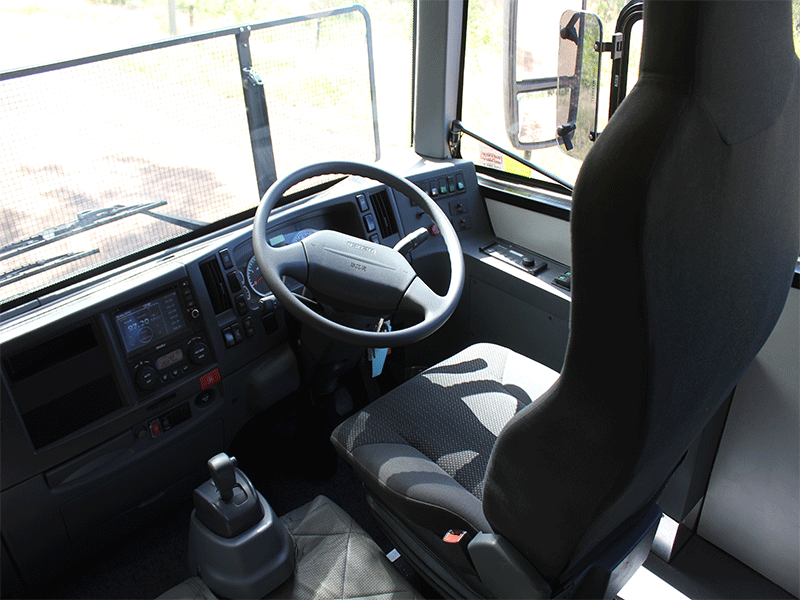 Other features
The M 850 has Thermo King air-conditioning along with four hopper windows which are handy in case the air-conditioning ever breaks down. A Webasto independent diesel heating system is available as an option.
Electronic gadgets include cruise control, traction control, reversing camera, TV, Bluetooth, and heated electric mirrors. The mirrors offer excellent vision.
There is plenty of underfloor space, including at the back, with the option of having a rear boot.
By the way, the M 850 has a smaller sibling, based on the Isuzu FRR 500 with a 205hp (153kW) engine. It's also a country/mining/school coach and also with 30-50 seating capacity.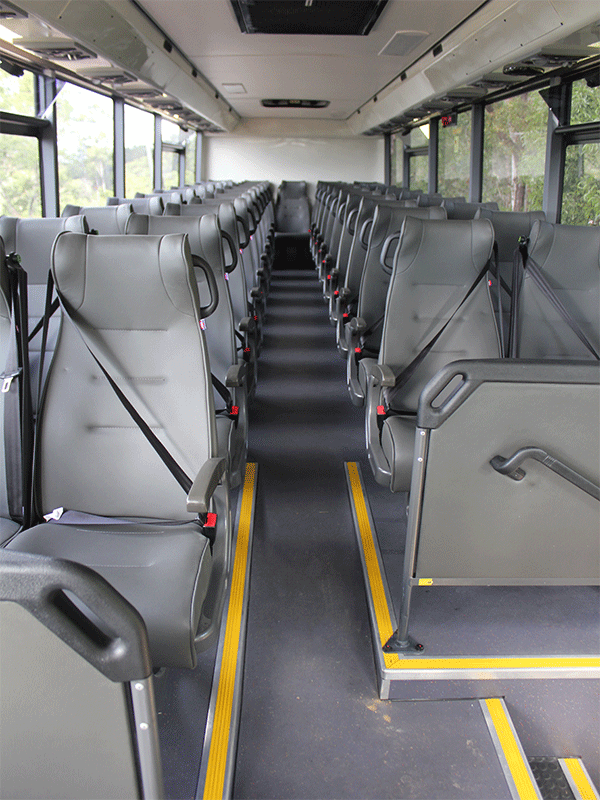 Improvements on the way
Bus 4x4 was already on to some of the minor problems we found with the M 850.
One is that it felt a little underpowered going uphill on the dirt. At one stage on the dual-lane it took a long time to overtake a slower truck on a rise.
The current power rating produced from the 7.8-litre engine is 237hp (177kW), but from now on that will be cranked up to 255hp (190kW).
Another problem was with the Isuzu AMT, which was good overall but couldn't make up its mind what to do on a roundabout in Acacia Ridge (at least the bus didn't stop). However the coach was fresh off the boat from Malaysia and hadn't had its pre-delivery check done yet, so that hiccup could have been an adjustment issue.
Another adjustment bug could have been the slight roll forward on a slope after selecting 'reverse', and a slight roll backwards after selecting 'drive'. To be on the safe side I made sure the parking brake was on after those episodes, not realising there is Hill Start Aid (HSA).
But even if these transmission issues are not adjustment ones, from now on this model will be supplied with a fully automatic 6-speed Allison transmission, which should be better suited than the AMT to this application.
It will also come with rear Hendrickson air bag suspension as standard. At present there are small 'bump stop' bags retrofitted to replace the helper springs, to make for a smoother ride up the back.
Country operators may baulk at a single windscreen which is bigger than the one in the equivalent Isuzu truck. However Bus 4x4 says it supplies a spare windscreen with each vehicle; has plenty of this standard size in stock in Brisbane; and in any case for an extra $285 operators can choose a laminated product which the company reckons is literally bulletproof.
A high stone guard is an understandable option for use on dirt roads, but I found this one to be annoyingly high and with a vertical support bar right in front of my eyes.
However these guards are from a nearby supplier, and can be custom built to suit —as is the handsome bullbar from Ajs Total Truck Gear in Toowoomba.
Understandably, there is no driver's door on this fairly large bus, and the engine hump makes for a bit of clambering to get in and out of the driver's seat. But that's no doubt preferable to having walking space on the right side of the driver's seat, which would make judging the centre line that little bit harder.
SPECS
MAKE/MODEL: Bus 4x4/Isuzu M 850 4x2
ENGINE: 7.8-litre SiTEC Series III
OUTPUTS: 237hp (177kW); 706Nm @ 1,450rpm
EMISSIONS CONTROL: Cooled exhaust gas recirculation (EGR) with diesel particulate diffuser
TRANSMISSION: Isuzu 6-speed AMT
BRAKES: Air over hydraulic drum
SEATS: 45 APM vinyl coach seats, all with handles
DIMENSIONS: 10.5m long, 2.3m wide. 14 tonnes GVM
PRICE: $260,000 plus GST for fully auto with rear air bags version
PLUSES
 Front engine protected on dirt roads
Handles extremely well
Seatbelt warning technology option
MINUSES
Tricky access to driver's seat
Engine rating needs cranking up
Current AMT not ideal
Subscribe to our newsletter
Sign up to receive the ABC e-newsletter, digital magazine and other offers we choose to share with you straight to your inbox
You can also follow our updates by liking us on Facebook.