REVIEW: HINO FD 240
---
Hino FD 240 school bus is up with the times on access for the disabled, writes Steve Skinner
Let's face it, the Hino FD 240 school bus looks a bit daggy.
The little front wheels being tucked so far inside the body screams 1960s, and gives the bus a boxy look.
Knowing the engine is at the front and the whole thing is based on a medium-duty truck chassis, does nothing to dispel the initial impression that this is a relic from times past.
But you shouldn't judge a book by its cover.
For one thing the little bus goes like a rocket. The '240' stands for horsepower, and that's plenty for a seat range of 35-43.
Not having an engine at the rear is great for something bus operators of old didn't have to worry too much about: wheelchair-friendly bodies.
Who better to talk about the new Hino FD 240 disability-access school bus than a pair of current operators who have run Hino buses for many years, whom ABC magazine ran into at the Australian Bus and Coach Show in Sydney late last year.
With these guys, Hino reliability is a given, which left plenty of time to talk about other things.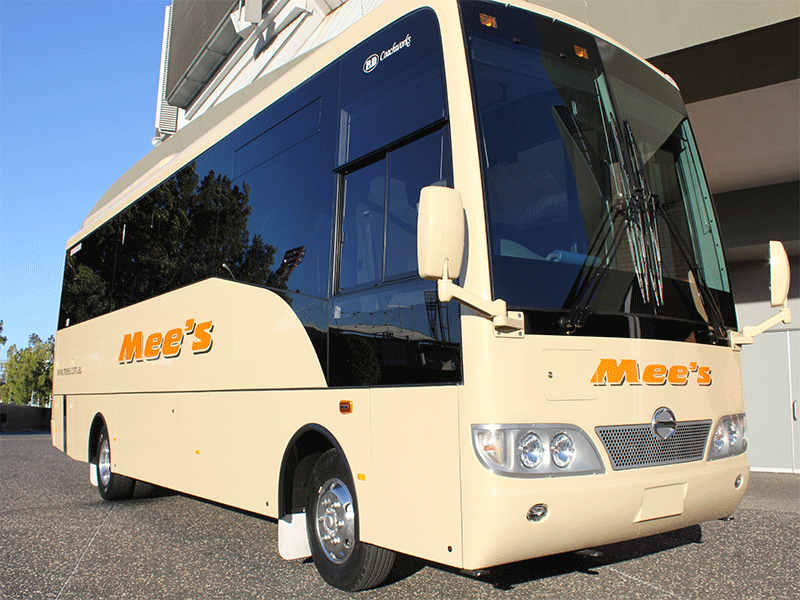 The bee's knees for Mee's
As we checked out the FD 240 on display at the Sydney show, Mee's Bus Lines Director Craig Mee was sitting behind the wheel of his new acquisition.
Mee operates about 100 school buses and charter coaches under the family name from his depot at Heidelberg in Melbourne.
Turns out he's buying nearly 20 new FD 240s to replace about 15 FD 186s and some BD Hinos, of about a 20-year vintage and with more than 600,000km on their clocks.
Not that there's much wrong with the old buses, mind you.
"They're still going strong but the time has come with the bodies, and the engines are just about there too," Mee says.
About half his fleet is wheelchair-accessible, and that's one of the reasons Mee has gone for the FD 240s, which have a flat floor throughout — great for wheelchairs.
"Wheelchair access will get used every morning and night," Mee says, adding the number of wheeled passengers is expected to range from two to 10.
The bus he was sitting in had arrived in time for the Sydney bus show from bodybuilder P&D Coachworks, based at Murwillumbah on the far north coast of New South Wales.
Mee has gone for a Tramanco hoist at the back rather than a cassette underneath, so that if the hoist plays up he can whip it out quickly — in as little as 20 minutes — and replace it with another one.
He prefers to have the wheelchair tie-down tracks running front to back.
The whole set-up allows plenty of flexibility, because wheelchair sizes are different — some of the new ones are one-and-a-half times the size of older ones: "So if you have the designated positions only, you can be in trouble," Mee says.
The Styleride high-backed seats and are big enough to comfortably seat an adult, let alone a big schoolkid. They can be easily removed from the tracks, with the mounts welded in underneath the floor.
On this bus Craig Mee is trialling vinyl covering because it's easier to clean, even though kids aren't supposed to eat or drink on the buses. However, the damage and graffiti potential is a bit of a worry compared with the fabric he uses in the bigger school buses.
Seat belts are lap-sash of course. Mee likes the good vision for the kids from the low windows. Air-conditioning is Denso.
Craig Mee says these new buses will be doing plenty of work on Melbourne's freeways, although not necessarily at 100km/h because of Melbourne's worsening traffic.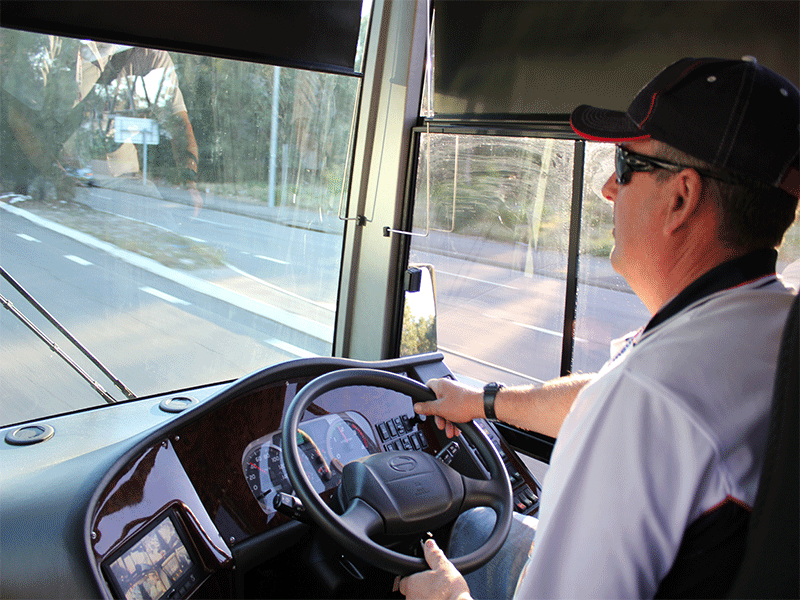 A serious buyer takes the wheel
On that note, at the end of the day and the show, it was time for ABC to take the FD 240 for a pre-arranged spin with Rod Harris, Bus Sales Manager with CMI Hino in Melbourne, who sold the FD 240s to Mee's Bus Lines.
But there was an interloper — Gerard Hanscombe, who as well as running a garage at Bega, a little inland from the NSW south coast, operates two school buses.
Hanscombe is a prospective buyer and wanted to go for a drive too, so consider him our guest co-reviewer this month — and as an existing operator of two older Hinos, what a bonus.
These are a 1996 model 51-seat AK 176, and a 1994 BC 144 31-seater.
After negotiating some heavy freeway traffic near Sydney's Olympic Park it was plain sailing at full speed along the M7 motorway towards Campbelltown, with a very strong cross-wind.
Hanscombe was impressed with the stability of the little bus under these conditions.
Then it was around some local roads and streets in an industrial area, before stopping at a service station to be picked up by Hanscombe's father following behind.
His verdict? "I'm very impressed," Hanscombe says.
"I would like to get it on a dirt road, because we have 50km of dirt a day, but so far so good."
Hanscombe was most impressed with the get-up-and-go: "Compared with the two Hinos I've got, the power is just unbelievable," he says.
Indeed the power to weight ratio does seem good, with the 6.4-litre turbo intercooled diesel pulling a touch over 10 tonnes gross vehicle mass.
Says a Hino press release: "The FD240 is easily propelled by Hino's trusted JO7E 5 cylinder diesel … thanks to the engine's high, flat torque curve from idle to redline, and P&D Coachworks extensive use of lightweight fibreglass and aluminium panels".
Hanscombe's old Hinos have front and rear spring suspensions, whereas this one has Hendrickson air bags on the rear, "which is a hell of an advantage," he says.
He's not worried about access for servicing the engine, because he already has a pit. The FD 240 also has access from lift-up sides as well as a trap door in the aisle just behind the driver.
Hanscombe says he was also happy with the access for passengers, and noted that the door seals tightly.
Any negatives? "A couple of noises when turning," Hanscombe says. "But that could be anything — could be a bit of body movement."
Rod Harris assured him whatever the noise was it would be sorted out during pre-delivery.
"If the price is right I'll probably buy one," Gerard Hanscombe concluded, adding he would operate it as the maximum 43-seater.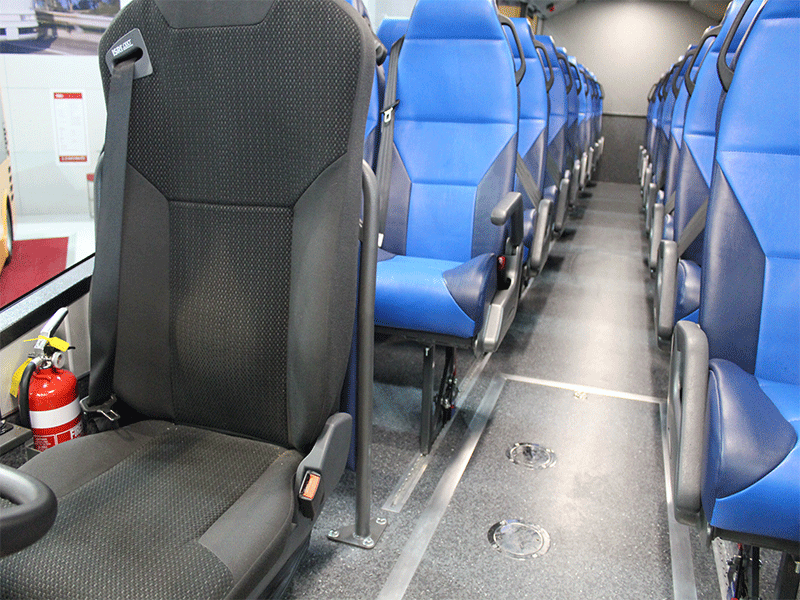 Skinner handles the Hino
After farewelling the Hanscombes, ABC jumped behind the wheel, taking the FD 240 back out to Sydney's M7, along the motorway and then onto an arterial to Blacktown train station.
By this time it was dark and the first thing noticed was the absence of lighting on the transmission controls to let you know what gear you're in. Hino agrees that needs to be addressed.
Vision through the windows is great, however.
The Hino ProShift 6-speed AMT (automated manual transmission) smoothly got us onto the freeway and quickly up to speed.
Sure, there is a bit of noise up the front, but remarkably little when you consider the engine is up there with you.
If you closed your eyes — which we don't advise while you're behind the wheel — the engine note would be the same as you hear in the cab of a mid-sized Japanese truck, which in a way you are.
Sitting on 100 km/h at 2,200rpm on cruise control the engine didn't sound or feel like it was working hard.
Slowing and stopping is no problem either, and you can set the exhaust brake so that when you touch the foot brake, it kicks in straight away and the transmission kicks down a gear at the same time.
Craig Mee had previously said that as far as he is concerned, this stopping system is good enough for him to not need a retarder.
The brakes are air over hydraulic drums, Hino says for maximum serviceability and reliability. ABS is standard and there is ASR (Anti-slip Regulator).
It's a good ride in the Isri seat with air bag suspension on the back axle, both making for a comfortable ride over a very rough stretch of suburban road.
Last part of the course was a crowed cul-de-sac, in which turning around was easy. The transmission has a 'slow' mode for parking in school areas, which restricts the revs in both first and reverse gears.
Backing up was made easier with the help of the reversing camera which lights up in the dark. It's part of a display which is capable of eight split screens. Dash cameras are going to be installed.
Hino assures us the FD 240 is good on fuel because of the Japanese obsession with fuel economy. So you should get a fair few kilometres out of the 200-litre tank.
Hino also points out there is no need for AdBlue because the bus uses a combination of a diesel particulate reduction (DPR) filtration system and exhaust gas recirculation (EGR) to meet emissions standards, rather than selective catalytic reduction (SCR).
SPECS
MAKE/MODEL: Hino FD 240 school bus
ENGINE: Hino JO7E, 5 cylinder, 6.4-litre turbo intercooled
COMPLIANCE: Euro 5 using EGR and DPR
POWER/TORQUE: 176kW (240hp) @ 2,400 rpm/716Nm @ 1,500 rpm
TRANSMISSION: 6-speed AMT
DIMENSIONS: Wheelbase 5.5m, chassis length 9.1m, GVM 10.3 tonnes
SEATING: Styleride, capacity 35-43 seats. Wheelchair accessible from rear hoist
Subscribe to our newsletter
Sign up to receive the ABC e-newsletter, digital magazine and other offers we choose to share with you straight to your inbox
You can also follow our updates by liking us on Facebook.