Video: Stall Recovery In The New Fuso Canter
---
The new model Fuso Canter off-road workhorse sees some significant improvements
Sitting high up above the freeway, you have great vision all around and feel like you're king of the road.
Cruising at 100km/h with your foot hardly touching the throttle; very little road noise; suspended seat underneath — you could almost be piloting a big interstate three-axle coach.
But there a few differences compared with the usual highway people movers.
First is that according to the rev counter you're way out of the green band, doing 2,900rpm instead of the usual 1,500 or so.
Second you're bouncing around like a rag doll when you hit any rough patches — no air bag suspension under the chassis or 20 tonnes GVM here.
Third, there are only fi ve manual gears, coming out of the dash. What's going on?
The answer is we're tootling along the freeway between Sydney and Newcastle in a baby four-wheel drive, the new model Fuso Canter FG.
Over the years 4WDs have certainly come a long way in their performance on the highway, but our interest is off the bitumen, on some rough bush tracks where the bread and butter work of this little unit is really done.
Of course it's high off the ground to clear the dirt track obstacles; it revs high on the open road because it's geared low; and while it might have only five gears in the box, it's got both high and low range 4WD mode.
Fuso in Japan stopped offering the low range version to Australia over the past couple of years, because of relatively low demand for such extreme climbing ability elsewhere around the globe.
"Some time ago Japan looked at the major markets for 4WD and found that in a lot of places they are used for snow and ice or for traction purposes, and they found that not everyone was using the low gear set, so they removed the low gear range because they felt that it was rarely used," says Kevin Johnston, Fuso Truck and Bus Australia product planning engineer.
"Of course, in Australia they were wrong," straight-talking Johnston says.
"You can say that people don't use the low gear so often in Australia but when you need it, you absolutely need it.
"So this is the return of the high-low gear model and we feel that this is absolutely the right model for Australia."
That brief absence of low range meant Fuso in Australia didn't even tender for what has been the main role of the 4WD Canter FG for more than two decades — as a go-anywhere rural fi re truck.
There are stacks of Canter bushfire trucks in service in Australia, and as far as we know they have a reputation as a tough and reliable little unit.
The Isuzu NPS has had this fi re market all to itself for the past couple of years, but the rival Japanese brand has a battle on its hands once again with the arrival of the revitalised Canter model.
The message from Fuso is "We're back".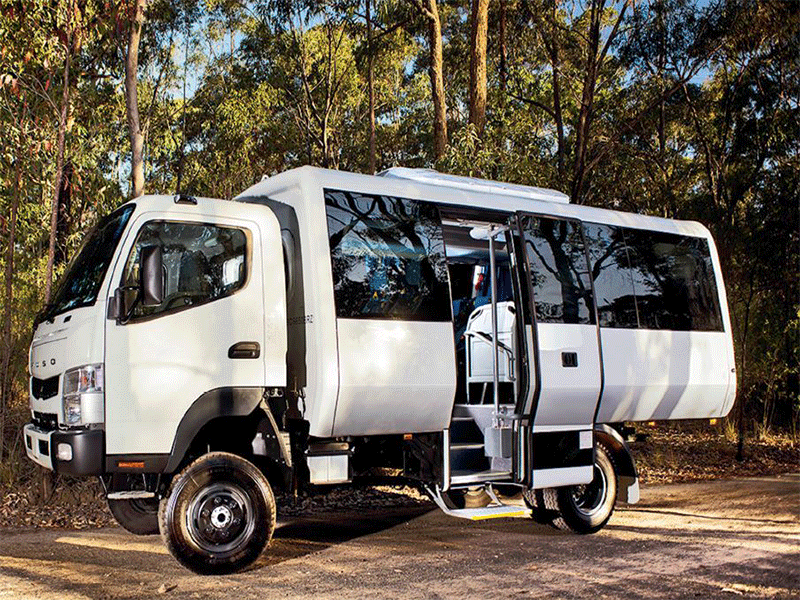 BUSH-BASHING BUS
Over the years the Canter has also been used as an unusual tourist coach for adventure-seekers who want to get about as far away from it all as you possibly can; as well as an off-road mining bus and campervan.
No doubt rugged bus operators (or should that read 'operators of rugged buses'?) will also welcome the return of low range.
Fuso sells the cab-chassis but has no role in turning these into buses. "People build all kinds of things," Johnston says.
"We are sometimes surprised by what goes on the back. "Amazing traction, rear limited slip diff — you would have to be in a really sticky situation to get into trouble from a traction point of view, and the ground clearance of the vehicle is very high," he adds.
"There is no natural bus alternative to these.
That's why people buy the truck and find different applications for it."
Australian Fuso FG body builders include Western Australian-based RAV (Remote Access Vehicles, owned by BCI) and Queensland-based All Terrain Warriors.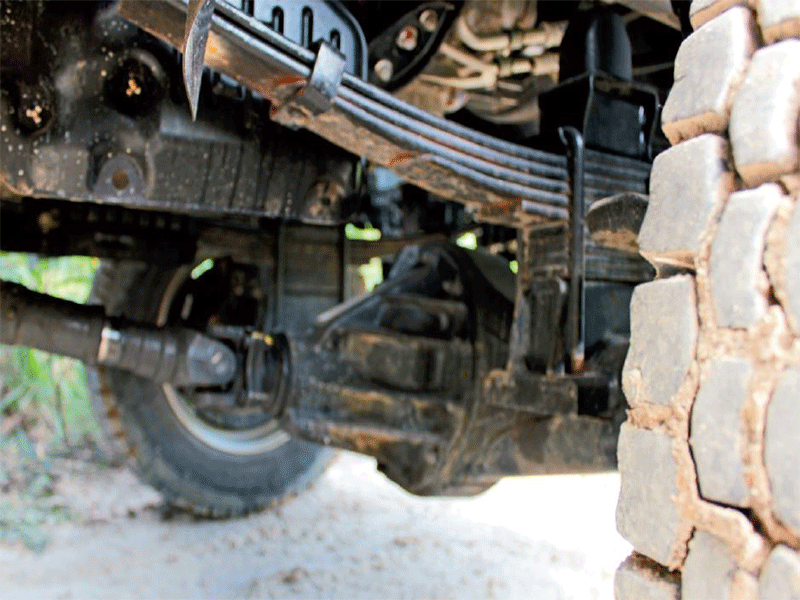 SEVERAL IMPROVEMENTS
The reintroduction of low range isn't the only plus in the latest model 4WD Canter.
Split rim wheels and tube tyres have been replaced with what is regarded as the safer option when it comes to changing flats — standard six-stud disc wheels, and tubeless tyres. (The review unit had on/off road tyres.)
Another move forward is the introduction of a mechanical suspension seat as standard, in both single and crew cab versions.
It involves adjustable dual springs and shock absorber damping, and lumbar support.
Last but not least for any operator wanting to maximise payload, the new model FG has a GVM of 6.5 tonnes, as opposed to 6 tonnes previously.
Other attractive features include the important hill start system; a high air snorkel; pull-in mirrors with smaller housings for those particularly tight spots to get through; and the gear lever is on the dash, which allows nice freedom of movement compared with a gearstick in the floor.
Interestingly, although there is strong customer demand these days for automatic transmissions, neither Fuso nor Isuzu offer one in these off-roaders.
An advantage of autos in steep country is you don't need to know how to do a 'stall recovery'.
But a disadvantage is they are harder to slow up going down a steep hill, compared with a manual.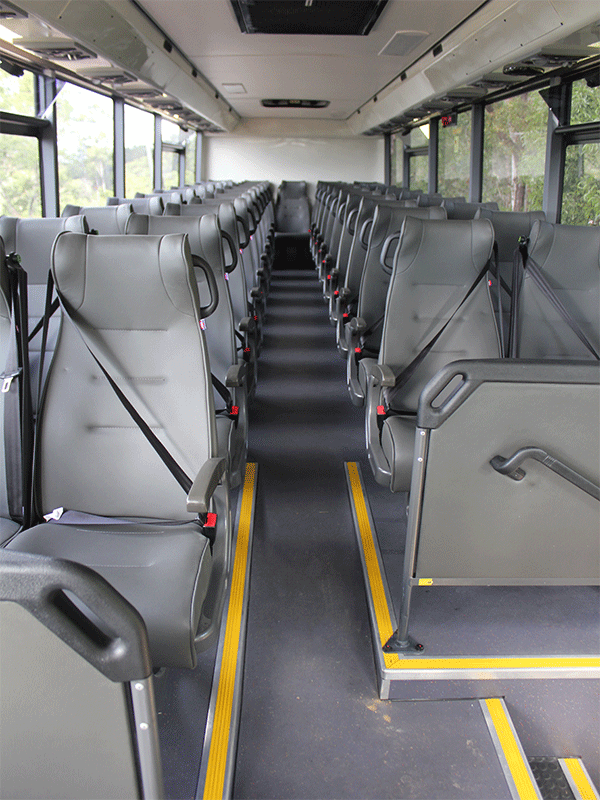 25 YEARS OF REFINEMENT
The 4WD Canter FG was introduced to Australia way back in 1989, with a GVM of just 4.5 tonnes.
The 3.3-litre engine had only 92hp (68kW) and 223Nm of torque.
That compares with the modern day version's 3-litre engine pushing out 150hp (112kW) and 370Nm of torque.
For the whole quarter-century the FG has had a unique drop chassis, which is high at the front and lower at the rear.
Fuso says over that time a lot of work has been done in developing this chassis for rugged Australian conditions.
For example "We found that in Australia the axles are moving around quite a lot and that the vehicle is doing a lot of twisting, and we needed to have more flexibility in the chassis to allow it to do that without cracking cross members and these type of things," Johnston says.
"We tend to try and fix the chassis around its midpoint and allow it to twist around its midpoint. "The rails have inserts around the centre to stiffen them up and give them greater strength in the centre where you need to be rigid, and then you let the chassis walk."
There is no sway bar at the back, for freer axle movement. Meanwhile, the new model FG retains the traditional drum brakes.
"These I think are proven in an off-road environment with a lot of stones and dust, and we would be concerned about going to disc brakes in the sort of applications that these go into," Johnston says.
Nevertheless, there is ABS and the newer electronic brake distribution (EBD) technology.
ABC magazine found the Canter a good little unit to drive, without testing it to anywhere near its full capabilities because we didn't have a back-up vehicle on the day.
Approach and departure angles are amazing and the low range is fantastic: you can crawl down an extremely steep slope in fi rst or reverse gear without touching the brakes; and crawl up a steep pinch without touching the accelerator.
However, we have a quibble with the low range button on the dash, which rather than clicking into place defi nitively as the 4WD button does, has to be held down before it activates.
Rather than a light showing up on the dash — as when the truck is in high range 4WD mode — a tiny green light comes on in the middle of the low range button itself.
This might seem like small beer, but a driver hopping into the Canter for the first time may not be able to work out whether they are in low range or not, if the manual is missing from the glovebox.
That would be unnerving before going down a steep hill. Another quibble is with the new mechanical suspension seat, which should be welcomed by drivers.
You have to expect a lot of bouncing around both on the freeway and off-road when you have tough spring suspension and no weight on the back.
However, even with the new seat on the softest adjustment setting, there still seemed to be almost no give.
The cushioning on the rigid passenger side seems pretty good though.
SPECS
MAKE/MODEL: Fuso Canter FG 4WD cab-chassis
ENGINE: 3-litre, variable geometry turbo, diesel particulate fi lter (DPF) emission control
OUTPUTS: 150hp (112kW); 370Nm @ 1,350 to 2,840rpm
TRANSMISSION: 5-speed manual, in-dash lever
REAR AXLE RATIO: 5.285:1
GVM: 6.5 tonnes. Tare weight 2.8 tonnes
Subscribe to our newsletter
Sign up to receive the ABC e-newsletter, digital magazine and other offers we choose to share with you straight to your inbox
You can also follow our updates by liking us on Facebook.