Video Review: BCI Proma DX
---
BCI's recently upgraded Proma DX midi coach could be just the ticket
What better place to take a luxury midi-coach for a test drive than the beautiful Blue Mountains near Sydney? And what better tour guide to have than a former long-time coach driver and operations manager who knows the area well?
Warren Young is BCI's New South Wales sales executive and an impressive representative for the company.
Also a decade-long professional firefighter, Young is a pretty handy bloke to have on-board in case anything goes pear-shaped in the engine bay.
There was no automatic fire suppression system on board this coach, but you can order it as an option. In fact you can order just about anything you like as an option for the BCI Proma DX high-floor, including electronic braking and stability control; electronic air bag suspension control; and hydraulic drive engine fan.
Meanwhile independent front suspension wasn't available before but is now standard; and both raise/kneel function and alloy wheels were previously an option but are now standard.
Speaking of wheels, they are now also 22.5-inch (57.15cm), enabling a bigger luggage bin — at nearly 5 cubic-metres — as well as other advantages.
"The latest Proma DX has benefited from a raised floor height which gives two benefits, one of course being that the touring passengers enjoy a better view; as well as the increased luggage capacity underneath," Young says.
Those bigger bins also make for more efficient loading because large suitcases can now be sat on their ends.
The coach is set up for charter work as well as for inbound operators, who are loading luggage all the time. Young reckons it's also well-suited for long-distance touring for smaller groups.
The new Promas must be pretty good: Murrays Coaches recently bought 20 of them.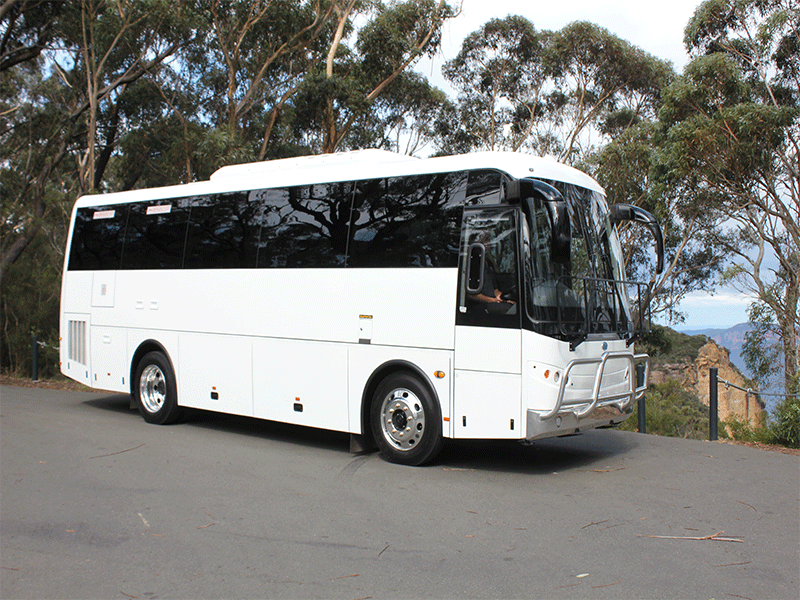 Up the Mountains
We began our pleasant day at a bus depot in western Sydney, and two things became quickly apparent in leaving the yard and getting onto the western motorway. One is that the Proma has an excellent turning circle.
The other is that this is definitely a touring coach, not an express people mover.
It's sluggish off the lights. The 4r cylinder 4.5-litre British-built Cummins engine puts out 207hp (154kW) with 760Nm of torque, but it has a fair bit of weight to push — nearly 12 tonnes GVM.
On the freeway at 100km/h the bus sits on 1,800rpm, which is at the upper limit of the torque band.
Then up the very steep Lapstone Hill at the foot of the Mountains and through the hilly 80km/h zones to the top at Katoomba, there is little chance of breaking the speed limit.
The foot is often flat to the floor, unless you kick down the 6-speed Allison transmission on the touchpad.
As Young points out, this Allison's default setting is economy mode, so regular Mountains operators would probably want to reprogram it to the next power setting.
They won't want to muck around with the three-stage Allison transmission retarder though, because it does a tremendous job, even on the first stage. No foot brakes required.
Freeway wanderer
While grunt may not be an issue in a tourer, the extremely light ZF 8095 power steering definitely is.
On the freeway on a windy day, and after allowing for the fact that this isn't a full length coach, it was hard to stop the Proma wandering around in the lane. It's no doubt something a regular driver would get used to, but they shouldn't have to.
Young acknowledges this, and says the long-time steering problem is limited to the Proma model. He says from now on a new model of ZF steering box will be fitted in the factory.
The steering wheel itself is adjustable in all directions, and importantly it enables the driver to have good vision of the instrument cluster through it.
The dash and controls have a quality feel about them, but surprisingly there is no cup holder and only limited storage space.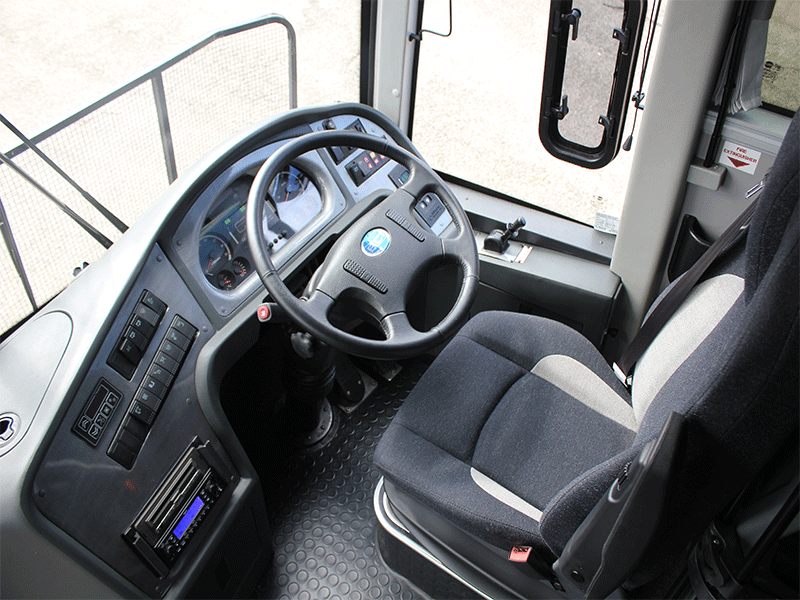 Comfortable drive
Driver and passenger comfort is the outstanding feature of the Proma, in this reviewer's opinion.
Whether it is local streets, the freeway or the winding slopes through the Mountains, the ride is terrific.
Young says the ride is in fact better in this latest DX version thanks to the bigger wheels and independent front suspension.
Our review model had a fully adjustable (including lumbar support) British Grammer all air seat, which was great. From now on the driver's seat will be an American CVG (Commercial Vehicle Group), which will hopefully and presumably be just as good.
The passenger seats in our review model were beautiful leather TSTs. They reclined a long way and there was heaps of legroom. Seat belts are three-point of course.
Because this particular coach had a toilet on board, there were only 28 seats, but the now longer Proma — at 8.8m — can fit 35 recliners or 37 fixed seats.
Starting at just over $200,000 plus GST and on road costs, that must make this roomy mid-sized coach look like a tempting proposition to many operators.
Australian engineered, built in China
That gets onto the modus operandi of BCI — which stands for Bus and Coach International.
Since 2011 BCI's range of buses and coaches have been built in its own joint venture factory near the port at Xiamen in China, specifically for the Australian and New Zealand markets. There is a wide range of customisation available.
Young says BCI is a bit unique as far importing from China is concerned, in that it's not actually a Chinese company.
"This is an Australian company, it's been operating in Australia for a lot of years," Young says.
"It's owned by Australians and used to manufacture in Australia, and it is simply now manufacturing in China.
"We manufacture a product that is fully Australian designed and we also use Australian steel; Supagal steel to ensure that the quality is there.
"The product is obviously being improved constantly and one of the ways we ensure quality control is by having a number of our people and senior management actually living in China and operating the factory themselves."
One of those Australians based in China for BCI is technical director Boyd Denning, son of the legendary bus builder Alan Denning. Another is Kevin Johnson, one of the founders of Autobus.
Founder of Perth-based family-owned BCI in 1991 is Ron Nazzari, who has been in the bus and coach game for decades.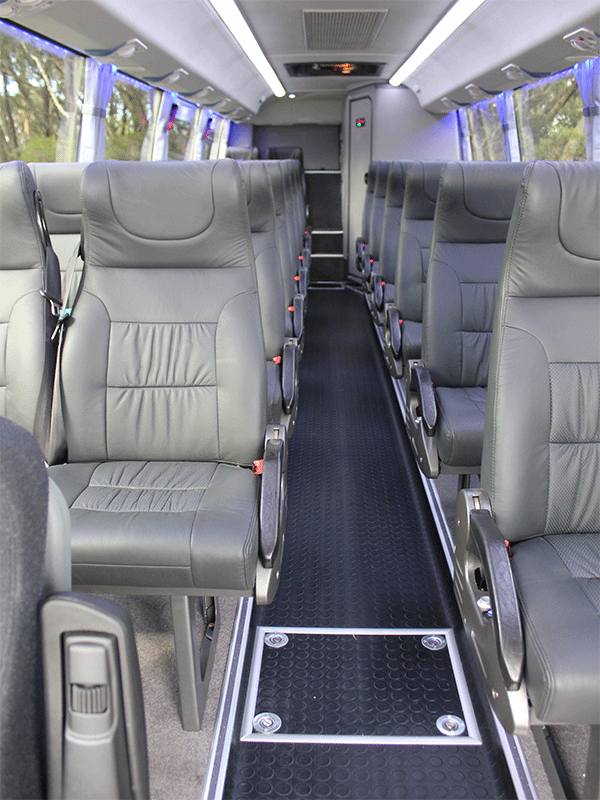 Driveline noise
 It was on the way back from Katoomba, while having stint as a passenger, that ABC noticed a problem, which detracts from the Proma's obviously quality construction and appointments.
At the front of the bus, noise isn't an issue, but up the back it's a different story.
The very common Chinese coach combination of Cummins engine and Allison gearbox is not renowned for quietness, and with everything closer together the noise is no doubt amplified compared with a full-sized coach.
It's worst around town of course and downright annoying when the retarder is in action going down hills.
At least passengers aren't going to be trying to sleep all night in this pleasure cruiser, which will not be running express between capital cities.
Odds and ends
Among other items of note with the Proma is the new two-piece windscreen, to help with serviceability and reduces costs.
The engine door and side panels lift right up, also aiding serviceability. The front door seals beautifully — we didn't notice any air noise whatsoever.
Roof, front and rear headers, and stretch panels are all fibreglass; lower skirt panelling is aluminium. Vision is excellent through the dark tint saloon windows.
The monocoque space frame chassis is designed so that the 250-litre fuel tank is located over the front axle, which has an increased weight limit of 5.5 tonnes.
Air-conditioning is courtesy of Kingtec, with Valeo compressor.
There is suspension raise and kneel; reversing camera; and PA system with driver's boom mic.
Options include the toilet for the first time; and a wheelchair loader with up to nine wheelchair positions.
Warranty is two years or 100,000km manufacturer's bumper-to-bumper.
SPECS:
MAKE/MODEL: Proma DX High Floor
ENGINE: Cummins ISB 4 cylinder, 4.5 litres.
EMISSIONS CONTROL: SCR (selective catalytic reduction)
OUTPUTS: 207hp (152kW); 760Nm @ 1,200-1,800rpm
TRANSMISSION: Allison T270R 6-speed auto with retarder
BRAKES: Wabco discs; electronic options
SEATS: Up to 37 fixed
LUGGAGE: Four-door full underfloor, 4.9m3.
DIMENSIONS: 8.8m L x 2.41m W x 3.2 m H
GVM: 11.8 tonnes
PRICE: Starts at around $200,000 plus GST and on-roads
PLUSES
Price
Comfort
Space
MINUSES
Steering
Power
Noise
Subscribe to our newsletter
Sign up to receive the ABC e-newsletter, digital magazine and other offers we choose to share with you straight to your inbox
You can also follow our updates by liking us on Facebook.