Video Review: Fuso Rosa Minibus
---
The Fuso Rosa has been the market leader in Australia's small bus segment for more than a decade
As the saying goes, "When you're on a good thing, stick with it". That seems to be the philosophy of small bus giant, Fuso.
The Fuso Rosa has been the undisputed leader in the smallest segment of the Australian market for more than 10 years.
In that time the outside appearance has hardly changed, including the oldfashioned round headlights and tail-lights.
Under the skin there have been some changes since the Rosa was introduced to this country 13 years ago, but nothing radical.
Fuso Australia product planning manager Kevin Johnston says there are "a lot of reasons" for the success of the Rosa, but at the end of the day it's probably very simple.
"It's really important that the bus is extremely reliable and good value for money," Johnston says.
"The 25-seat bus is one of the best value cost-per-seat buses in the market today."
That must be pretty right otherwise you wouldn't see so many on Australian roads. Fuso says the company sells between 400 and 600 units a year, for a tally so far pushing 5,000.
The Rosa's wide variety of customers includes schools, tourism operators, seniors' facilities and organisations, community groups and one-off rentals.
Of course you can't stay on top by just standing still, so ABC magazine checked out some recent improvements.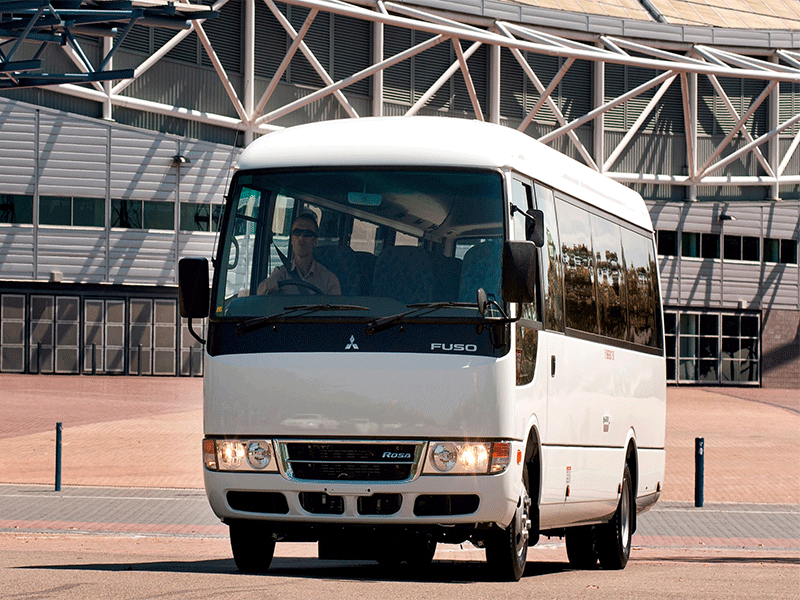 UNDER THE SKIN
Probably the most signifi cant development is the recent availability of a short wheelbase version with 22 seats — including driver.
The standard model has 25 seats and is expected to remain by far the bigger seller. Not only is the 22-seat version cheaper if you don't need to carry as many passengers, but it reduces the risk of scraping what is a pretty long rear overhang on the 25-seater.
A minor facelift to the current models involve a chrome grill and chrome headlight surrounds. There is also an infrared reversing camera and for the first time the Rosa has a multimedia unit, including DVD player, satellite navigation and Bluetooth.
The deluxe seats are blue rather than the older yellow or grey, which apparently weren't very popular with customers, and the vinyl floor has more grip built into it without affecting ease of sweeping out.
Going further back in time, a uniquely Australian adaptation to fi ne Australian dust on dirt roads was to not only improve the seals but to add a roof vent, which puts positive pressure inside the cab, helping prevent dust entering.
The windows are now bonded closed, which was no problem on the hot day we experienced because of Fuso's own very fast-working and effective air-conditioning system.
"For many years the Rosa had sliding windows," Johnston says.
"We found that with school buses the kids would open them and stick limbs out which wasn't a good idea.
"Seniors just didn't open the windows and the rental market people opened the windows with such force that they were able to break latches, and they threw bottles out the window and those kind of things."
The air-conditioning system is in the roof right at the back of the bus which means you have to watch your head getting into the back row of seats.
But as Johnston points out, that's better than it being on top of the roof and getting hit at McDonald's drive-throughs or under low trees.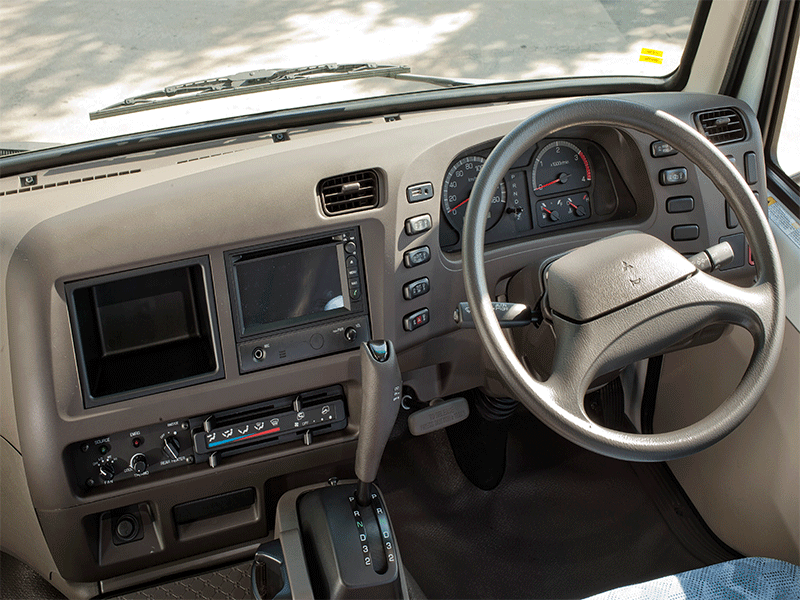 COMPETITION
The 25 seats in the full-length Rosa include the driver's, and they are four more than in the bus that Fuso nominates as its main competition to date — the Toyota Coaster. Johnston points out that the deluxe Rosa also comes with high-back seats and three point lap sash seat belts.
"Our door design is a lot further forward and closer to the front axle," Johnston adds.
"Benefits of the set forward door are that the driver can see the passengers entering far more easily and it allows us to have one more seat, because when the door is set further back there is one less seat available."
Johnston also reckons the fact that the Rosa is sold and serviced through an extensive commercial vehicle dealership network gives his product an edge.
Of course the small Japanese buses don't have the Asian-sourced market to themselves, with the likes of Higer and Yutong getting established in Australia and Golden Dragon recently arriving on our shores.
But by contrast the basics of the Rosa remain pretty much the same as they always have. The trusty 4.9-litre double overhead cam engine with four valves per cylinder puts out 110kW (150hp) with 440Nm of torque at 1,600rpm.
Johnston says a lot of the torque is down low for pulling away and for smooth performance.
"We don't want to be the fastest bus on the road because you're going to make your passengers uncomfortable."
There is the choice of manual or automatic transmissions with six speeds, which Johnston says also aids smoothness.
There is the choice of standard or deluxe seats. Leg room is pretty good, as is aisle width and roof height — an average sized man can stand up fully in walking through the bus.
On the outside you can have any paint colour you like, as long as it's white — although there was a period when you could opt for a fairly yucky maroon skirt.
Rear brakes are drum with automatic adjustment, with ventilated discs at the front and pad wear sensors.
There is ABS of course. There is no cruise control but the bus is speed-limited to 100km/h so at least you can keep your foot flat to the fl oor on the freeway without fear of getting booked — at least on the flat.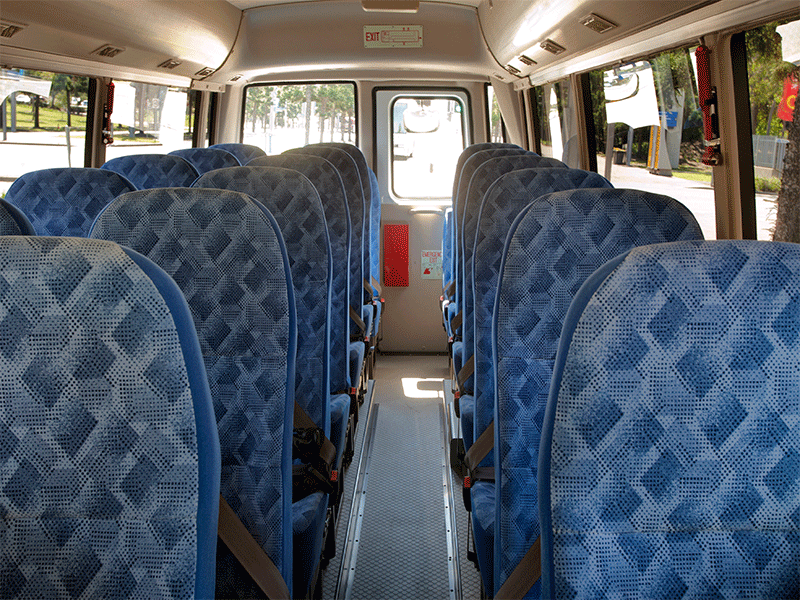 GOOD ON THE ROAD
We found the Rosa to be a good little bus to drive.
It's got good 'get up and go' despite the relatively modest horsepower rating, and we sat at 100km/h at 2,100rpm on the freeway very nicely.
It was remarkably quiet too, considering the engine is just alongside you.
The Aisin auto transmission was very smooth, the bus stops well, and it has a surprisingly good turning circle.
The driver's ride is comfortable despite not having a suspension seat.
From the passenger's point of view you'd have to rate the deluxe Rosa pretty well too.
The high-back seats could be a bit of a problem for operators who don't want kids to be mucking up where they can't be seen, and it might make it a bit harder for adults to chat with each other across seats.
But there is zero chance of whiplash if hit from behind.
There are many positives, but nevertheless scope for some for a few improvements.
One irritation in this day and age is the manual adjustment for the passenger side driver's mirror.
There is no option for electric mirror controls because there are no options on this bus, full stop.
Another minor annoyance is that there is not much travel in the driver's seat, which wasn't an issue for this driver but may be for tall drivers.
It's not a suspension seat either, but Kevin Johnston has a compelling comeback to that, involving the independent front suspension, including torsion bar.
"It's important to get the bus riding as best it can to keep all the passengers happy," says Johnston, stating the obvious somewhat.
"To improve the drivers comfort without the passengers means the driver is likely to go faster because he's comfortable and the passengers suffer.
"If the driver can feel what the passengers are feeling, that's a useful thing."
STICKING TO THE BASICS
As for the sort of electronic safety technology which seems to be increasingly the norm in small European buses these days, don't hold your breath waiting to see it in the Fuso Rosa.
High back seats mitigate possible passenger whiplash For a start, customers aren't asking for it, says Johnston.
"The feedback we get on how to improve the bus doesn't depend on bells and whistles at all," he says.
"It depends on maintenance, being easy to clean, cost of parts, cost of ownership — those kinds of things."
In terms of stability control, Johnston doesn't have to point it out to see that the Rosa is a low, squat bus with wheels right to the edge of the chassis.
"These kind of buses have low centre of gravity, low chassis height, low engine height, all the passengers' weight sits very close to the chassis, so we can easily refi ne the suspension to suit this style of bus.
"You would need to be going very fast around a corner to require stability control I think."
Perhaps less convincingly Johnston adds: "I think if you have got passengers on the bus they will tell you if you're driving too fast — to slow down; 'we're not comfortable', before you get to that point [of roll over]."
All up it's not surprising that this little bus has been the market leader for more than a decade.
STATS
MAKE/MODEL: Fuso Rosa Deluxe
SEATS: 25 including driver; option of 22 with shorter wheelbase
ENGINE: 4.9-litre with EGR pollution control
OUTPUTS: 110kW (150hp) with 440Nm of torque at 1 ,600rpm
TRANSMISSION: Aisin 6-speed fully automatic, with manual option
DIMENSIONS: Length 7.7m; height 2.7m; width 2.1m; GVM 6.3 tonnes
PRICE: Around $140,000 for 25-seat auto deluxe
Subscribe to our newsletter
Sign up to receive the ABC e-newsletter, digital magazine and other offers we choose to share with you straight to your inbox
You can also follow our updates by liking us on Facebook.