Video Review: Irizar i6
---
Steve Skinner tests out the Irizar i6, a luxurious coach built on a Scania K480 chassis
This year marks 125 years since Spaniard José Antonio Irizar started manufacturing bodywork for stagecoaches.
Irizar is now a global coach-building company with factories in seven countries, including Brazil, where Sydney operator Richard Dawes' latest coach was manufactured.
Dawes owns New South Wales-based Australia Wide Coaches, has visited the Brazilian factory, and his recently acquired pride and joy is an Irizar i6 on a Scania K480 chassis.
The i6 is the successor to the Irizar Century, and has several signifi cant newer features. Meanwhile the 13-litre Scania puts out an impressive 2,500Nm of torque, through a 12-speed automated manual transmission (AMT) — but more on the chassis later.
The new coach joins 17 others at Australia Wide's depots in Sydney and Orange.
The company has several operations including a Sydney to Canberra service, Sydney to Orange service, charter work and a Sydney franchise for Gray Line.
"This coach here will predominantly do extended work," Dawes says.
The i6 is marked for extended touring throughout NSW and interstate when required, as well as for use in peak times on Gray Line's day tour operation.
"This is my seventh Irizar and we have a pretty regular fl eet rotation at Australia Wide," Dawes says.
"We have a pretty niche market … and we require top of the line vehicles to be part of that operation."
Asked if there were any negatives so far with this i6, Dawes says it's a little bit too early to know yet.
"But I drove this one from Melbourne when we initially took delivery of it and it was just a delight…the Irizars have really come on since our first one in 2010," he says.
"Although we've run Australian vehicles and they've been great vehicles and we still have a number of those in our fleet, we just think the design of the Irizar is the main consideration.
"It obviously comes from a European look and they have some great safety features built into the Irizar."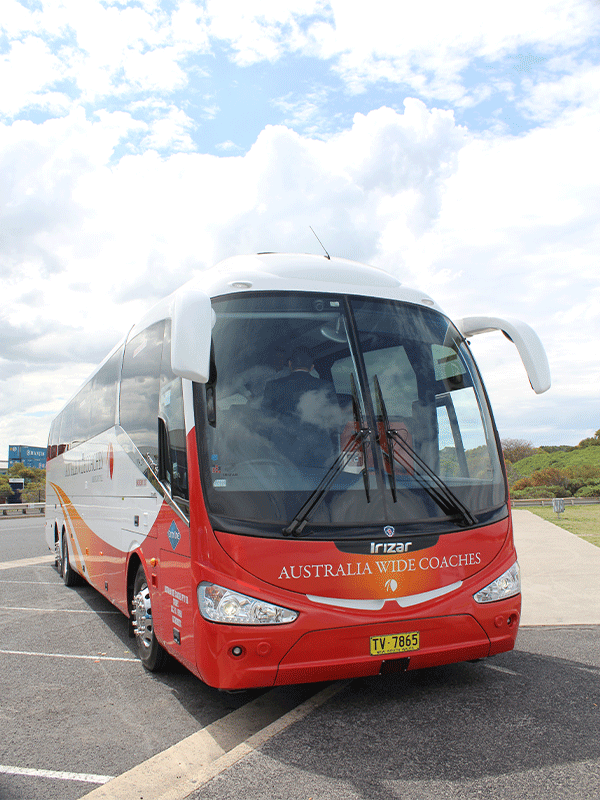 STEP CHANGE
Sales Manager for Irizar Asia Pacific,Paul Wheller, explains some of the key differences between the i6 and its predecessor, the Century.
"With the i6 we have designed a new interior to make it look more modern, more spacious, more comfortable for the passengers to give them a feeling of happiness, of brightness," Wheller says.
"We have also designed a new entry that's wider.
"We have a new multiplex system, which includes a lot less wiring; everything goes through the single multiplex node that includes a new touchscreen and driver's console area.
"There's new LED strip lighting and two-stage shadow lighting all through the vehicle."
The Australia Wide i6 has 50 very comfy reclining McConnell Executive leather seats, leaving plenty of legroom, and attached to the body using what Wheller says is a unique system.
"They're actually clamp seats, they're not bolted to the floor, so the seats are able to be moved around without leavingholes in the floor," he says.
"It's also great for cleaning."
The toilet is sunken next to the centre door and stairs, which Wheller says enables unhindered views for touring passengers at the rear of the coach.
"With the toilet, it's all automated.
There are sensors, so you just putyour hands under the taps and under the soap dispensers and they come out automatically," he says.
"There's an automatic flush, and as with the Century before it, it's a fresh water toilet which is more green — no chemicals used."
The i6 is a smoothly aerodynamic coach, which Irizar says saves fuel. But its side panels lift up for easy access, and they can lift off for easy replacement.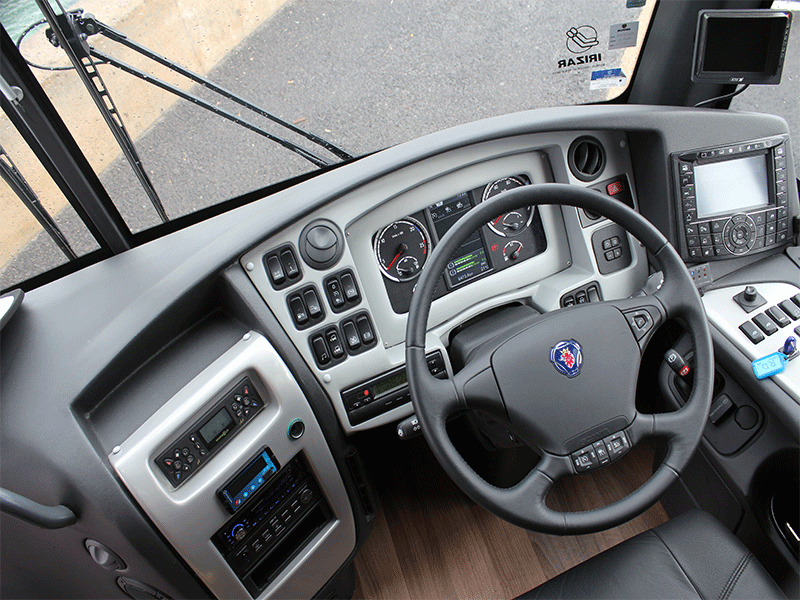 SAFER BODY
"When designing a vehicle one of the main priorities of Irizar is safety for both driver and passenger," Wheller says.
That's an easy thing to say, but the i6 does indeed have some impressive safety features.
"All throughout the front of the vehicle we have a stronger frame section designed for front impact," Wheller says.
"It's designed to take the [impact] load to the front axle, so the front axle collapses, raising the driver and the passengers away from the incident.
"We recently had an incident where we had a head-on collision at 110km/h [the car's speed, that is] and the driver and passengers…no one was injuredat all.
"With rollover we already comply with the future European safety regulations," Wheller says.
That means the i6 is well ahead of ADR59 rollover requirements.
"We have two very strong rollover rings on the vehicle, one at the front and one at the rear… it's basically a structure on the frame that goes right across the vehicle and strengthens it in case the vehicle rolls over … so the roof or sides don't collapse."
On top of advanced frontal impact and rollover protection, the i6 offers a safety technology, which is increasingly common in trucks but still pretty rare in coaches — in fact it wasn't quite available when Dawes ordered this model, otherwise he would have specified it.
That technology is lane departure warning (LDW), a camera-based system that detects if the driver is drifting out of a lane, and alerts him or her with a very annoying buzzer.
LDW is a potential life-saver if a driver is getting 'noddy' on the freeway after a big lunch on a sunny afternoon, or having to stay awake on an all-night run.
It can be switched off if desired and is overridden if the driver uses the indicators to change lanes.
Meanwhile the Australia Wide Irizar is built on the fi rst Scania to come to Australia with adaptive cruise control (ACC), which uses radar to help maintain a constant gap with the vehicle ahead.
"Scania's ACC system analyses road speed, data from the engine, Scania retarder and wheel brakes to maintain the pre-set time gap," Scania says.
"It also alerts the driver when the gap closes rapidly, but never takes over completely. This is to avoid inattention caused by overconfi dence in the system."
ACC comes on top of all the other electronic braking and stability aids which are increasingly common in buses and coaches these days, as well as disc brakes all around.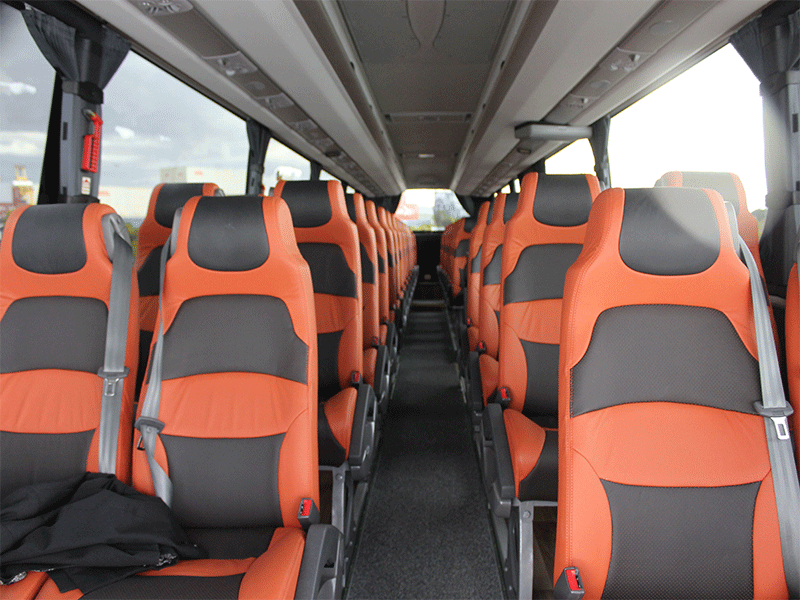 GET UP AND BOOGIE
Most of Australia Wide's fleet are Scanias on repair and maintenance contracts.
Dawes says his newest Scania "gets up and boogies" on the highway, and no wonder: it's got a 480hp (353kW) Scania engine with 2,500Nm of torque.
"This is our third 480 in the fleet and it's just wonderful from a point of view of going up and down hills and maintaining that 100km/h when we have got a full group of touring people on board and luggage," Dawes says.
"There's nothing quite like it."
Unfortunately this reviewer wasn't able to get the latest coach out onto the open road, because on the afternoon of our test drive it had to scoot up the Pacific Highway to the Australasia Bus and Coach Conference and Expo at the Gold Coast (see ABC's separate coverage of the technical highlights).
However, we can tell you the coach was a pleasure to drive around Sydney's airport and Port Botany precincts and for a short distance on the M5 motorway.
Three of the best features in our book are the steerable tag axle, which makes this long bus amazingly manoeuvrable in tight situations; the Scania transmission retarder, which allows you to keep your foot off the brake pedal until you're just about to stop; and the overall quietness, both inside and out — thanks partly to the new engine area insulation system.
Vision is excellent, with the aerodynamic windscreen seeming to come back over the driver like a sunroof, and the driver's side mirrors being easy to glance at.
Overall we reckon this chassis and body combination must set some sort of standard for big coaches in Australia in terms of performance, comfort and most importantly, safety.
SPECS
MAKE/MODEL: Irizar i6 13.5m luxury coach
CHASSIS: Scania K 480 EB 6x2, Euro 5 exhaust gas recirculation (EGR) emissions control
OUTPUTS: 480hp (353kW); Torque 2,500Nm @ 1,100 to 1,300rpm
TRANSMISSION: 12-speed Scania Opticruise AMT with hydraulic retarder
Subscribe to our newsletter
Sign up to receive the ABC e-newsletter, digital magazine and other offers we choose to share with you straight to your inbox
You can also follow our updates by liking us on Facebook.