Video Review: Three-door Optare Tempo
---
Steve Skinner visits Sydney airport to try out the unique, three-door Optare Tempo bus
Airport bus operator Carbridge needs to get air travellers in and out of its buses in an instant, hence a three-door conveyance is called in for the job
Ever seen a three-door bus before?
Maybe you have overseas, but not in Australia that we are aware of — until now.
Australian airport bus specialist Carbridge recently bought several three-door low-floor city route buses for its Sydney and Perth operations, shuttling the short distance between long-term car parks and terminals.
Called into duty is a small regiment of Tempo 12.5m low-floor city route buses,Three-door duty by United Kingdom bus builder Optare, which is part of the giant Hinduja Group.
Carbridge wanted to try a three-door bus to get a lot of people on and off very quickly, and spent years trying to fi nd a supplier that was able to provide it, before coming in contact with Optare.
Optare already builds a three-door bus, which is used by the UK Ministry of Defence, no doubt saving Carbridge a fair bit of time in researching quality control.
"Some of our car park services are heavily patronised," Carbridge General Manager Luke Todd says.
"We get a full load of 70 to 80 people trying to load at one bus stop.
"We take them down the road a few minutes and drop them off at the next bus stop, whether it be the terminal or back to the car park.
"The ability to get people on and off more quickly was attractive to us, and we were able to do it with the three-door bus."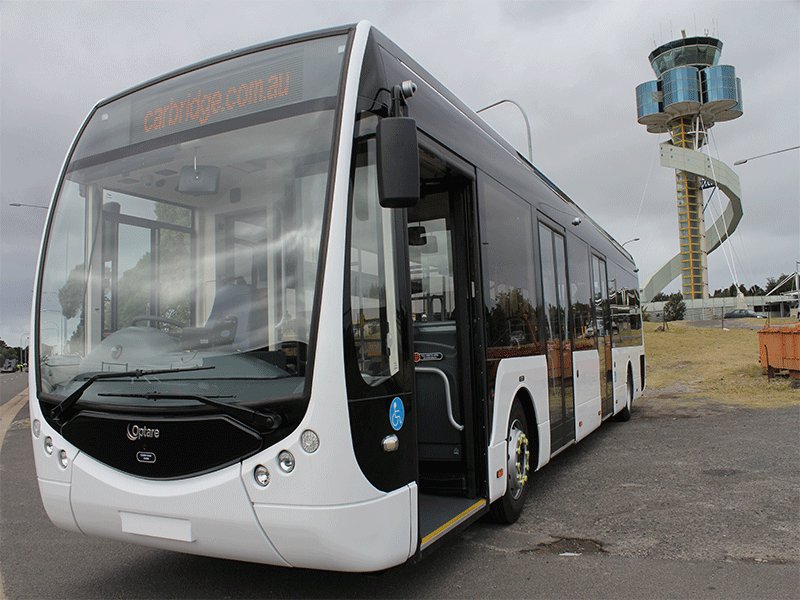 DESIGN IS INTEGRAL
Optare says a three-door bus is difficult to produce on a traditional chassis and body without affecting structural integrity.
The company says its integral 'car-like' monocoque design is also atleast a tonne lighter than competitor vehicles built on a chassis, leading to less fuel consumption.
This particular unit weighs in at 10 tonnes, leaving 8 tonnes for passengers and their gear. Optare also says the integral design means the walls and pillars can be thinner without affecting body strength, which results in about 4cm of extra width on the inside.
The three-door Tempo does have a roomier feel about it, especially when you look towards the rear, helped by the presence of a skylight and quite a large rear window.
Carbridge hopes this will encourage people to move right up the back to speed up the entry and exit process.
Also encouraging people to move up the back is the fact that the third door means passengers with light carry-on luggage need not fear being the last one off the bus.
On the other hand those with a lot of luggage, or big items, can be left to linger near the two front doors.
Between these front doors is the space for placing luggage, and the expectation is their owners will want to stay close by.
The large Optare luggage racks are very solid, and that's because they are directly attached to the frame.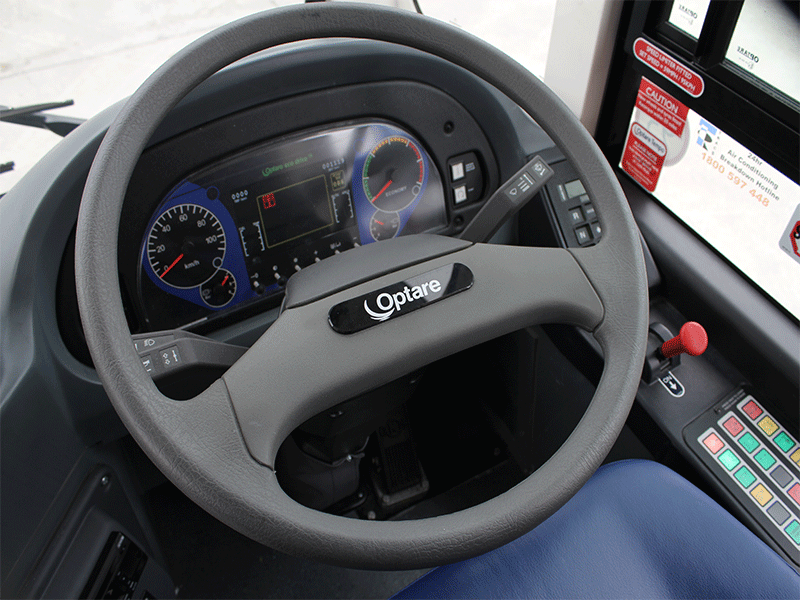 CUSTOM-BUILT
Carbridge specified what it wanted inside the bus, and Optare was able to deliver on the requests at its factory near Leeds in the north of England.
"Quite a few of the designs we have gone through are unique," Todd says.
"There are about 15 different features that we added onto this bus that we wouldn't have on a normal bus."
One of those is leather seats.
"We carry a lot of hostesses and air crew, and quite often seats get a little bit dirty if you don't attend to them.
"The ability to have a leather seat that we can wipe daily or every second day and keep seats more hygienic and clean was attractive."
Todd says another key feature is people can stand in the rear of the bus, whereas in most buses you don't have the ability to stand people at the rear.
"That allows us to get people on more heavily, and because we only have short trips it's not too bad if it's a slightly uncomfortable ride for a couple of minutes because they're off quickly.
"The ability to get a lot of people on is the main attraction for us," he says.
As well as the three doors, this fl at standing area is another feature of the Carbridge bus we haven't seen before.
There's two steps up and enough head room for six-footers (183cm) or so.
It means passengers in the second row of seats from the back have to face rearwards towards the back row of seats.
They wouldn't want to spend much time eyeballing the passengers across from them, but luckily they won't have to.
"I think these days everyone looks at their phone or a tablet when they're on a bus anyway so it's probably not too bad," Todd adds.
ON THE MOVE
On the road within the Sydney Airport precinct the Tempo drives similarly to any other modern city route bus.
It's powered by a relatively small 6 cylinder 6.4-litre Mercedes-Benz engine, which nevertheless puts out 280hp (206kW) and 1,120Nm of torque at 1,200 to 1,600rpm.
Its acceleration felt more than adequate for this role, and in any case it's unlikely ever to need to cruise at 100km/h on the freeway.
Top speed in very short stretches was 60km/h, and Carbridge says speed will more usually hover around 20km/h to 30km/h in heavy traffic, getting down to the car park speed limit of 10km/h.
The four-wheel disc brakes work well, helped considerably by the three-stage Allison transmission retarder, which operates off the brake pedal.
The 5-speed Allison automatic gearbox is smooth, and we found the manoeuvrability around some very tight corners in the long-term car park was surprisingly good.
The Sydney Airport route might send a driver mad after a while, because it involves a lot of speed humps on the airport precinct roads, and a lot of troughs in one of the car parks.
We went through one trough too quickly, but the four solid scrape blocks prevented damage to the undercarriage.
AMAZING STUFF
Speaking of speed humps, the multiplexing system on the Tempo enables all sorts of wizardry with fleet management and vehicle diagnostics, including telematics.
Shannon Taylor is General Manager of Patico Automotive, the distributor of Optare in Australia, and he says if they want to, operators can map locations as specific as individual speed humps.
"Vehicle damage and passenger complaints come from high speed over speed bumps," Taylor says.
"We can actually set up the system for them [Carbridge] to monitor the vehicle's speed specifically over speed bumps by geo-fencing through GPS."
Taylor explains a speed in excess of the 10km/h over speed humps would generate a report showing the driver's location, when the infraction occurred and by whom.
The Tempo features electronic braking system (EBS) with traction control and has 16 cameras on board.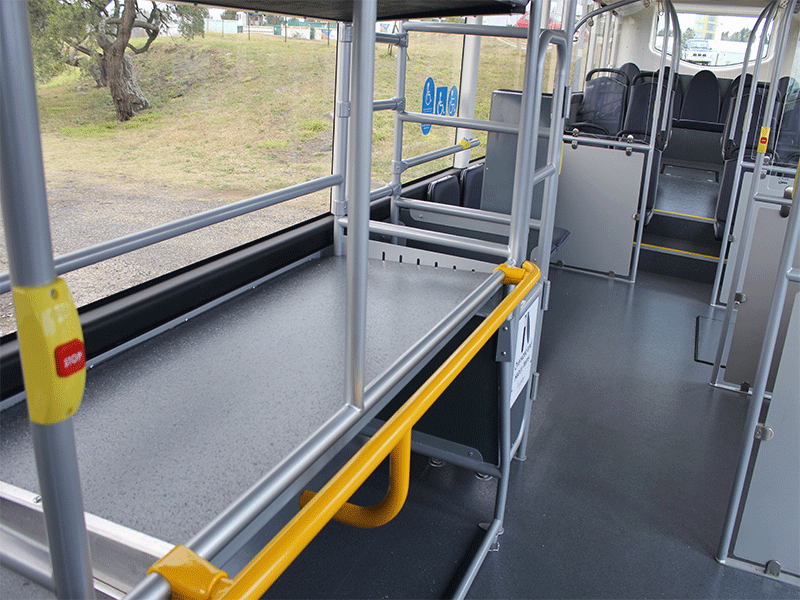 ENGINE BAY
The engine area is much roomier on this Tempo compared with an older chassis bus — Optare has only one internal hatch in the rear of the cabin floor.
Major maintenance and repair can be done outside the vehicle, thanks to the slide-out cradle system for the engine, transmission and cooling pack.
A reassuring feature of the engine bay is the Forman 'Firetrace' fire suppression system, an option taken up by Carbridge.
It works by using pressurised detection tubing.
This tubing is heat sensitive and when subjected to a temperature above 120C, or when touched by flame, it will rupture and form a diffuser, throwing out dry powder.
NIT-PICKING
The few little quibbles we had with the bus were related to operator specifications, but Carbridge has several decades' experience in the bus game so we won't argue too much.
One was the absence of spotter mirrors; and in the back standing area there seemed to be too few grab-straps for occasions when it might be like a can of sardines — it seems possible passengers could find themselves inadvertently holding hands with complete strangers.
There were a few other minor things like the absence of a knick-knacks pocket on the driver's door, and maybe a little wasted vertical space in the luggage hold.
The passenger seats are hard, but you're only in them for 10 minutes.
The driver's seat was squeaky but Taylor points out an Isringhausen air seat is to be fi tted within days of our test run.
Statistics
MAKE/MODEL: OPTARE TEMPO 12.5M THREE-DOOR AIRPORT SHUTTLE BUS
ENGINE: 6.4 litre, 6 cylinder Mercedes-Benz OM906
CONSTRUCTION: Integral monocoque
FRAME: 98 per cent stainless steel; quick-release aluminium panels
POWER/TORQUE: 280hp (206kW)/ 1,120Nm at 1,200rpm to 1,600rpm
Read more about the Optare Tempo in the September issue of ABC, and subscribe here to secure your copy. 
Subscribe to our newsletter
Sign up to receive the ABC e-newsletter, digital magazine and other offers we choose to share with you straight to your inbox
You can also follow our updates by liking us on Facebook.