Video Review: Greyhound Volvo B11R
---
Steve Skinner takes Greyhound's Volvo B11R coach out for a test drive on the sunshine coast
Nick McDonald is a no-nonsense type.
Not much traditional management speak from this bloke who started as a cleaner with Greyhound in Brisbane almost 20 years ago and has worked his way up through the ranks.
So when McDonald, now the General Manager of Greyhound's express operations, says something is good or bad, you tend to believe him.
Luckily for Swedish bus manufacturer Volvo, he says the Volvo B11R coach chassis is good — very good.
"We're very happy with the B11Rs," he says.
"We have had them running in express and in six months we have already done 185,000km with them and they have been trouble-free so far.
"They're beautiful to drive, you arrive at your destination and you're not fatigued."
Those destinations for Greyhound can be anywhere from a couple of hundred kilometres away to a couple of thousand kilometres — hence massive fuel tanks.
It's point to point work.
"We don't go off the beaten track much," McDonald says.
Mind you, that still involves a lot of rough roads, giving chassis and bodies a good workout.
THE COMMON GOOD
ABC magazine previously reported that Greyhound bought a fleet of 30 new three-axle Volvos with Irizar Century bodies, and when we asked McDonald for a review drive, he was happy to oblige, being generous with his own time to boot.
The catch was we wanted to drive one of only two B11Rs in the fleet — the other 28 recent buys are B13Rs, which Volvo isn't offering anymore.
By the way, the 'B' stands for bus, the '11' for 11-litre engine capacity, and the 'R' for rear engine.
McDonald says the B13R appealed most to Greyhound at time of delivery last year.
"The B13 was a very common chassis and a very common truck engine and chassis," he says.
"We like that, because that means everywhere you go it's standard.
"We just want a bus that goes up and down the highway with a minimum of fuss, minimum of new stuff, and minimum of 'experimentals' going on underneath the drive train.
It needs to be fast, reliable, cheap and consistent."
We asked McDonald if he thinks the B11R will become common too.
"Well I think they will become common eventually because the Volvos have been a good chassis and I see no reason why we would not buy B11s," he says.
"We chose the B13R just because it was more tried and tested, but the 'tried and tested' is now done by us with the B11R.
We're doing the testing."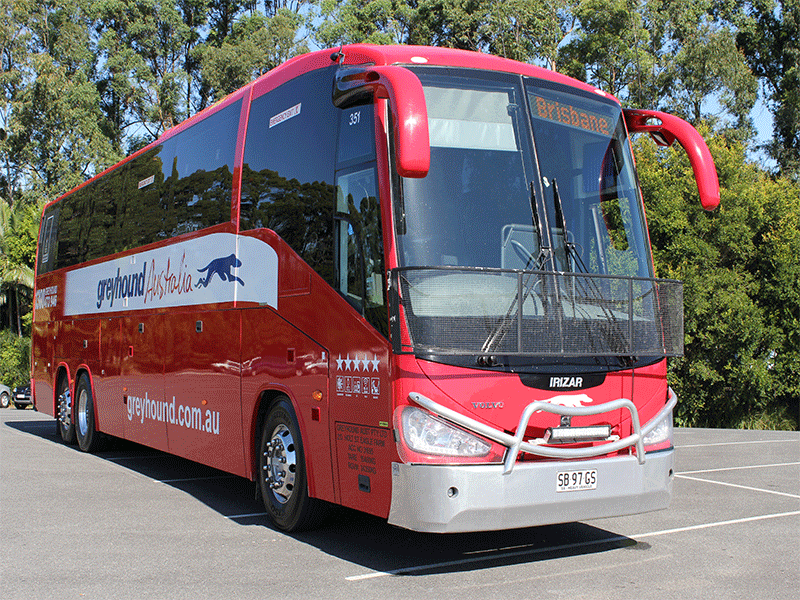 FUEL FOR THOUGHT
Part of that testing has been to check the all-important fuel consumption.
Greyhound has been running the 13-litre Volvos at a 420hp (313kW) rating, and the two B11s at 410hp (306kW).
Not surprisingly, the almost identical power outputs have been producing almost identical fuel fi gures.
"The fuel economy on the B11s has been outstanding," McDonald says.
"It certainly has exceeded what we thought we would get.
It's been hovering around the 3.5km per litre to 3.55km per litre mark.
"You obviously have AdBlue on top of that, but the economy thus far has been impressive."
Nevertheless the B11R fuel economy hasn't been better than the B13R in the configurations that Greyhound has set up.
"Certainly we are in the infancy of any fleet kilometres in large amounts.
I think you need to give it a good 12 months to let it all settle in, let the engine settle in, and we will see what the outcome is then," McDonald says.
Related to fuel consumption, is the transmission in the B11R.
It's a Volvo automated manual 12-speed I-Shift, with manual override disabled, meaning the driver can't choose their own gears.
"We chose to disable the manual override option on the shift because we believe that the computer is a lot smarter than most of us humans, and it would select the best position for the gearbox to give us fuel economy and the correct power position for the engine.
"The transmission is something that again is a fatigue eliminator," McDonald adds.
"It allows the driver to drive the vehicle smoothly, concentrate on the road, concentrate on the steering, without having to worry about whether he's in high range, low range, approaching stops and having to shift down gears.
"It makes the whole process of driving a very large vehicle a lot easier."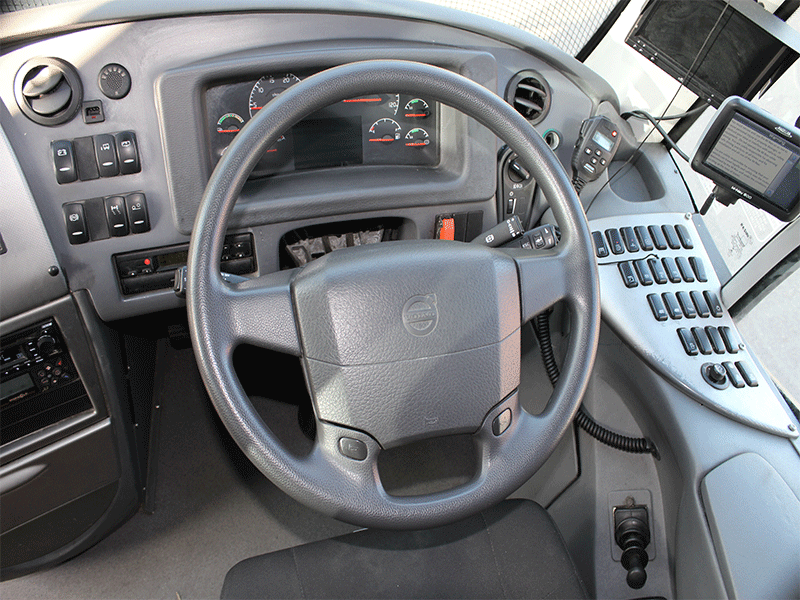 COMFORTABLE COACH
It's certainly easy and enjoyable to drive this large coach, 13.5m in length.
The big bus handles beautifully, oblivious to bumps and hugging the corners like a train on tracks.
What helps greatly for this model in tight spots and weaving through traffic is the steerable tag axle, although you have to be careful of the rear wheels kicking out near fences, gutters, posts and the like.
And it's of fairly limited use in a line-haul rather than tourist application.
"The steerable tag makes the coach want to turn on a 10 cent piece, to coin a phrase," puns McDonald, adding there is of course an extra cost for this technology.
"It was something we wanted to explore in the first two coaches — we didn't order it in later vehicles."
The comfortable ride and seating for the driver extends to the passengers, with leather McConnell seats installed in Melbourne.
"We like the leather trim because it allows us to have easy cleaning, and passengers like the look, feel and smell of leather," McDonald says.
The seats could do with more lumbar support, but there is plenty of leg room, thanks to Greyhound going with 50 recliners, rather than 54.
For disabled passengers there is a wheelchair lift cassette above the drive axle.
"It gives us a lot more bin space which is one of the things our drivers and passengers are looking for all the time," he says.
"We also carry freight, so bin space is critical to us.
The Caroil lifter is a good lifter and thus far has been relatively trouble free.
"Automatic bin doors were also an option that we installed on these vehicles; it was an OH&S issue."
BRAZILIAN BODY
Speaking of the Brazilianbuilt Irizar Century class body, down the back of the coach it's remarkably quiet near the engine, and at the front you can barely hear it at all.
The Century has now been superseded by the i6, but McDonald sounds like he won't take no for an answer if he wants to order more of what he's used to.
"The Century body has been very good to us," he says.
"It was a big step to jump to an overseas body, and I think consistency was one of the things that we took as a very high priority when choosing this body.
"It was important that parts remain the same, windscreens remain the same, headlights remain the same, and those critical components that you lose on the road, or damage on the road, or need on the road, are available and consistent throughout all the bodies.
"We continue to buy them so we're putting our money where our mouth is."
McDonald adds that the Wi-Fi and USB availability is something that passengers "get a lot out of".
Air-conditioning duties are performed by a maximum-sized Hispacold unit.
McDonald's only complaints about the body are that the door sometimes doesn't seal properly if the coach is on an angle, requiring the driver to help the air closing device with a good yank; and the driver's right side switches are hard to read until you get used to them.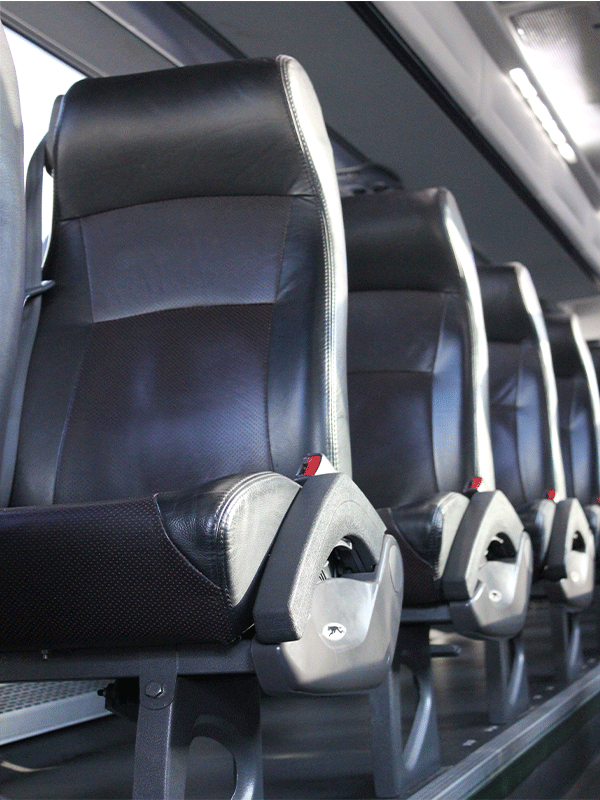 VOLVO TECHNOLOGY
This reviewer's only complaint about the coach is also minor — the Volvo I-Shift got confused on grades a couple of times, jumping up and down a bit before settling on the right gear.
Maybe it needs a little tweaking.
For service and repair in general, Greyhound has opted for a Volvo repair and maintenance agreement.
"We like that kind of maintenance agreement because we're very used to it through our association with other suppliers," McDonald says, adding that Scania is one such supplier.
"It fits well with Greyhound. It allows us to have vehicles travel all over Australia and piggyback off the network of the chassis supplier.
Volvo has branches in Townsville and Cairns — we get the vehicles serviced in Townsville or Cairns.
"It reduces the reliance on Greyhound having workshops in every city and state."
Meanwhile, Volvo's now going with a simplified engine range for buses and trucks, which means the 13-litre engine will no longer be available in buses.
The company says the simplifi ed line-up will lead to better parts availability, but hastens to add the 13-litre is fitted to thousands of trucks and buses worldwide and will be supported for decades to come.
Like Volvo trucks, the B11R coach has the impressive safety technology involving electronic braking system (EBS).
This includes traction control, stability control, and the only one I was prepared to test out — hill start aid, which is a tremendous thing.
However unlike Volvo trucks, lane keeping support and adaptive cruise control isn't available in the B11R coach.
"If they had it we would buy it, but I don't think it's available," McDonald says.
Volvo says he's right, because of the complexities of body building, but that could change in the near future.
PLUSES:
• Incredibly easy and comfortable to drive
• National Volvo service and support back-up
• Comfort, space and mod cons in the Irizar body
MINUSES:
• Engine not yet proven over millions of Australian kilometres
• Transmission occasionally gets confused on grades
• No lane departure warning or adaptive cruise control
STATISTICS
MAKE/MODEL: VOLVO B11R
BODY: Irizar Century, 13.5m, 50 seats
ENGINE: 11-litre Volvo D11C
OUTPUTS: 410hp (306kW); Torque 1,950Nm
EMISSIONS CONTROL: Euro 5 selective catalytic reduction (SCR)
TRANSMISSION: 12-speed Volvo I-Shift automated manual transmission (AMT)
See the full review in the July 2014 issue of ABC, and subscribe here to secure your copy.
Find other Volvo buses for sale.
Subscribe to our newsletter
Sign up to receive the ABC e-newsletter, digital magazine and other offers we choose to share with you straight to your inbox
You can also follow our updates by liking us on Facebook.