Video Review: Higer Munro
---
Steve Skinner takes the 7-metre Higer H7170 Munro bus out for a test drive
More than 200 improvements have been made since the introduction of the Higer Munro back in 2010. 
A bigger luggage bin, better paint quality and a more comfortable driver's area are just some of the design changes made.
No one's perfect, so it's always refreshing when an individual, a government or a company admits to making mistakes and tries to rectify the situation.
Chinese manufacturer Higer fits this bill, with a mea culpa on its H7170 Munro small bus and a better product to show for it.
Higer says it has incorporated more than 200 improvements into the current 28-seat Munro available in Australia.
WMC Technical Project Manager Brett Hunter knows all the modifications, spending a couple of months in China overseeing the upgrade program.
As the technical project manager for White Motor Corporation (WMC), which imports Higer buses into Australia, Hunter says he was impressed with the diligence and speed of the Chinese in following his recommendations.
Munro operator, Murrays Coaches, also had a technical expert in China during the reform program.
"We introduced the Munro into the Australian market in 2010. We got feedback from the customers for about two years, and then a partnership with Murrays Coaches led to all these improvements," Hunter says.
A lot of the improvements are invisible to the naked eye, as they say, but the more significant upgrades became obvious during our recent test drive.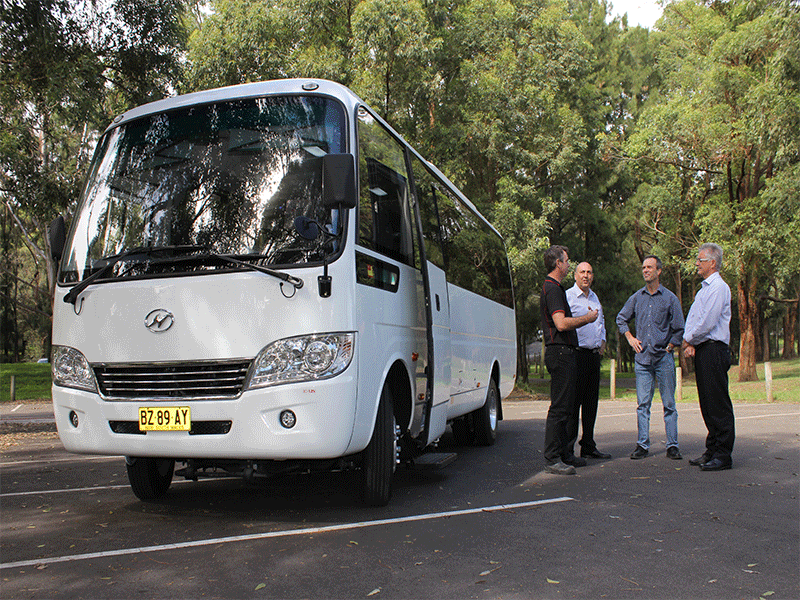 Major changes
Take the first thing a passenger does when travelling in a bus — getting in.
There is now an extra step which automatically slides out at the bottom, and perhaps more importantly, passengers don't risk hitting their heads at the top of the stairs — there is now a big space instead.
Neither does the driver risk hitting his or head on the back luggage door, which now opens much higher.
It's easier and safer for the driver to get in his or her door too. The step is stronger, and there is a solid grab-rail.
Once inside, if the driver wants to check the oil and coolant in the engine beside him, he no longer has to lift the engine cover off and try and find somewhere to put it.
The hinged lid now simply opens up and stays upright, and there is much better access to the dipstick and radiator cap. The power steering fluid sight glass is also easy to spot.
Then when the driver gets underway, he or she has a rest for the left foot and adequate rest room for the right foot if on cruise control.
Both driver and passengers should notice a smoother ride, thanks to softer leaf springs at the rear, accompanied by a sway bar.
"The old springs looked like they were from a tank," Hunter says.
And all aboard should be more comfortable in summer thanks to more and better air-conditioning vent placement. Thermo King is available as an option.
No longer are the diesel exhaust fluid (DEF) tank, isolator and other bits and pieces down the right-hand side of the bus.
The right side is now clear, with the DEF tank more logically on the left, near the fuel tank.
There are alloy wheels all round, which Higer says saves 10kg each, adding up to 60kg — equivalent to one less passenger, and therefore saving fuel.
On the hoist
The most obvious and welcome change for mechanics is that there is far less clutter.
Not only is the engine bay clearer, there is no more 'spaghetti' wiring underneath.
"We took all the service items from the engine bay and moved them under the vehicle so they're all in one location," Hunter says.
"It's made a better area for the service man to get to the equipment that he needs, and it allows greater access in the engine bay."
Other examples of greater consideration for mechanics are that the transmission cooler has been shifted back, out of the way of the front leaf springs. And the fuel filter, air filter and air dryer have been brought over behind the right front wheel, making them easier to get at.
Familiar driveline
Under the relatively new Higer naming terminology, the 'H' in H7170 stands for Higer, the '7' for 7m, and the 170 for horsepower (125kW).
That plentiful power rating, and 600Nm of torque, comes from the 4 cylinder, 4-litre Cummins ISF motor built in the Cummins factory in China.
As well as the little bus being responsive around town, we got up to 100km on the freeway very quickly and then sat on only 2,000rpm.
And the faster we went, the quieter the engine noise became, to the point where you could hardly notice any. The sound insulation has been greatly improved, but Higer concedes there is still some way to go.
Likewise with vibration, Higer says that removing heaps of wiring from the engine bay has significantly reduced vibration for the driver, but there's still a lot there.
The engine is right next to you and the wheels straight underneath so you've got to expect something, but long shifts could be draining for drivers if the operator doesn't install an air seat. Unfortunately, Isringhausens don't fit in this bus, so you'll have to go for another brand.
Transmitting the power from the engine is a 5th generation Allison 6-speed fully automatic gearbox, built in the Allison factory in India.
That gearbox is still being tweaked for the Australian Higer application, which might explain why it seems to get into top gear too quickly.
Nevertheless we were empty, so the Allison might keep the engine working a bit harder if there are 27 screaming schoolkids on board, or 27 jolly pub or club patrons being chauffeured home, or 27 residents of a retirement village, or 27 tourists on their way to the airport, or heaven forbid, a squad of 27 footballers or netballers.
Downshifting is smoother however, and when the exhaust brake is on, the transmission often slows the little bus up well enough that you don't need to use the foot brakes.
That's about all the exhaust brake is good for, however.
There are front disc brakes, with full air and Wabco ABS/anti-slip regulation (ASR). Steering is ZF.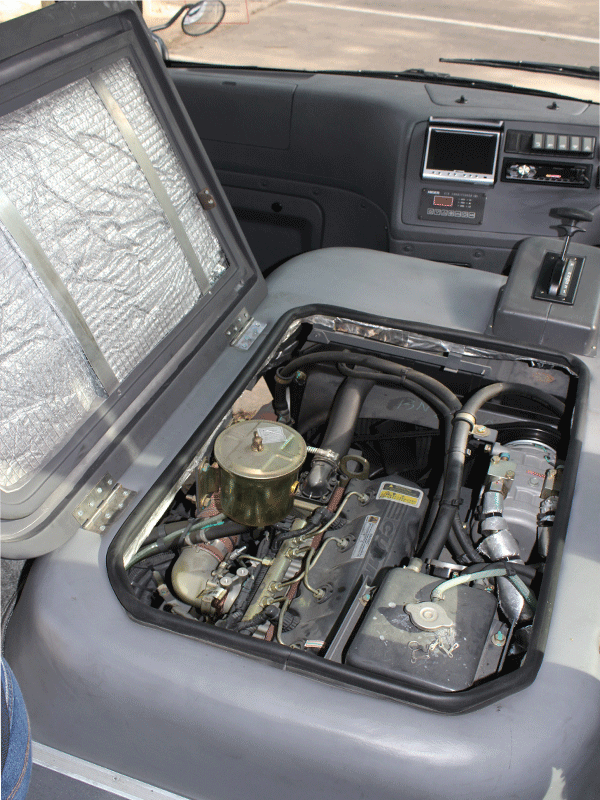 Space at a premium
Speaking of footballers, a busload of burly types would be an interesting sight in the H7170, considering there are two rows of two seats down the aisle, not a row of two and a row of one.
So it would be squeezy, but maybe not as cramped as you might expect — Higer says it is the widest bus in its class.
The standard cloth seats — with seatbelts of course — are quite comfy, but they are not high-backed enough to prevent passenger whiplash for adults if the bus was hit from behind.
Of course low backed seats are common in urban runabouts and can be an advantage in school applications to enable the kids to get on and off quicker, and allow the driver to see what they're up to.
If you want high-backed seats, that option is available from the factory in China or after-market on arrival in Australia.
While there's no spare room for large posteriors in the seating department, there is sufficient leg-room, and in the aisle there is plenty of head-room — enough for a 6-footer (183cm) to stand up fully.
Like the other buses in this class, you would need a trailer to cart gear for a school camp or a sporting team's gear or tourists' luggage. The rear luggage space would only fit a teacher or tourist laying down.
Alternatively there is the option for school bags or light luggage of an overhead rack down one side.
Down each side are individual lights and air-conditioning controls. The speakers' sound is good.
Paint and finish — which you might expect could be a problem in a Chinese bus — look fine, and Higer says there is a dedicated quality control person now in the factory keeping a close eye on vehicles destined for Australia.
The dash and switches are now dark-coloured and look quite stylish.
Vision problem
There is one aspect of the new H7170 Munro which is absolutely terrible — the driver's mirrors.
First I couldn't adjust the right-side mirror through the little window — it just wouldn't budge. When I put a bit of elbow grease into it I thought the mirror was going to pop out of its casing.
The whole exercise was a bit like adjusting the mirror on a 40-year-old farm truck. The only answer was to get help to do it from the outside.
But things got worse once underway.
For a start there is no spotter mirror on either side. More worryingly, the main mirrors shake so much you can barely see out of them.
There is the option of more expensive bug-style overhead electric mirrors — but they should be standard because the current standard mirrors are just not up to the task.
Meanwhile, Higer offers a two year, 100,000km warranty with an optional three year driveline warranty extension.
SPECS
MAKE/MODEL: Higer H7170 Munro
ENGINE: 4 cylinder, 4-litre turbo ISF Cummins, Euro 5, selective catalytic reduction (SCR)
OUTPUTS: 170hp (125kW); 600Nm of torque
TRANSMISSION: Allison T2200 6-speed automatic
CAPACITY: 28 seats including driver
DIMENSIONS: 7,535mm x 2,270 x 2,982
GVM: 8 tonnes
PROS
Some big improvements on the previous model
Good head clearance, despite being a small bus
Plenty of power and stops well
CONS
Standard mirrors are a relic from the Long March
Still too much vibration
Transmission needs adjustment
Subscribe to our newsletter
Sign up to receive the ABC e-newsletter, digital magazine and other offers we choose to share with you straight to your inbox
You can also follow our updates by liking us on Facebook.