Video Review: Custom Coaches Enviro200
---
Steve Skinner takes a brand-new Custom Coaches Enviro200 bus for a test drive around Melbourne
Tullamarine Bus Lines Managing Director Jim Sikavitsas is the owner of the bus, which he says is the best on the market for the estate where it's needed.
Built like a conventional bus, the low-floor Enviro200 is manoeuvrable and well suited to narrow roads.
Tight streetscapes have been around for centuries in Britain.
So who better to produce a smallish route bus to service a tightly-packed estate in Melbourne than the Australian arm of British manufacturer, Alexander Dennis (ADL).
ADL-owned Custom Coaches has built and sent into action the first of its Alexander Dennis "Enviro200" midi buses, powered by a 4 cylinder Cummins engine with a four-speed Voith automatic transmission.
The proud owner of the 9.6m long, 2.44m wide suburban street specialist is the long-established Tullamarine Bus Lines, with its depot near Melbourne Airport.
The main field of duty is the newish suburb of Gowanbrae. The 490 service operated by Tullamarine Bus Lines runs between Gowanbrae and Westfield Shoppingtown at nearby Airport West, and the Enviro 200 can fit in 31 seated passengers and 27 standees.
It's been running the route since late February.
HAPPY OPERATOR
Managing director of Tullamarine Bus Lines, Jim Sikavitsas, is a big fan of his new Enviro 200.
"We were looking for a new modern sort of midi bus, something fresh that can work in the estate that we're in, and we've done a lot of research and we find this is probably the best product on the market," Sikavitsas says.
"It's built like a conventional bus, with rear engine, traditional low-floor with the low-floor entry.
"We like it because it's a bit narrower as well. Being a narrow estate we get cars parked on either side and we try to squeeze through."
Sikavitsas says the narrower bus is right for the area.
"We are lucky we can get a second wheelchair in as well, because we have a retirement village in the estate, it's quite large and it's growing, so that was important to us to get two wheelchairs in."
Sikavitsas says another reason his company went for the Enviro 200 is that under their contract with PTV (Public Transport Victoria) they needed a quality bus guaranteed to work for the long haul.
To this end Alexander Dennis has been building buses in Britain and overseas for decades, and ADL say the Enviro 200 is the biggest-selling bus in Britain.
"They've been building these in Europe for a long time and we thought even though it's new to the country and they are built locally, it's the same product, we know it will last," Sikavitsas says.
"Being part of our contract it has to last at least 14 to 18 years, so we couldn't take any chances, and that's another reason why we picked this bus.
"It drives fantastic; the vision is great; it's smooth. I can almost drive it without using the brakes, just using the retarder – and the passengers love it."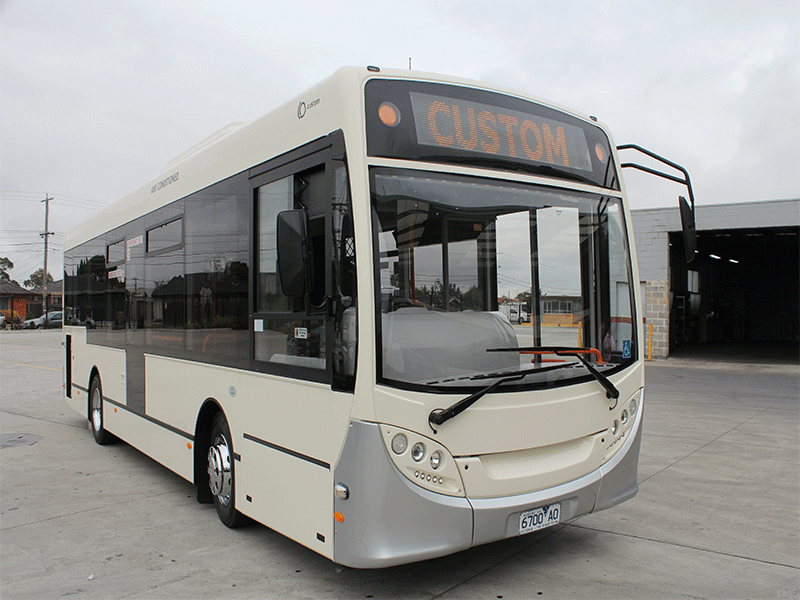 CLOSE CALL
This reviewer can vouch for the driveability of the Enviro 200, and perhaps most importantly, its manoeuvrability in tight spots.
At one point in our drive around the estate, in a typically narrow street two cars were parked diagonally opposite each other — and one of them had been parked extremely inconsiderately.
It was tight for a bus to get through, and I was a bit nervous about how we would go.
But squeeze through we did, in a way which may not have been possible for a full-size route bus without driving up on someone's lawn. I doubt that one of Tullamarine's many Mercedes-Volgrens would have made it.
Reversing out of trouble after taking a wrong turn was also relatively easy, and negotiating roundabouts was a piece of cake with the 4.2m wheelbase. The bus handles corners and steers nicely.
The all-round Wabco disc brakes work well — on the rare occasions you need to use them, that is. The excellent Voith graduated retarder operates by lightly touching the footbrake, so that you hardly ever go from electronic retardation into actually using the foundation air brakes (with ABS).
Comfort above the air suspension is no issue — we rode over a couple of cobbled crossings and through a couple of big dips in the bitumen with no problems.
An Isri air seat with excellent lumbar support comes as standard for the driver. Meanwhile the McConnell passenger seats are comfortable and have plenty of knee space, even for big people. You can choose whatever seats you want.
The aisle is not too crowded, and there were two wheelchair spots in spaces that usually have three fold-down side facing seats. Four wheelchair spots are possible.
The wheelchair ramp is low and easy to use with a standard front kneel and 'ferry-lift'. There are all sorts of interlock systems so that the driver can't pull away from the kerb unless everything is completely in order.
And the controls are where the driver would expect them to be.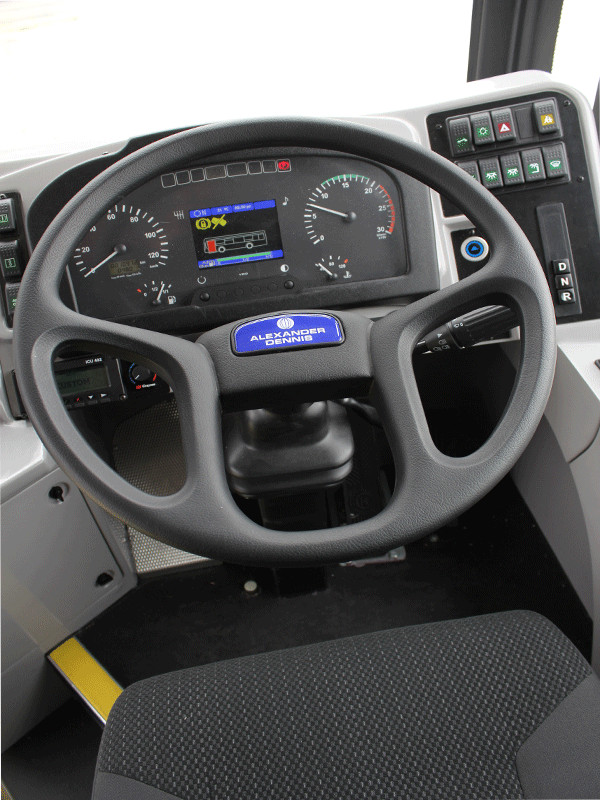 NOISY POWER PLANT
The 4.5-litre 185hp (136kW) Cummins engine pulled quite well up a couple of very steep short hills in the housing estate.
Then it got the bus up to speed adequately on the freeway, not that this unit is likely to stray from suburban roads very often. It was sitting well into the red on the fuel consumption gauge at 100km/h and 2,350rpm.
If there is a negative with the Enviro 200 it's the noise coming from the Cummins engine.
The issue is not on the inside, where the noise dampening seems quite good. Passengers aren't going to be in it long enough to be bothered anyway, and fortunately the engine being up the back makes its noise tolerable for the driver.
However even though the engine noise obviously passes the government drive-by test, it's still loud on the outside, and this could annoy some estate residents early in the morning.
A quiet gas engine might almost make this the perfect bus for its urban application.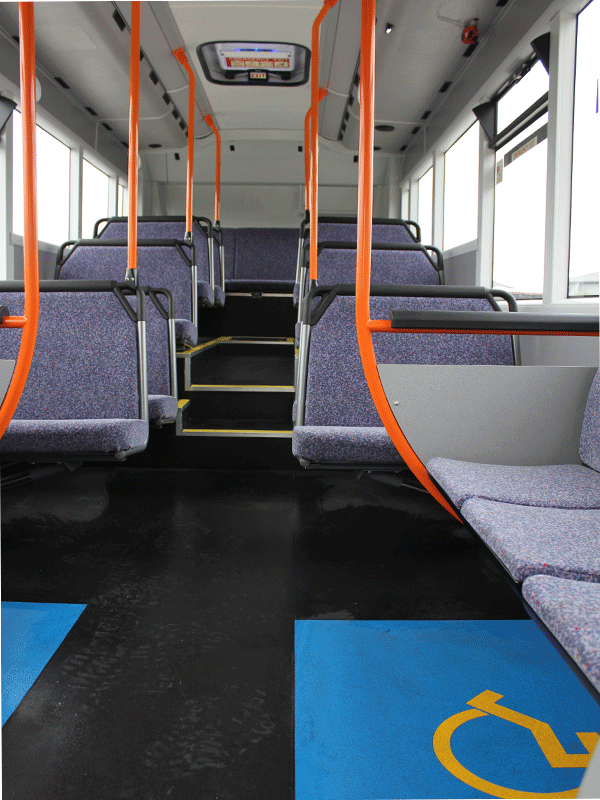 LOCAL PRODUCTION
While manufacturing of cars in Australia is closing down, the Enviro 200 is being built in Australia, and without government subsidies.
It comes out as a kit from England and is assembled at Custom Coaches' Villawood factory in Sydney, without having to cut the chassis or do any welding.
The new Tullamarine Bus Lines unit is 9.6m long, but you can also choose 1.4m and 11.3m variants. These have a 6 cylinder Cummins motor.
There are quite a few minor differences to the United Kingdom version, including the lack of a rear window, to provide extra space for advertising here.
Its tare weight is less than 8 tonnes, thanks in part to the aluminium roof and side panels, including removable skirts. Stainless steel is used for the front and rear body frame.
The body is designed integrally with the chassis which Custom Coaches says enables the good low-floor ease of access and optimum carrying capacity.
Integration also means the bus can use the one multiplexing system. There are lots of on-board diagnostics once the mechanic has the passcode and knows which buttons to push.
Down the back the engine bay has fire extinguishers, which also activate a warning device in the cab.
ADL says the engine area is designed for ease of servicing and maintenance.
"We have gone to a lot of time and effort in this engine bay to make the access to all of the serviceable components as easy as possible," Customer Development and Technical Director at Custom Coaches Andy Boulton says.
That includes having an access trapdoor underneath the rear five seats, not only for the engine but the gearbox as well.
Emissions are treated using selective catalytic reduction (SCR) to a standard Boulton says is higher than Euro 5, and "significantly" ahead of what's required in Australia at present.
The coolant can be checked from outside the engine bay by simply pressing a button, and the cooling package has what Boulton describes as a unique "side-by-side" design in terms of the placement of the radiator, intercooler and oil cooler.
"That means when you are hosing it through you're not just moving the dirt into the gap between the intercooler and the radiator, you're actually flushing it through the complete matrix," Boulton says.
It also means you don't have to remove one to get at another, and the entire cooling package is protected by a "flyscreen" mesh and body mesh-grille.
"That all helps in terms of cost of ownership," Boulton says.
"We are also offering parts packages which will guarantee a fixed price for parts for the first five years."
By the way, the eye-catching chrome wheels are an optional extra and Tullamarine Bus Lines has gone for Thermo King air-conditioning.
PLUSES
Proven reputation
Driver and passenger comfort
Integrated chassis and body
MINUSES
Engine noisy on the outside
Not ideal for freeway work with current gearing
Premium price tag over $300,000
SPECS
Dimensions: 9.6m long, 2.44m wide, wheelbase 4.2m
Engine: Cummins ISBe 4 cylinder turbo diesel, 4.5 litres
Outputs: 185hp (136kW); torque 700Nm @1,200-1,600rpm
Emissions Control: SCR, Euro 5 with EEV
Transmission: Voith D824.5 4-speed automatic with integral hydraulic retarder.
Subscribe to our newsletter
Sign up to receive the ABC e-newsletter, digital magazine and other offers we choose to share with you straight to your inbox
You can also follow our updates by liking us on Facebook.