Video Review: Bluebird Orion Plus
---
Steve Skinner tests out the Bluebird Orion Plus, a low-floor minibus with Fiat roots
Bluebirds are a medium-sized feathered friend from North America with a cheery song. Orion was a great hunter in Greek mythology, with a gigantic body.
What either of these very different icons has to do with a small British-Italian bus, we're not sure.
Nevertheless a test version of the low-floor Bluebird Orion Plus has arrived in Australia, via Italy and the United Kingdom and we've checked it out and taken it for a spin.
Our test site is on both the local roads and the freeway near Dandenong, in the south-eastern suburbs of Melbourne.
The driver's cab and drivetrain is the tried and true Fiat Ducato, as used in countless vans, cab-chassis and motor homes in Australia and around the world.
The body is by British low-floor specialist Bluebird, and it has some very good qualities, especially its wheelchair access. This small bus can fit at least four wheelchairs.
However, in our opinion the Bluebird company, which has been around for a decade, has tried to squeeze way too many seats into too small a space. There are also some integration problems between the driveline and body.
But the good news is that these issues can be fixed.
At the time of writing things were up in the air, because Fiat Chrysler was still negotiating Australian distributorship arrangements with Bluebird. But Fiat says it is "well down the path" towards an announcement.
"This is an exciting opportunity for us," says Jim Boyd, National Fleet Manager, Commercial Vehicles, with the Fiat Chrysler Group in Australia.
"It's certainly a unique proposition."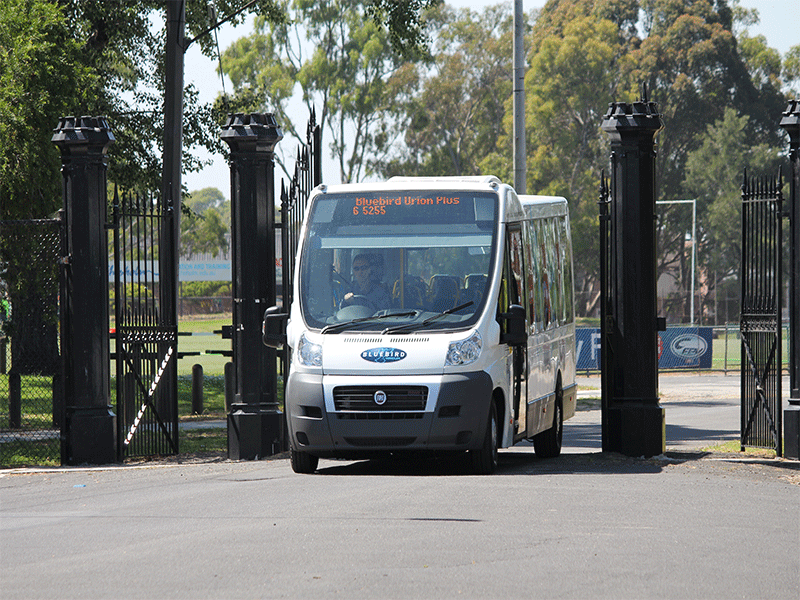 DRIVER-FRIENDLY FIAT
Operators of the Orion Plus will be reassured to know the Fiat part of the bus is already backed up by Fiat Chrysler's 50-strong commercial dealer network presence in every state, with a five-year warranty and 24,000km service intervals.
By the end of the year drivers should enjoy the fruits of a current model change happening within the Fiat Ducato range.
The three litre Fiat Ducato 157hp (115.5kW) engine in the test Bluebird is already a little goer, and that's before a boost to 180 horsepower (132.4kW) due later this year with the model change.
As it is, the bus sits comfortably on 100km/h on the freeway while hardly touching the accelerator, at just under 2,000rpm.
By year's end the exhaust pipe will be cleaner too, with the increase from Euro 4 to Euro 5 plus emissions standards. And the cab interior — for example the instrument panel — will be undergoing a facelift.
Meanwhile, on all road types we found the Fiat 6-speed 'Comfort-Matic' automated manual transmission (AMT) to be smooth and responsive.
Stopping power is good and as a back-up there is ABS and Emergency Brake Assist, which applies maximum braking force if the driver suddenly hits the brake pedal.
The driver's mechanical suspension seat is comfortable. But because of the relatively wide body, the seat is positioned a little to the right. This is a bit disconcerting at first, because it means the steering wheel, brake pedal and accelerator are all a little to the left of the usual driving position. But after a while you get used to it.
Another issue for the driver is that you can't see the right blind spot mirror because it's blocked by the reversing camera monitor. The bottom corner of the left spotter mirror wasn't visible either.
Otherwise the all-round vision from the driver's seat is very good.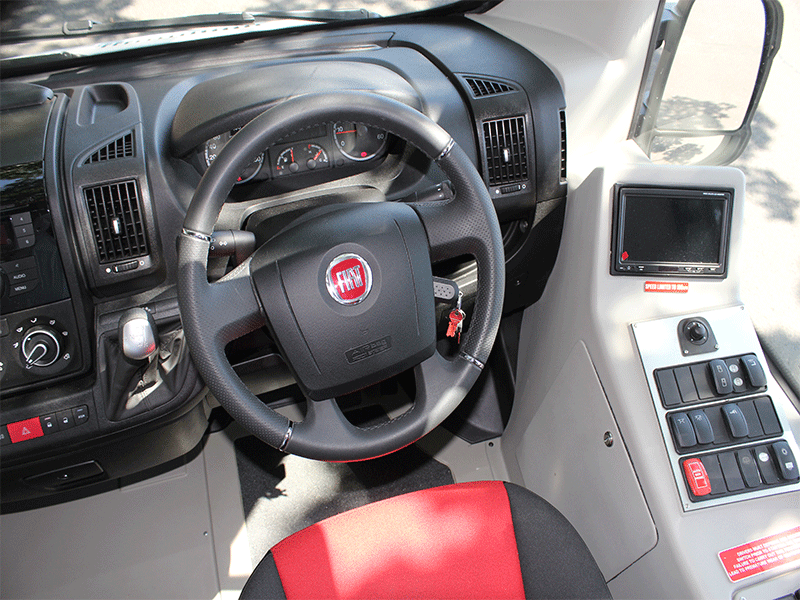 THE ORION 'PLUSES'
There are plenty of admirable things at the body end of the Orion Plus, which is monocoque and fabricated from lightweight stainless steel.
Gross vehicle mass, as in 'fully loaded', is 5.5 tonnes, but final dimension specs for Australia haven't been worked out yet. In England the length is 7.8m long by 2.2m wide and 2.6m high.
The ride is comfortable and very quiet, thanks to Bluebird's independent rear coil spring and air suspension and good dampening of road noise.
There is plenty of head-room, and plenty of glass for passengers to enjoy the view.
The comfortable belted seats have nice high backs, preventing whiplash.
The driver can't take off with the powered sliding door open, although this is far from a unique feature these days.
On the outside, easily removable side skirt panels are handy for those little low-down scrapes and dingles.
WHEELCHAIR FRIENDLY
The wheelchair access for the Orion Plus is very good, and one of its main selling points.
There is an easy-to-use manual fold-out ramp at the entrance door for wheelchair and buggy users, a full length flat floor and wheelchair tracking from front to back.
There is a dedicated bay for one wheelchair, with at least three others possible under Australian weight limits. Adding them is simply a matter of quickly and easily removing some of the standard seats.
It's this sort of wheelchair capability which impresses the owner of Melbourne-based Kingston Tours, Don Imrie, who is hosting the Bluebird at his Dandenong depot after seeing it at a British bus show.
"It's probably a bus that we might utilise in our fleet at Kingston at some point," Imrie says.
As he points out, the Federal Disability Discrimination Act is now a major consideration for both city route and charter service operators, let alone schools.
Imrie explains that you don't necessarily know in advance if a person in a wheelchair is going to be waiting at a stop on a timetabled route service. However, there is usually more certainty with school bus contracts.
"On the contracts for the school children services it's part of the normal specification to say 'This bus must have room for four wheelchairs, or five wheelchairs' — they will nominate the number," Imrie says.
"Or they will say 'It's a 25-passenger bus, no wheelchairs', so you know beforehand when you're tendering for the service how many wheelchair spaces you must have on that vehicle."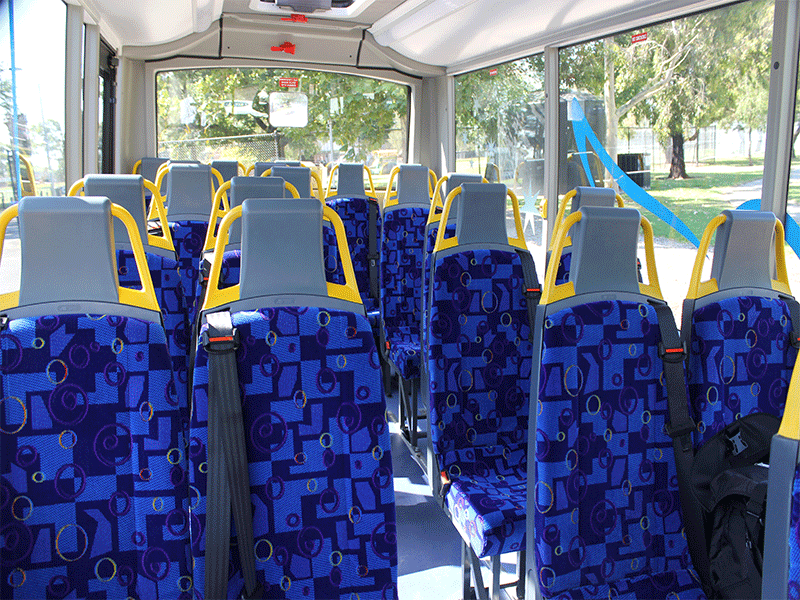 DUCATO DILEMMA
Despite its virtues, we believe there are some substantial downsides to this little bus in its present form.
One is that because the drivetrain and body aren't fully integrated, it's not possible to have the Fiat Ducato's electronic roll stability program, nor its cruise control function.
That puts it at a disadvantage on the safety front compared with the Mercedes-Benz Sprinter minibuses, for example.
Meanwhile the mechanical parking brake only worked on the last couple of notches when we rolled back into a driveway before turning around.
But in our view the main problem is that 24 seats are just way too many to try and cram into this little unit. Travelling would not be pleasurable in this bus if it is fully loaded, unless all the passengers happen to be your relatives or you're on a buck's or hen's night.
Some seats have plenty of legroom, but most don't. In many of them your knees are nearly hard up against the seat in front.
For one right-side seat in particular, your left knee sticks way out in the way of other passengers trying to get through.
As well, there is zero room between the rear-most side-facing seat at the front — when it is flipped down — and the first seat next to the right-side window.
Seat belt buckles sticking out in the aisle are also potential shin-busters.
Part of the dilemma here is that two single seats on the left, and two doubles on the right, are fitted beside the rear wheel humps, rather than over them.
At least that means passengers in these seats won't have their knees tucked up against their chin, as in some other small buses.
Standees are possible in the Orion Plus if some seats are taken out, but in the review model there were no grab-rails fitted.
In fact the passenger part of this prototype model may not be fully compliant with Australian Design Rules. Testing for that is still being done.
So as Fiat points out, the seating configuration, for example, could change.
We think a reduction in seats is inevitable, especially when you compare the Orion Plus with the very similar Optare Bonito — and coincidentally we passed one of those on our review drive.
The Bonito, also new to Australia, is of similar size to the Bluebird, with the same Fiat engine, and is capable of carrying five wheelchair passengers — yet it has a maximum of only 16 seats.
Body warranty and overall price for the Orion Plus haven't been worked out yet, because of the distributorship talks. However Fiat says both parts and service for the body will be available through its dealerships.
SPECS
MAKE/MODEL: Bluebird Orion Plus
ENGINE: 3-litre Fiat Ducato
TRANSMISSION: Fiat 6-speed AMT
GVM: 5.5 tonnes
CAPACITY: 24 seats, 4 wheelchairs
AIR-CONDITIONING: Spheros
Pluses
Good wheelchair accessibility
Responsive Fiat Ducato driveline
High quality seats
Minuses
Too many seats
Driveline not integrated with body
Distribution not yet formalised
Subscribe to our newsletter
Sign up to receive the ABC e-newsletter, digital magazine and other offers we choose to share with you straight to your inbox
You can also follow our updates by liking us on Facebook.