Video Review: Fuso MP35 School Bus
---
Steve Skinner takes the Mitsubishi Fuso MP35 school bus out for a test drive around Melbourne
When you pick up a new Fuso school bus at a dealership in the western Melbourne suburb of Footscray, there's one logical place to take it for a spin and some photos — to Whitten Oval, home of the famous Western Bulldogs AFL club.
The clubhouse has a dominating feature out the front, a statue of Aussie Rules Legend Ted Whitten, launching into a big right foot kick — although the versatile champion could kick just as well left-footed.
The great Footscray player, and captain of the official AFL Team of the 20th Century played for an amazing 20 seasons, between 1951 and 1970.
It's that sort of reliability and longevity that Fuso is promising for its new MP35 school bus, recently arrived in Australia.
Mind you, at first glance the Fuso looks 20 years old already because of its square headlights.
Indeed the design of a lot of the running gear is nearly that old too. But the Japanese are renowned for being more interested in function than fashion, and of course old-fashioned simplicity and dependability is a quality that appeals to many Australian bus operators too.
Fuso's slogan for the bus is "simple, proven technology". There's no multiplexing, for example.
Ironically though, despite the simplicity and somewhat daggy traditional appearance, this unit has the cleanest diesel engine of any bus currently on the road.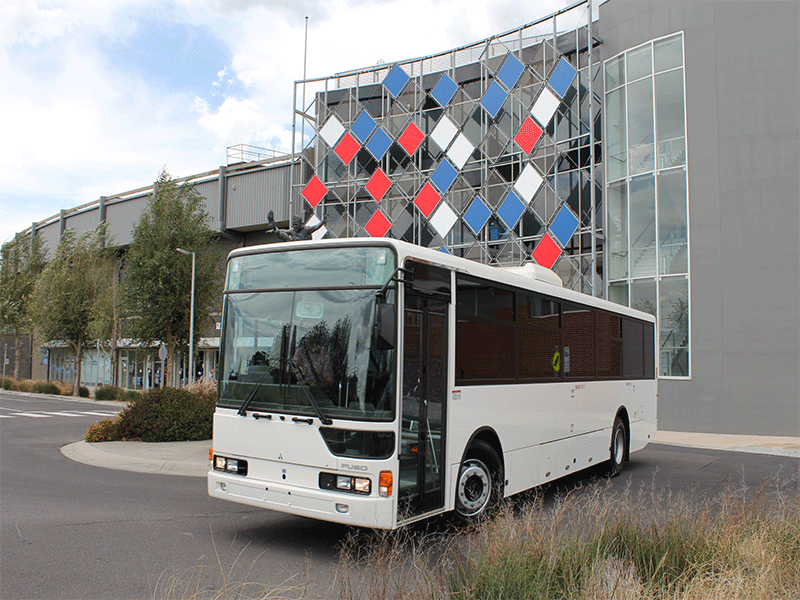 KICKING GOALS IN JAPAN
The Fuso MP range is the best-selling bus in its class in Japan, where it's also called the 'Aerostar'.
The MP35 and MP37 are identical except that one's a school bus with storage bins and one's a low-floor route bus with standing capacity.
The MP37 route bus has been in Australia since early last year and the longest-serving one has racked up nearly 200,000km in Victoria's Gippsland.
The MP buses are built in Fuso's factory at Toyama, on the west coast of Honshu opposite Tokyo. They are of integrated monocoque design with 'stretched' aluminium panels.
Fuso claims that at less than 11 tonnes tare weight, this means they are lighter than equivalent buses with Australian bodies built onto European chassis, and don't have compatibility problems.
The school bus comes to Australia as a completely built up (CBU) unit with one major difference to the Japanese version — McConnell seats, designed for heavier people, are fitted in Australia.
Different types of McConnell seats with the choice of having 46 recliners in 11 rows rather than 50 in 12 are the only options that Australian operators can ask for in this school bus.
Of course 50 seats is less than you can get in other buses, and not just because this unit is shorter than full-length, at 11.5m.
There is quite a wide gap behind the top of the last row of seats and the back of the bus, and this is because the engine underneath is sitting upright — not angled over.
That means there's not enough room above for another row of seats, but the advantage is a full-sized oil sump underneath the motor, and therefore a reduced risk of the engine running dry.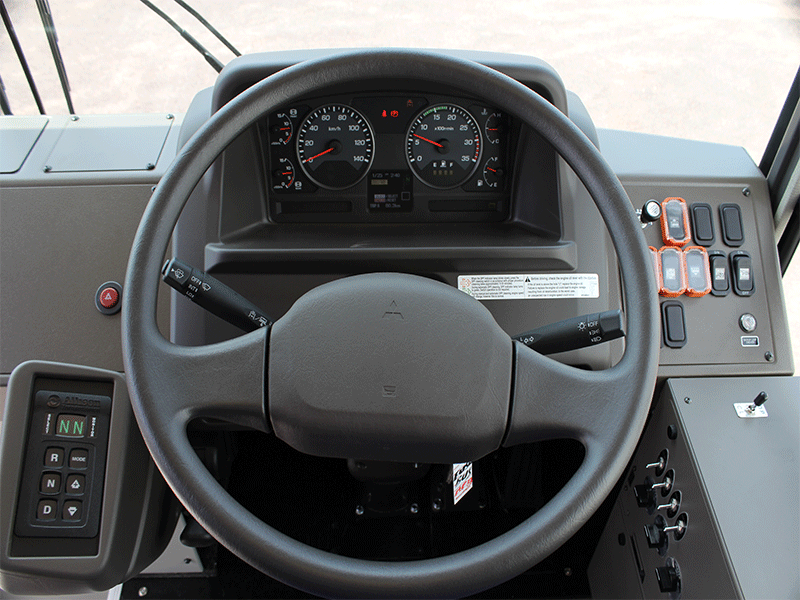 Engine room
Also in typical Japanese fashion there were no leaks to be seen in the engine bay, which is reassuring from a fire point of view. But in any case smoke detectors are fitted in the bay, although there are no automatic extinguishers.
Perhaps unusually in this day and age of long service intervals with synthetic oil, the MP35 uses mineral oil with a recommended change period of 15,000km.
That's because of the emissions controls and Fuso says it also reduces the risks of operators forgetting to check the oil.
The engine bay is roomy with access from the inside and sides of the bus.
The power plant is the six cylinder, 7.5-litre 6M60-T2 engine which pushes out 200kW (270hp) with 785Nm of torque. Fuso says these outputs are less than they could be, for longer engine life.
The engine is the same as in the medium duty Fuso Fighter trucks, with one major difference: the bus version is Euro 6 equivalent, and uses the trifecta of emission control strategies —exhaust gas recirculation (EGR), selective catalytic reduction (SCR) and diesel particulate filter (DPF).
This puts the Fuso MP buses a long way ahead of Australian regulations and as far as we can tell it's the cleanest conventional bus engine in use in Australia – at least until Canberra's ACTION Buses start taking delivery of Euro 6 Scanias with Custom Coaches bodies from May.
The MP 35's transmission is the popular 6-speed Allison automatic, without the retarder option.
Simple technology
As well as the engine, another clue to the Fuso school bus having reliable truck cousins is the braking system.
These are air over hydraulic drums all round, with Fuso acknowledging that some operators might be expecting discs. However, you can't argue with Fuso's point that it has huge experience with the tried-and-true drum system.
Another advantage of having truck cousins is Fuso's extensive truck and bus dealer network in Australia, with ready availability of parts in regional areas.
The MP35's smaller bus sibling is the Rosa, which has been the biggest-selling make in its class in Australia for a decade, in tough competition mainly with the Toyota Coaster.
Reflecting this, the Whitehorse Truck and Bus dealership at Footscray — Fuso's metropolitan dealer of the year, incidentally — has Rosas parked everywhere; and the Rosas have old-style round headlights, which obviously hasn't affected sales.
Apart from the Japanese not worrying too much about appearances, the square headlights on the new MP35 are actually quite functional — easy to remove with a couple of screws, and cheap and easy to replace.
In fact there are screws and steel everywhere on the bus, right down to the driver's switches. This adds to the retro look but more importantly, aids serviceability.
"Everything's been put together literally with Phillips Head screws using metal rather than plastic," Fuso's Product Planning Manager in Australia, Kevin Johnston says. [Title and spelling correct]
"You can pull anything apart on the bus and put it back together and have confidence it will go back the same."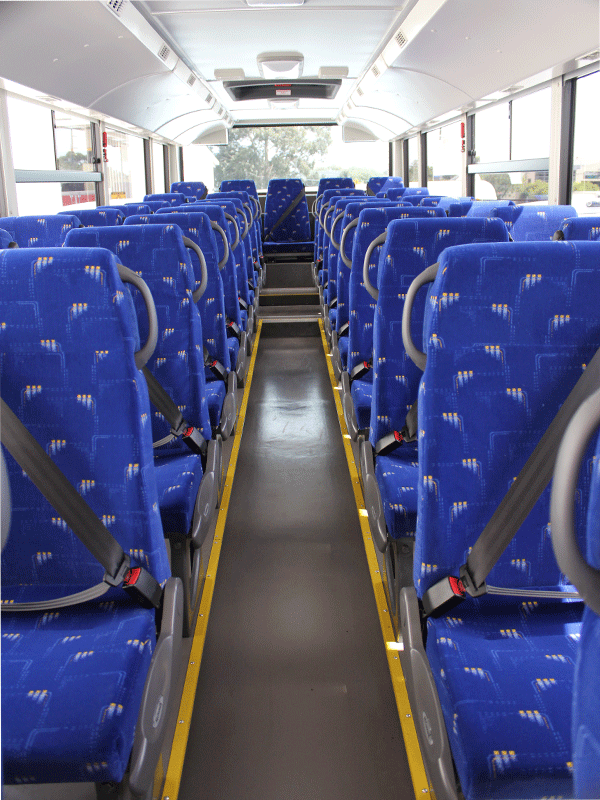 Dedicated school bus
Kevin Johnston makes no apologies for the MP35's basic appearance and technology, saying bus operators are more interested in keeping costs down than having something which looks flash.
"This bus has been proven and perfected over many years without fundamentally changing the design or the look," Johnston says.
"It's a purpose-built school bus. A lot of buses in this class are going to be school plus charter, and they're going to be a bit taller, have more luggage capacity.
"There's no reason why it can't be a mining bus, it's really limited only by storage capacity. We're not able to do airport transfer because of the sort of luggage space required, and we're not able to do long distance because we don't have a toilet.
"Other than that I think it can handle some charter work, some day tours, those kinds of things, as well as being a school bus."
Johnston says the lower height means "you are pushing less bus through the air", which benefits fuel consumption. The shorter length also means there is less work for the Denso air-conditioning system.
Ease of maintenance is a key theme of this bus, says Johnston.
"People who are going to use it as a school bus during the week can maybe do their own maintenance on the weekends, particularly because they might be a long way from a dealership.
"They'll really appreciate this bus because of its simplicity, it's going to be a lot easier to do maintenance than what most people are used to because we have a nationwide network of parts. We can support the bus really well in regional areas that not every bus company can do.
"It has the basic safety features but it doesn't have anything more than what it needs to have." In other words, ABS brakes but not EBS (electronic braking system).
Footscray drive
How does the Fuso school bus perform? The short answer is "very well".
It's very quiet and comfortable inside up the back, with plenty of knee room for adults as well as kids.
The driver's seat is comfortable despite being mechanical suspension, not air. It has a medium back, but effectively a high back when you pull up the adjustable headrest. The spec sheet says it's for "basic short distance driving".
To that end it's easy to get in and out of.
The manoeuvrability of the bus in tight inner urban areas is excellent, as ABC magazine videographer Andrew Britten, Managing Editor David Goeldner and I found out the hard way with some unexpected roundabouts and sharp turns. The good turning circle and "wheel cut" got us out of trouble a couple of times.
The 270 horses driving the wheels were more than adequate around the city but more importantly, in getting up to speed when merging onto the freeway. The bus sits very well on 2,200rpm at 100km/h.
It helps with acceleration to push the 'mode' button on the transmission controls to 'power', but operators probably won't want drivers to know that option is there.
In fact you barely realise the Allison transmission is there at all, everything is so smooth yet responsive. Even pressing the 'Drive' or 'Reverse' button leads to instant results, thanks to the torque converter being very tight.
The touchpad controls are in front of you and to the left, which means you can see what gear you are in without distracting too much from the road ahead.
Handling is good, and the ride remarkably comfortable thanks to the all-round air bags.
The braking is surprisingly good despite being drums all 'round. A very quiet exhaust brake helps, but brake shoes are going to have to be replaced more frequently than if there was a retarder as well.
Other potential downsides in this older-style bus are a lack of cruise control and no wheelchair accessibility.
Some operators also won't like the absence of replaceable skirt panels — in other words if you have a low-down dingle, it will be a repair rather than replacement job.
Pluses
As the brochure says, "simple, proven technology"
Good ride, comfort, handling and performance
Maintenance-friendly
Minuses
Drum brakes and no EBS
No retarder or cruise control
No replaceable skirt panels
Specs
MAKE/MODEL: Fuso MP35 School Bus
ENGINE: 6 cylinder, 7.5-litre 6M60-T2
POWER/TORQUE: 200kW (270hp); 785Nm @ 100-2,400rpm
COMPLIANCE: Euro 6 equivalent JP09, using DPR, EGR and SCR
TRANSMISSION: 6-speed Allison automatic with Gen 5 control
SUSPENSION: Air bags all around
BRAKES: Air over hydraulic drum, with ABS
WEIGHTS: Tare 10.7 tonnes, GVM 14 tonnes
DIMENSIONS: Length 11.5m; Height 3.2m; Wheelbase 6m
SEATING: 50 in 12 rows (option of 46 reclining)
PRICE: Expected range $260,000-$300,000
Check out the full review of the Mitsubishi Fuso MP35 in the March issue of ABC, and subscribe here.
Subscribe to our newsletter
Sign up to receive the ABC e-newsletter, digital magazine and other offers we choose to share with you straight to your inbox
You can also follow our updates by liking us on Facebook.