Video Review: Optare Solo
---
Steve Skinner takes the low-floor Optare Solo bus for a test drive
The Optare Solo, newly arrived to Australia's shores, is a unique bus.
The most immediate things you notice are the funny-looking top hump at the front, and the front wheels pushed so far forward — but more about those characteristics later.
Underneath the skin are innovative features such as a slide-out engine and transmission.
Going deeper still, Optare's ancestry and manufacture is British — arising out of the Leyland bus business in 1985 — yet its ownership has recently become Indian.
All very interesting, but how does this mid-sized bus perform for the driver and passengers?
This reviewer is pleased to report that after a recent test drive around south-eastern Melbourne, we came away impressed.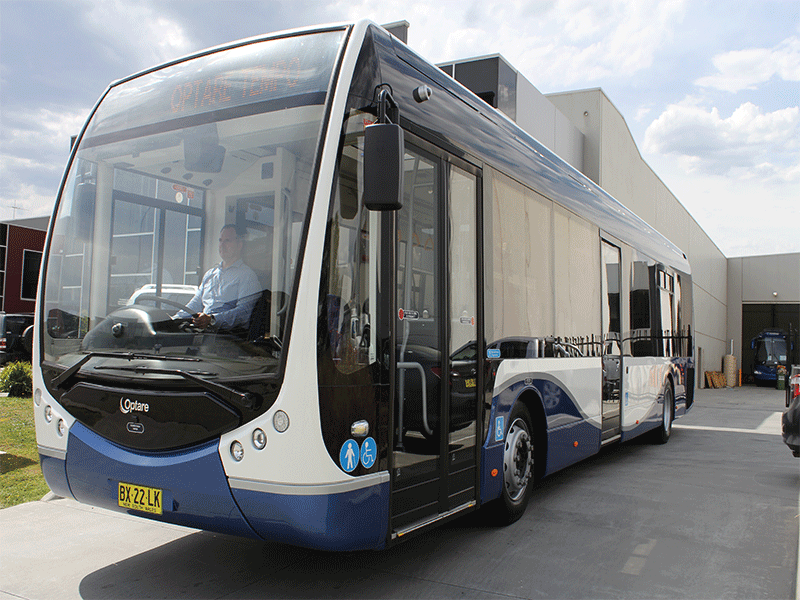 BRITISH-INDIAN MARRIAGE
The Optare Solo might be new to Australia, but it's been a relatively common sight on British roads for well over a decade. The current generation Solo appeared there in 2006.
Two years ago a 75 per cent stake in Optare plc — a city bus specialist — was bought by Ashok Leyland, the world's fourth largest bus manufacturer. Ashok Leyland in turn is part of the giant Hinduja conglomerate.
Optare says it is one of the biggest bus manufacturers in Europe. It has a 13,000 square-metre manufacturing plant near Leeds in the north of England, with a capacity of up to 1,200 units a year for destinations both domestic and overseas.
Those overseas destinations now include Australia for the larger Tempo bus through the Solo range to the small Bonito.
The Solo test driven for ABC magazine was the 9.8m, two-door version. They also come in 9m, 7.8m and 7.2m varieties, and there's a choice of single or two doors.  
Manufacture of the larger Solos benefits from the United Kingdom having the same 2.5m width regulation as Australia.
"The Solo is new into Australia and it's aimed at the low-floor and special needs school bus applications, route bus, that sort of thing," says Guy Pex from Optare Australia.
"We feel that it's got a niche, there's nothing really available like it at the moment, so we're excited about it."
PASSENGER-FRIENDLY
You only have to take one look at the Solo from the outside to see that it has obvious application as a low-floor city route bus.
Optare is confident these buses will also find homes with regional operators. It's doubtful that would include traversing the Tanami Track though — the floor is a bit low for that, and the space under the front door would presumably let a lot of dust in.
The forward axle being right up the front means there is no wheel hump for passengers to negotiate as they board. There is an impressive stretch of flat floor before it rises towards the back — about two thirds of the floor space is flat.
Being low-floor with plenty of flat space at the front door, this bus is also clearly wheelchair-friendly.
There is a choice of seating available, including 'Ciclo' transit seats from Isringhausen.
Our review bus had 29 seats, but the single door version has 33 with the option of up to 37.
They were comfortable with plenty of legroom, and can be fitted with seat belts. It certainly doesn't feel like Optare has tried to cram too many seats into too small an area.
Optare says there is room for about 20 standees, depending on state regulations.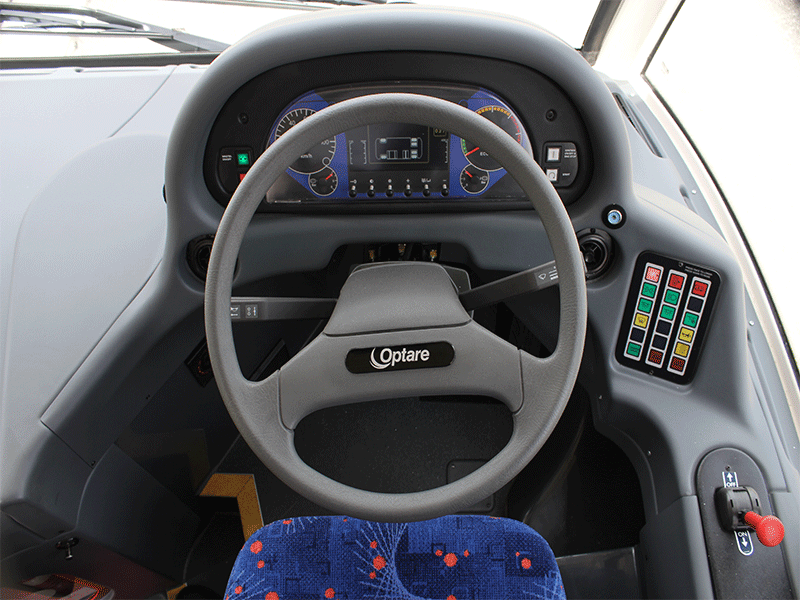 TRIM BODY
The Solo comes out of the Leeds factory as an integrated monocoque unit.
"It's a fully built unit straight out of the factory," Pex says. "It doesn't rely on a chassis, it's all included."
Optare says that's one of the reasons our 9.8m test unit weighs just a little over 7 tonnes.
"The design and construction of it is such that it achieves a very good low tare weight and obviously subsequently that improves the fuel economy," Pex says.
"Some of the figures they're getting out of the UK have been absolutely fantastic and operators that we're talking to here in Australia are very impressed with that, and we can't wait to get it out there and have someone trial it and come back with their own proof of that."
Optare says the main chassis and frame are manufactured from "high grade carbon steel" while the secondary load bearing frames use a lighter-weight stainless steel.
The entire body undergoes a full anti-corrosion treatment on all exposed surfaces, as well as a wax injection process for closed sections and cavities. There is a 10-year corrosion warranty.
Side panels are aluminium, with a quick-release design.
WELL-KNOWN DRIVELINE
The engine in the 9.8m Solo is the 6 cylinder, 6.7-litre Cummins ISB, pushing out 200hp (147.1kW) and 750Nm of torque.
Optare concedes the option of a 154hp (113.3kW) 4 cylinder Mercedes-Benz engine is probably too small for the liking of Australian operators.
The Cummins is matched with a 5-speed fully automatic Allison transmission.
Interestingly, the engine and transmission can actually slide out as a removable 'power pack', for ease of service work and with occupational health and safety benefits for mechanics.
"You don't really have to put it up on a hoist, you just pull it out," Pex says. "About two hours and it's out."
Another advantage of that slide-out feature is that one day in Australia you might have the choice of the hybrid diesel-electric and fully electric power plants which are available in England.
MELBOURNE WORKOUT
How does the Solo go out on the road? Performance is nothing to write home about but ABC magazine found it good nevertheless, on both local roads and the freeway near Optare's home base at Dandenong in south-eastern Melbourne.
On the freeway it sits on 100km an hour no problems at all. You can't tell how many revs its doing though, because there is no indicator on the screen.
Instead, there is a fuel economy colour code, which we managed to keep in the green most of the time.
There was good get up and go getting on to the freeway, and plenty of power for what was needed around the local streets — this was all without passengers of course.
The Allison transmission is smooth. Stamping on the Wabco four-wheel disc brakes a couple of times to test them, they performed well.
There is an electro-magnetic retarder automatically actuated through the brake pedal. There is the view that any bus could do with a manual retarder control as well.
The handling around corners is fine. However, you have to take corners wider than you would expect for a bus this sort, because of its big-bus wheelbase, about 6m.
That's similar to the Optare Tempo — which is up to 12.5m long — the difference being that the Tempo extends a couple of metres in front of the forward axle.
The Solo's driver seat is comfortable, and the cockpit area is apparently designed to reduce fatigue. Optare says the driver is protected by a crash crumple zone in the bodywork.
Further on the safety front, there is ABS, EBS, TCS (traction control) and European rollover compliance.
ODDS AND ENDS
We were assured by ABC videographer Andrew Britten that the noise down the back of the Solo wasn't untoward.
There was a bit of wind noise near the pilot's seat at top speed, which may have been coming from the driver's side mirror, which isn't particularly aerodynamic. Incidentally, both sides could probably do with a spotter mirror.
There are only a couple of other minor things to quibble about. One was that the indicator stick on the left side of the steering wheel is very close to the high beam control wand, and was consequently and inadvertently hit at the same time.
The Solo test drive was held on a 40C day, and the current air-conditioning system just wasn't up to the task for the driver's area. Optare says it is going to use a booster to fix that problem.
A very minor related issue is that the tiny green light indicating that the air-conditioning is working is very difficult to see in bright sunshine.
Meanwhile, you're probably wondering what's underneath that hump at the front. Maybe the air-conditioning unit, electronics, spare wheel or even a small missile defence system?
Apparently aerodynamics has something to do with it but behind the moulded surrounds, there's nothing but flat roof.
As for cost, this 9.8m version will set you back around $320,000 plus GST. That figure covers full telematics capability including remote driveline, driver and passenger management, and a 16-camera CCTV system.
The smallest Solo, at 7.2m long and 2.3m wide, starts at $275,000 plus GST.
Pluses:
- Plenty of passenger space
- Drives, handles and stops well
- Clever removable engine cradle
Minuses:
-          Air-conditioning needs bolstering for Australia
-          Wide cornering because of long wheelbase
-          Could do with spotter mirrors
SPECS
MAKE/MODEL: Optare Solo M980SR2
ENGINE: Cummins ISBe 6 cylinder, 6.7-litre turbo diesel
COMPLIANCE: Euro 5 using selective catalytic reduction
POWER/TORQUE: 150kW (200hp); 750Nm @ 1,500rpm
TRANSMISSION: 5-speed Allison 2000 series fully automatic
AXLES AND SUSPENSION: Albion with two front air bags and taper leaf springs; rear four bag
DIMENSIONS: Length 9.8m, width 2.5m
SEATING: 29 in the wo-door version
For the full review, check out the February issue of ABC, and don't forget to subscribe here.
Subscribe to our newsletter
Sign up to receive the ABC e-newsletter, digital magazine and other offers we choose to share with you straight to your inbox
You can also follow our updates by liking us on Facebook.