Video Review: Meet Tonto - the 4x4 bus
---
Matt Wood takes us for a drive in a 4x4 bus with Iveco running gear
Aussie operators who like to get down and dirty with their passengers are currently spoilt for choice in the off-road bus segment.
It's a handy spin off from the mining and resources boom, however, many of the true 4x4 products available tend to be truck-based.
This makes sense as many of the large truck makers have an established range of 4x4 trucks and established dealer networks around the country.
Again this also makes sense, as due to the very nature of their job description these trucks aren't exactly hanging around the suburbs, they are out in the middle of nowhere.
You want to be within reach of qualified help if something does break.
The downside of some of these truck-based off-road products though is that many of them are a truck with a passenger body fitted to the back instead of a cargo bed.
While this is an easy and economical way to turn a truck into a bus, just ask the Cubans, it doesn't tend to make the most of the real estate provided by the chassis.
A body builder fitting a complete bus body to a truck chassis is always going to be able to squeeze more seats and better facilities into a coach body rather than by just fitting a van body with windows onto a cab chassis.
This brings us to the Tonto, which is indeed truck-based. It's based on the Iveco Eurocargo ML150 4x4 which is a full-time four-wheel drive medium-duty cargo platform.
The Tonto is the off-road flagship of the Bus 4x4 range which recently launched in Brisbane.
 
Off-road credentials
Queensland based Bus 4x4 specialises in turning innocuous pieces of machinery such as Toyota Coasters and Ford Transits into mud-bashing, dune-smashing people movers.
The Tonto, with its 31-seat capacity (32 including the driver) is at the top of the tree and is aimed at mine transport, adventure tour operators and remote community transport.
And just in case there's a cashed up grey nomad or two out there, it can also be converted into a pretty gutsy go-anywhere motorhome.
However, the bus conversion and coach work have been carried out by Malaysian-based Quality Bus and Coach who also happen to manufacture road going coaches under the Autobus brand name.
Bus 4x4 is the Australian agent for Quality Bus and Coach and handles the Tonto as well as two other Autobus models locally.
The end result is a truck-based bus that actually looks like a bus.
Not only that, it's actually quite a handsome looking bit of gear in a kind of beasty, 'in your face, tree hugger' way at least.
Iveco to go
The Tonto was developed with full cooperation between Iveco Australia and the Malaysian based company and, to date, the Eurocargo units that have formed the basis of the Tonto have been shipped to Malaysia from Australia.
However, Quality Bus and Coach has indicated that future supplies of the truck are most likely to come straight from Europe.
A walk around the beast gives the impression of a purpose-built vehicle, the flat side windows have been designed to be easily replaced, and removing the need to wait for specialised glass to be shipped in.
The flip up wheel arches expose most of the driveline easily enough and beside the entry door a load-through luggage bin helps keep large bags and cargo out of the main cabin.
Inside, the Tonto appears to be spacious enough and the elevated height on those off-road tyres only adds to the vantage point for sightseers.
But sitting down behind the wheel you are immediately reminded of the truck heritage of the Iveco.
Under the front passenger and driver compartment lies a 6-litre 280hp (210kW) Iveco Tector engine.
The European heritage of the engine means that it uses selective catalytic reduction (SCR) to satisfy ADR 80/03 (Euro 5) emissions regulations.
Behind the Tector powerplant is a 6-speed manual ZF transmission taking care of gear changing duties, and a hydraulically assisted clutch helping the engine talk to the tranny.
An Iveco transfer case with both high and low range and a centre diff lock feeds power to both the front and rear differentials.
This isn't an all-wheel drive (AWD) type set-up where the front axle kicks in when the back loses traction, this is a dedicated fulltime 4x4 that feeds 33 percent of driveline torque to the front diff and 67 percent to the rear.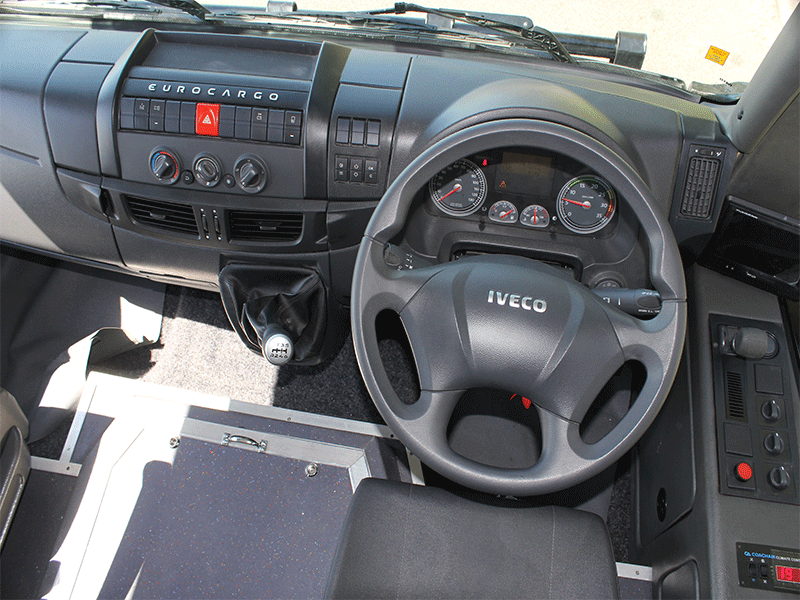 Fish out of water
From behind the wheel you feel as if you are driving a midi-coach on steroids, but as I got out into the city traffic to play I found that there was of an element of truck to the way the Tonto handled.
The Tector engine is renowned for its quiet operation and in this bus it didn't disappoint. The synchromesh manual gear shift was easy to live with and I found there was very little rumble through the body while out on the asphalt, which is surprising considering the huge cleated super single tyres that were pounding the ground outside.
With these tyres the Tonto is limited to a top speed of 90km/h.
The addition of dual rear wheels will lift the limit to 100 km/h but considering the severe duty that these vehicles will probably see it's probably a fair bet that most will be unlikely to see that kind of speed.
One of the more distracting aspects of the vehicle is that you constantly find yourself driving along thinking "I could drive over that….and that…..and that".
In fact 'that' could range from being a small hatchback to an exceedingly large pile of dirt on a construction site.
While I could only roll sedately around Brisbane's outer eastern suburbs I found myself fantasising about fording treacherous rivers and climbing craggy outcrops, and maybe flattening a dune or two.
But, considering it's a bit of a fish out of water on the black top it was a very easy vehicle to live with.
The only real issue is that, appearances aside, it still feels like a truck to drive. A smooth, reasonably quiet and ergonomic truck yes, but a truck all the same.
The tell-tale give away to this is the rear springs which tend to clang and buck over obstacles, just like an empty truck, and it's hard to imagine a full load of passengers and bags would calm that down too much.
Again, the fact that this vehicle is unlikely to see a great deal of on-road work makes this a bit of a non-issue and I don't really know how you could soften the ride characteristics of the Tonto without compromising it's off-road stability and handling.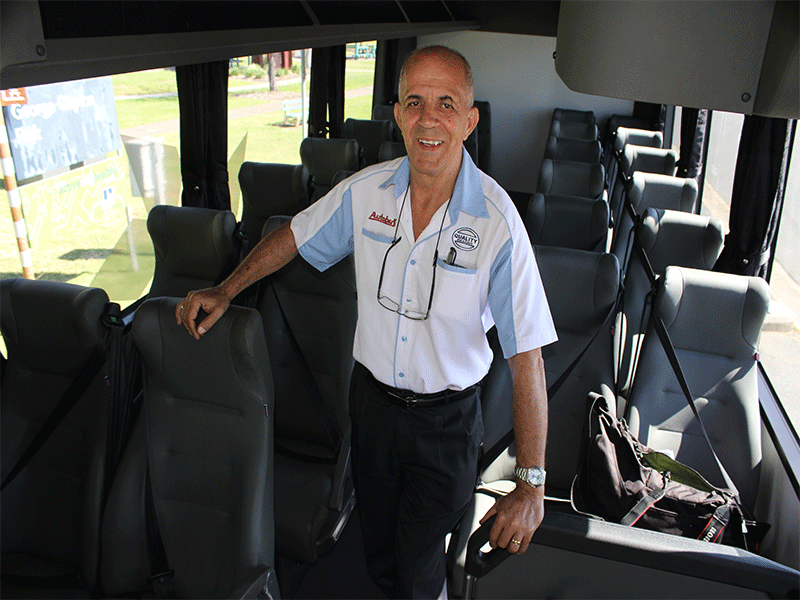 Dakar pedigree
The off-road strength and reliability of the Iveco range from the Eurocargo up to the bigger brother, the Trakker, makes the Iveco a good basis for the bus conversion.
Anyone who takes even a passing interest in the annual Dakar rally will be familiar with Iveco's off-road prowess, and funnily enough Tonto has more than a passing resemblance to a Dakar rally support vehicle.
Cruising around the streets and by ways in the head turning Tonto was an easy ask and it even proved manoeuvrable enough when I had to execute a couple of three point turns.
However I'm pretty sure that a real test of this particular bus would be to take it well off the beaten track, where the off-road prowess of the Iveco chassis could really shine.
If the doomsayers are to be believed the puff may be running out of the resources sector and the off-road bus segment may become very crowded all of a sudden.
However, that possibility hasn't deterred Quality Bus and Coach from putting a 35-seat plus 6x6 version of the Tonto on the drawing board, and that may well be based on the Trakker chassis.
Coming in at around $250,000, the Tonto isn't a cheap proposition but from my sedate suburban jaunt it comes across as one tough piece of machinery.
Quality Bus and Coach have done an admirable job of turning the truck into a bus, resulting in a tight, well-appointed, squeak free and rattle free body that provides a great level of comfort and space. In fact every masked cowboy looking to prowl the range probably needs one.
PLUSES:
Plenty of grunt, smooth easy gear shift
Quiet, rattle and squeak free body
How cool does it look?
MINUSES:
Still rides like an empty truck
Could do with more than 115 litres of fuel capacity
No remote mirrors
SPECS:
MAKE/MODEL: Iveco Tonto 4x4
ENGINE: 6-litre 280hp (210kW) Iveco Tector with common rail fuel injection and SCR
TRANSMISSION: 6-speed ZF synchromesh manual
TRANSFER CASE: Iveco TC 850 with centre diff lock
DIFFERENTIALS: Iveco front and rear
PASSENGER SEATING: 31
AIR-CONDITIONING: Coachair
LENGTH/WIDTH: 8.4m/2.5m
Subscribe to our newsletter
Sign up to receive the ABC e-newsletter, digital magazine and other offers we choose to share with you straight to your inbox
You can also follow our updates by liking us on Facebook.